Defense in Support of Diplomacy: Re-designing the ROK-U.S. Deterrence Posture
The South Korea-U.S. alliance should guard against the erosion of defense capabilities, address constraints on its current military posture, and innovate its approach to security cooperation and deterrence.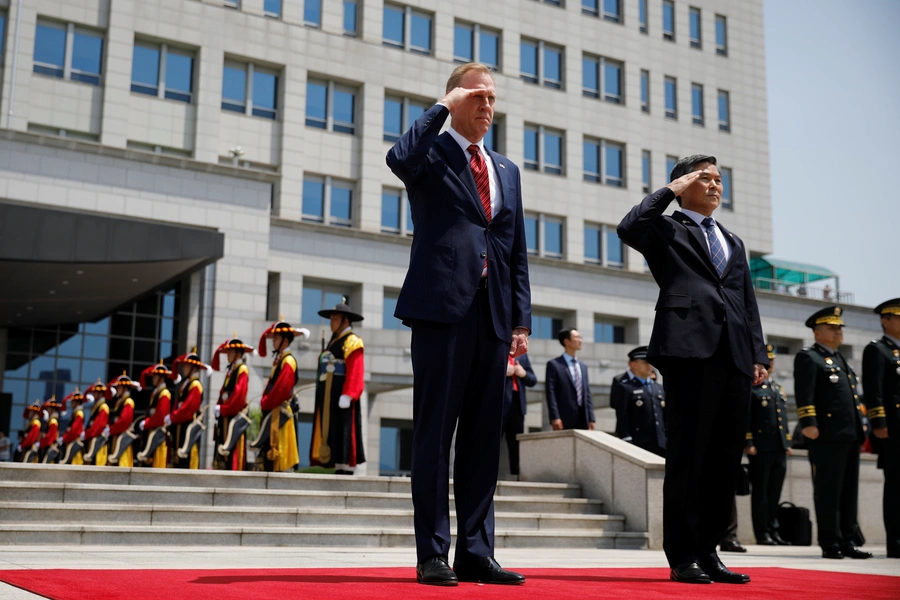 This post is authored by S. Paul Choi, a strategist and international relations specialist affiliated with the war studies department at King's College London. It is part of a project conducted by the program on U.S.-Korea policy at the Council on Foreign Relations, supported by the Smith Richardson Foundation and Korea Foundation. This series of posts addresses the U.S. nuclear posture in Northeast Asia, implications of North Korean nuclear and missile programs for U.S. extended deterrence commitments, operational and tactical dimensions of deterrence on the peninsula, and regional dimensions of stability. To further stimulate an open discussion of these issues, we would like to invite reader responses. Please contact Ellen Swicord at [email protected] for submission guidelines if you are interested in contributing a response.
Diplomacy among the United States and the two Koreas is at a critical juncture. Failure to make progress threatens to reintroduce tensions, catalyze North Korea's weapons proliferation, and raise the potential for conflict. Any chance at success requires the United States and Republic of Korea (ROK) to engage North Korea with a well-coordinated approach that builds confidence and provides positive incentives, but also reflects an increased ability to deny the Kim Jong-un regime any benefits from a return to provocative and hostile behavior. The strength of the U.S. and ROK combined diplomatic position will thus also depend on advancing the operational capacity of the two militaries. 
The challenge is to artfully design a ROK-U.S. alliance deterrence posture that not only maintains a ready force, but also facilitates "peace through strength." Simply flaunting the alliance's military dominance will likely empower North Korean hardliners, fuel Kim Jong-un's insecurities, and re-focus regime efforts on building its nuclear weapons and missiles programs. Neglecting to advance alliance capacity, however, will perpetuate ROK and U.S. vulnerabilities and weaken the alliance's negotiating position. To effectively and responsibly support diplomacy with North Korea, the ROK-U.S. alliance should guard against the erosion of defense capabilities, address constraints on its current military posture, and innovate its approach to security cooperation and deterrence.
Adapting Deterrence Without Compromising Defense
The U.S. and ROK militaries creatively re-calibrated their combined exercises, adjusting the "size, scope, volume, and timing" of Combined Forces Command training. This change in exercise design supports diplomatic efforts in two ways. First, it denies the Kim Jong-un regime an additional excuse to undermine rapprochement. Second, and more importantly, it ensures that U.S. and ROK diplomats can engage North Korea with the confidence of having a military alliance prepared to defend against potential aggression.
Certain training benefits are arguably derived exclusively from a large-scale exercise program. Still, the re-design of combined exercises is an example of how to effectively support engagement with North Korea—by adapting traditional practices in ways that protect alliance cohesion and cooperation. The U.S. and ROK militaries worked together to modify their training program, to tone down public communications, and to change their deterrence message "without sacrificing the training of essential tasks."
Mitigating the Risk to Military Effectiveness
Similar to the defunct Ulchi Freedom Guardian and Key Resolve military exercises, other traditional approaches to strengthen deterrence may appear incongruent with current diplomatic efforts. While aligning initiatives to political directives, the U.S. and ROK militaries should proactively protect their capabilities from atrophy. In this regard, the post-Cold War U.S. and North Atlantic Treaty Organization experience provides both positive and negative lessons—from the feasibility and limitations of exercising against an unnamed enemy to the dangers of waning support for investing in both the hard capabilities and strategic thinking required for effective deterrence.
Despite the easing of tensions and focus on diplomacy in both the Trump and Moon administrations,  Washington and Seoul should encourage and enable their militaries to work together as an alliance and continue building the necessary concepts, strategies, plans, and postures that the changing strategic environment requires. Both countries should fight the misperception that strengthening deterrence is inconsistent with engagement. Political leadership in both capitals should emphasize that effective diplomacy will depend not on a sidelining of defense, but a strengthening of capability, all the while continuing with confidence building measures to reduce tension and underscore the alliance's intent to alter its adversarial relationship with North Korea.
Addressing Constraints on the Alliance's Deterrence Posture
The Kim regime is undoubtedly aware of both the U.S. and ROK ability to militarily impose overwhelming costs on, if not eradicate, the regime. However, North Korea is likely confident in its own ability to inflict horrifying devastation on the United States and the ROK as well. North Korea's long-range artillery and advancing missile capability—in addition to its arsenal of nuclear, chemical, and biological weapons—endanger not only South Korea and its population of millions, but also the approximately 320,000 Americans that are on the peninsula or in Japan on any given day.
Consequently, if North Korea returns to provocations and aggression, it will likely to do so in a way that complicates the alliance's ability to respond. This includes actions for which culpability is difficult to discern or that trigger only a limited counter-offensive, which the regime is willing to endure. It may also involve cross-domain challenges, such as a cyber-attack that compromises critical civilian infrastructure or even the loss of life, for which the military may not be the lead or the most effective agency to respond in-kind.
The alliance is admittedly working to strengthen offense, defense, and ISR capabilities to address this challenge. Nevertheless, it highlights the increasing importance of resiliency, as well as civilian-military and inter-agency cooperation, to the alliance's ability to deter by denying or at least diminishing the disruptive impact of such North Korean operations.
Innovating Approaches to Strengthen Deterrence
Finally, the United States and South Korea should innovate their approaches to security cooperation to harness the full potential of their alliance. A new "mix" of deterrence capabilities "fit for purpose" should entail shifts in the "software" and "hardware" of both militaries, and most importantly be brought together under an alliance strategy designed with close coordination and a common understanding of the challenges to address and desired impact. Dependence on successful but legacy approaches to defense or on linear improvements in posture will be inefficient and ineffective.
As roles and responsibilities shift within the alliance, many are fixated on which country will take the "lead" in various operations across time and space. Whether the United States or the ROK provides the supported or the supporting force, however, is less important than that the dynamic reflects such close coordination as to realize a seamless deterrence and defense posture. The most critical component of the alliance posture is its "combinedness" or cohesion. This does not preclude separated roles and operations, but it does require a coherent strategy and deliberate approach.
Changes in the alliance—from its transition to a new ROK-led combined defense system to the relocation of the U.S. Forces Korea and United Nations Command headquarters—will present challenges to such cooperation, but if pursued strategically will provide opportunities to broaden the alliance's  deterrent effects, strengthen defense readiness, and empower diplomacy.