Friday Asia Update: Top Five Stories for the Week of May 10, 2013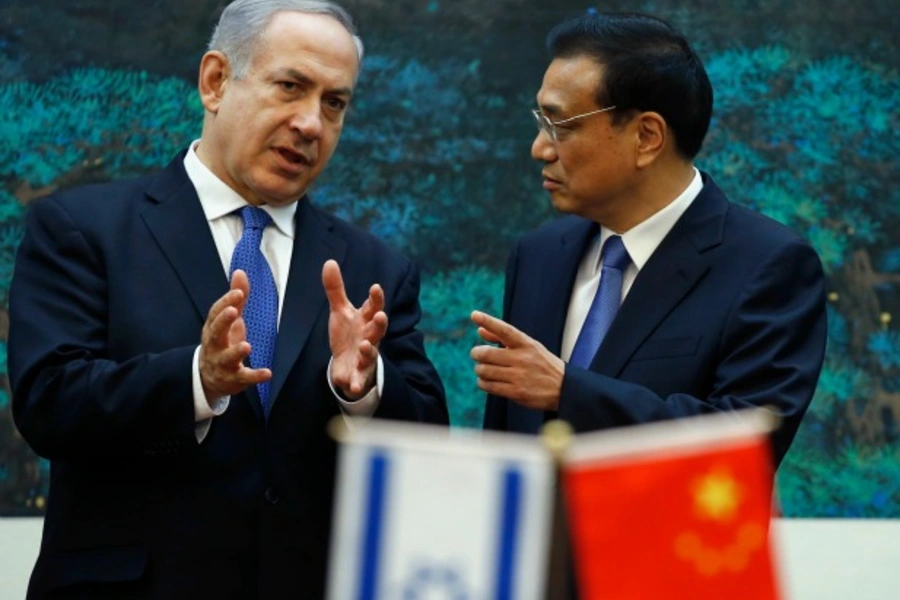 Sharone Tobias and Will Piekos look at the top five stories in Asia this week.
1. China offers to play peacemaker, but Bibi and Abbas don't bite. Israeli Prime Minister Benjamin "Bibi" Netanyahu and Palestinian President Mahmoud Abbas both visited China this week. The Chinese media enthusiastically reported on the possibility that the country could serve as neutral territory for the two leaders to negotiate a peace settlement. However, the Chinese government made sure the leaders stayed far apart throughout the trip and were never in the same city at the same time. Netanyahu, for one, was far more interested in discussing trade and economic issues—China is Israel's third-largest trading partner—as well as China's potential role in halting Iran's nuclear program. This is the first time that China has offered to play a role in the Israeli-Palestinian conflict, and while mostly symbolic, could represent a new era in Chinese diplomacy and international reach. As a recent pro-Palestine opinion article in the state-run Global Times asserted, "China is no longer a weak country to be bullied by imperialist powers as it was more than a century ago, but an economic and military power capable of claiming what is rightly China's. This is justice, and China wants to see justice served in the international arena." But is China willing to see justice through to the end? Doubtful, but it will be interesting to see what other kinds of international justice the Chinese government will want served.
2. New Defense Department report calls out the Chinese government and military in cyberattacks. The U.S. Department of Defense released its annual report to Congress this week, and for the first time it explicitly accused China's military of attacking American computer systems. The report said that cyberattacks around the world "appear to be attributable directly to the Chinese government and military," a sharp deviation from last year's report, which describes attacks "which originated within China." A Chinese defense ministry spokesman expressed "strong dissatisfaction with" and "firm opposition to" the report, and stated that it damaged mutual trust.
3. Malaysia wraps up the closest election in its history, though opposition claims fraud. Barisan Nasional (BN), the political party that has ruled Malaysia since the 1950s, will remain in power after the most recent election, which had a high voter turnout of nearly 85 percent. BN won less than 47 percent of the popular vote but will hold 60 percent of parliamentary seats, thanks to gerrymandering. The Party could face serious difficulties leading a nation where the majority of voters, especially urban and wealthy ones, voted for the opposition.
4. Is China expanding its territorial claims? An editorial (Chinese) in the state-run People's Daily on Wednesday called for a "reconsideration" of the historical status of Japan's southernmost Ryukyu island chain, which includes Okinawa. The authors, scholars from the prestigious China Academy of Social Sciences, claim that Japan encroached upon the islands during China's Qing dynasty, when the country was weakened by foreign forces and could not protect the island chain. Japan lodged a diplomatic protest to the claim, with Chief Cabinet Secretary Yoshihide Suga stating Okinawa "is unquestionably Japan's territory, historically and internationally." Okinawa is home to 1.4 million Japanese citizens, as well as over 15,000 U.S. troops. This expansion of territorial claims is likely a tactic to gain leverage in the debates over the Senkaku/Diaoyu islands.
5. Obama backs President Park's North Korea policy. Recently elected South Korean president Park Geun-hye paid a visit to President Obama this week. Obama declared their approach to North Korea as "very compatible" during a news conference following the meeting, and the two leaders discussed deepening economic ties. Park also addressed a joint meeting of Congress, an honor reserved only for close U.S. allies. Obama had a very close working relationship with former South Korean President Lee Myung-bak; all signs point favorably towards the development of a similar relationship with Park, despite the fact that she is generally considered to be more conservative and hawkish than her predecessor.
Bonus: Rodman asks Kim to do him 'a solid.' Dennis Rodman, former basketball star and junior statesman (in light of his February visit to North Korea), tweeted, "I'm calling on the Supreme Leader of North Korea or as I call him 'Kim', to do me a solid and cut Kenneth Bae loose." Kenneth Bae is an American tour operator who was arrested in North Korea in November for unspecified "hostile acts" and sentenced to fifteen years of hard labor. No tweets from Kim yet.