Global Conflict This Week: June 29, 2018
Developments in conflicts across the world that you might have missed this week.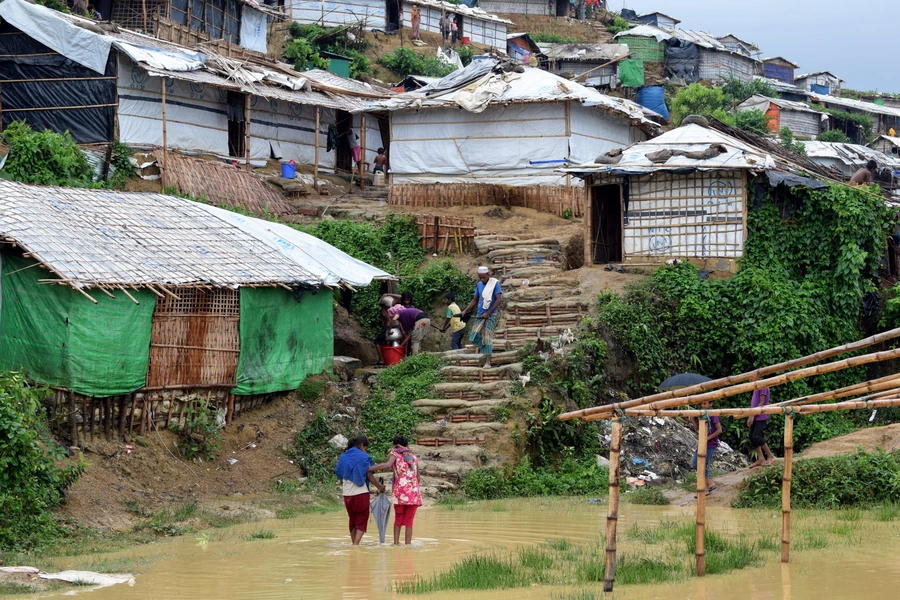 Welcome to "Global Conflict This Week," a series that highlights developments in conflicts across the world that you might have missed this week. Stay up to date on these conflicts and others with the online interactive, the Global Conflict Tracker, from the Center for Preventive Action (CPA).
Syrian Refugees Flee Southwest Offensive
Nearly one hundred civilians have been killed and 120,000 civilians uprooted since the Syrian army began an offensive in the southwest last week. The assault has driven tens of thousands of people towards the borders with Israel and Jordan—the latter of which already hosts some 650,000 Syrians. The Israel Defense Forces (IDF) transferred humanitarian aid to Syrian refugees near the Golan Heights but will not allow any refugees to cross the border into Israel. On June 27, air strikes hit three hospitals inside rebel-held territory, and the offensive has included dropping barrel bombs and shelling towns as well.
Separately, U.S. Central Command released a statement on June 25 that the U.S.-led Coalition conducted 28 strikes against Islamic State targets in Syria between June 18 and June 24.
More on the civil war in Syria >>
New Reports Detail Atrocities Committed Against Rohingya in Myanmar's Rakhine State
Two new reports, one from Reuters and one from Amnesty International, were released this week and detail crimes against humanity committed by the Myanmar military against Rohingya in Rakhine State. The Amnesty International report lists crimes including arson, murder, rape, and torture and names thirteen military officials it says are responsible for a campaign to drive the Rohingya out of Rakhine State.
Recently, monsoon rains have caused shelters to collapse and sewage to mix with sludge at Rohingya refugee camps in Cox's Bazaar. Conditions are expected to worsen as the rains continue through August, and an estimated two hundred thousand Rohingya could be affected.
More on the Rohingya crisis in Myanmar >>
Attacks Continue Across Afghanistan
Taliban attacks on several checkpoints in northern Takhar Province on June 28 killed at least fourteen police officers. In eastern Logar Province, at least eleven people were killed in two attacks and another five members of the Afghan security forces were killed in attacks in Nangarhar Province. The previous day, the New York Times published an op-ed by President Ashraf Ghani calling for the Taliban to extend their cease-fire and to engage in peace talks.
Separately, the U.S. Senate confirmed the head of the Joint Special Operations Command, Lieutenant General Austin Scott Miller, as the new commander of U.S. and NATO troops in Afghanistan. Miller, succeeding General John Nicholson, will be the seventeenth commander in the seventeen-year war.
CFR's Courtney Cooper argues that the recent cease-fires underscore the importance of confidence-building measures in building peace in Afghanistan. More on the war in Afghanistan >>
Peace Deal Signed in South Sudan
President Salva Kiir and rebel leader Riek Machar signed an agreement in Khartoum committing to a permanent cease-fire and to resolving outstanding governance issues. The agreement calls for the release of political prisoners and the formation of a unity government within four months.
Revisit CPA's report Ending South Sudan's Civil War and CFR's The Internationalist blog post, "Salvaging South Sudan's Sovereignty (and Ending its Civil War)," for proposals on bringing peace to South Sudan. More on the civil war in South Sudan »
Pakistan Added to Global Terrorism-Financing Monitoring List
The Financial Action Task Force, an international anti–money laundering agency, placed Pakistan back on its terrorism financing "grey" monitoring list, three years after it was previously removed. Separately, Pakistan removed the leader of one of the country's largest Islamist militant groups from its terrorist watchlist as his group seeks approval to field candidates in Pakistan's upcoming July elections.
In a statement released last weekend, the Pakistani Taliban confirmed the death of Mullah Fazlullah and named Mufti Noor Wali Mehsud as its new leader. Mehsud, a veteran fighter and religious scholar, previously oversaw the Pakistani Taliban's operations in Karachi.