Happy Birthday to the U.S. Army!
The U.S. Army turns 247 years old today.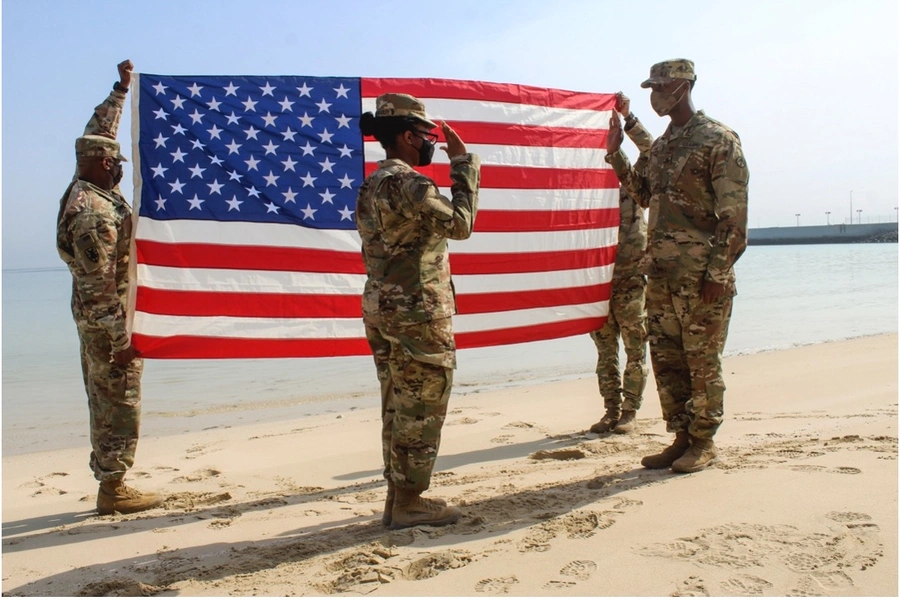 The United States Army celebrates its 247th birthday today. If you see an active duty, former, or retired member of the U.S. Army today, wish their service a happy birthday.
The Army website provides a short but thorough overview of its history. Here are five things worth knowing:
The Army is the oldest of the six services. It was created on June 14, 1775, making it four months older than the United States Navy, five months older than the United States Marine Corps, five years older than the United States Coast Guard, 172 years older than the United States Air Force (which began as part of the Army), and 244 years older than the United States Space Force (which was spun out of Air Force Space Command). 
Eleven Army generals have gone on to become president of the United States: George Washington (General), Andrew Jackson (Major General), William Henry Harrison (Major General), Zachary Taylor (Major General), Franklin Pierce (Brigadier General), Andrew Johnson (Brigadier General), Ulysses S. Grant (General), Rutherford B. Hayes (Major General, Brevet), James A. Garfield (Major General, Volunteers), Benjamin Harrison (Major General, Brevet), and Dwight D. Eisenhower (General). No Navy admiral, Marine Corps general, or Air Force general has ever been elected president. (Chester A. Arthur was Quartermaster General of the New York State Militia at the start of the Civil War, but I don't believe he was mustered into federal service.) 
The highest rank in the Army is General of the Armies of the United States. Only two men have held it: George Washington and John Pershing. Efforts to give General Douglas MacArthur the title failed. Washington got his title posthumously on July 4, 1976. During his lifetime, the highest rank he achieved was Lieutenant General. President Gerald Ford issued the executive order elevating Washington to six-star status because, given the military's strict hierarchy, he was technically outranked by the four- and five-star generals who came after him. President Ford's executive order directs that Washington shall always be considered the most senior U.S. military officer. 
The Medal of Honor has been awarded to 2,461 members of the Army. Put differently, approximately 70 percent of all 3,511 recipients of the Medal of Honor have been soldiers. Three soldiers were awarded the Medal of Honor in the last year for their valor in Afghanistan and Iraq: Sergeant First Class Alwyn C. Cashe, Sergeant First Class Christopher A. Celiz, and Master Sergeant Earl D. Plumee.
There are roughly 482,000 active duty Army personnel.  
I asked Colonel Myles B. Caggins III, an active duty U.S. Army officer who has spent the past year as a military fellow at CFR, for his recommendations on what to read to learn more about the Army. Here are three books he recommends and why they are worth reading: 
Wallace Terry, Bloods: Black Veterans of the Vietnam War – An Oral History (1984). I first read Bloods as an Army ROTC cadet at Hampton University; it inspired me then and now. The combat tales veterans told Terry were heroic, harrowing, haunting, and, sometimes, humorous. These G.I. griots share vivid battlefield memories of their experiences as U.S. Army Green Berets, Infantry, and other military roles.  Bloods also gave me more appreciation for my Dad's two tours in Vietnam.
Dana Canedy, A Journal for Jordan (2008). Canedy tells the true story of her fiancé U.S. Army 1st Sgt. Charles King, who deployed to Iraq with the 4th Infantry Division. On October 14, 2006, he was killed when a roadside bomb ripped into his Humvee. King left behind Canedy, a Pulitzer Prize-winning journalist, and their six-month-old son Jordan. During his days in Iraq, King began writing a two-hundred-page journal to his then-unborn son. In A Journal for Jordan, Canedy writes Jordan her own letter—incorporating his father's notes—to preserve her memories of King. Keep your Kleenex handy for this tear-jerking story of love and honor. Jordan, Charles, and Dana's story was made into a movie in 2021 directed by Denzel Washington.
Gayle Tzemach Lemmon, Ashley's War (2015). Lemmon, a CFR fellow, draws from her on-the-ground reporting in Afghanistan to bring us exclusive insights into the world of women in the U.S. Army's most elite special operations units serving on cultural support teams alongside Afghan commandos.
Col. Caggins also recommended a movie, a documentary, and two oral histories to watch about the Army:
A Soldier's Story (1984). Set during World War II, A Soldier's Story depicts a segregated unit garrisoned in Louisiana. Howard E. Rollins plays an investigator looking into the murder of a sergeant amid a backdrop of tensions and distrust inside and outside the base. Nominated for best picture and two other Oscars, the movie's legendary cast also includes David Alan Grier, Denzel Washington, Adolph Caesar, and Patti LaBelle. 
Chain of Command (2018). This documentary series by National Geographic takes you inside an Army brigade combat team headquarters from the 82nd Airborne Division during the fight to clear Mosul, Iraq, of ISIS. It's a behind-the-scenes look at how the U.S. Army wages modern multi-domain warfare by, with, and through partnered forces.
Lt. Col. (Ret.) Charity Adams Earley, interview by Brig. Gen. (Ret.) Evelyn P. Foote, Women's Army Corps Oral History Program (1990). Earley commanded the 6888th Central Postal Directory Battalion, the only all-Black Women's Army Corps unit that served overseas in World War II. On June 15, the Congressional Gold Medal will be presented to women of the 6888th Central Postal Directory Battalion for their trailblazing service in World War II clearing a backlog of millions of pieces of mail sent to service members in Europe.
Willie "Night Jumper Bravo" King, interview by David Siry, West Point Center of Oral History (2019). If you've ever wondered what it's like to be an Army Pathfinder deep behind enemy lines in Vietnam, watch this interview.
If you want to know more about the Army, Col. Caggins recommended following these social media accounts:
On Twitter: Sasha Maggio (@Mother_of_Tanks), the Army's most creative social media editor with meme-filled, fact-filled, fun-filled Army history lessons on the U.S. Army's Combined Arms Center account (@usacac).
On TikTok: Tristen Martinez, an Army sergeant who uses humor to describe the daily life of soldiers, and infantryguru, a command sergeant major who motivates and mentors his 603k followers.
On Instagram: warhorsebattalion, which follows the life and times of a tank and infantry battalion in the 1st Cavalry Division at Fort Hood, Texas, and AG Studs, three junior officers who dole out inspirational messages.
Finally, to learn about how the Army is implementing a "people-first" culture, check out Col. Caggins's recent article on CFR.org.
Margaret Gach assisted in the preparation of this post.