The World Next Week: What to Read and Listen to This Summer
The annual summer entertainment recommendations from The World Next Week podcast.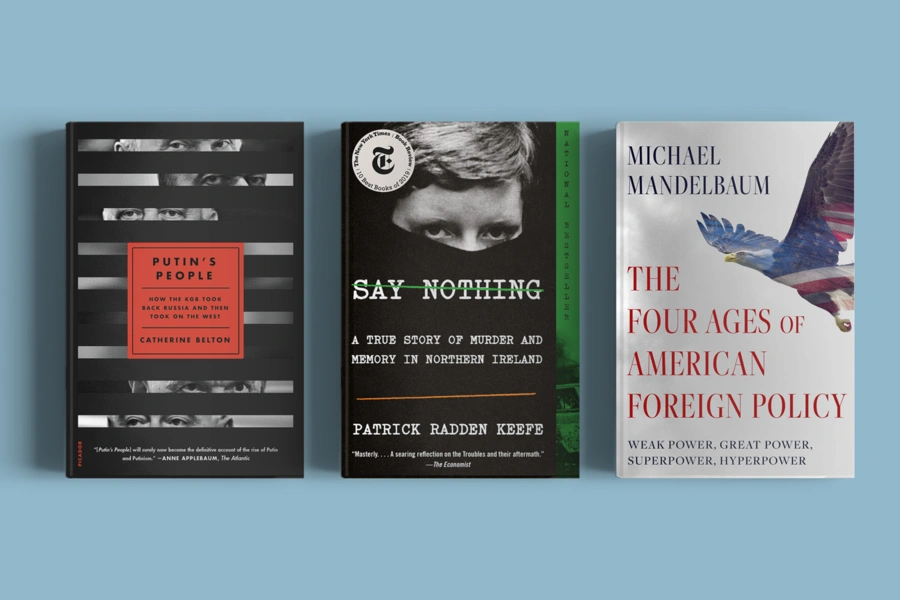 Each year CFR.org managing editor Bob McMahon and I take a break from discussing the news on The World Next Week to offer our summer reading recommendations. Our summer 2022 episode is now live. This year, Heather Conley joined the conversation. Heather is the president of the German Marshall Fund of the United States, which is celebrating its fiftieth anniversary this year. Heather previously spent twelve years at the Center for Strategic and International Studies, where she was senior vice president for Europe, Eurasia, and the Arctic and director of the Europe, Russia, and Eurasia program.
Heather, Bob, and I agreed to pick one foreign-policy-related book we've read recently, one book we look forward to reading this summer, and a "lighter" form of summer entertainment. Bob and I also follow one rule in our picks: We don't recommend books written by our CFR colleagues. We don't like to pick among the great things our friends are writing.
With the rules established, here is what Heather, Bob, and I recommended:
Great Books We Have Read
The Marshall Plan celebrated its seventy-fifth anniversary this week, so not surprisingly Heather kicked off our conversation by recommending Greg Behrman's The Most Noble Adventure: The Marshall Plan and How America Helped Rebuild Europe. Behrman tells the story of how the Marshall Plan came to be and how it transformed U.S. foreign policy. Heather noted that Russia's devastating invasion of Ukraine makes it critical to learn the lessons of the Marshall Plan and to assess how to apply them to the current moment. Behrman, of course, is not the only person to write about the Marshall Plan. Joseph Marion Jones's The Fifteen Weeks: An Inside Account of the Genesis of the Marshall Plan and my colleague Benn Steil's The Marshall Plan: Dawn of the Cold War are among the other excellent books that have covered one of the greatest achievements in the history of U.S. foreign policy.
Russia's invasion of Ukraine sent Bob back to a pile of books he has been meaning to read for a while. One of those was Catherine Belton's gripping study of Vladimir Putin's rise to power, Putin's People: How the KGB Took Back Russia and Then Took On the West. Belton explains how Putin and his KGB-connected inner circle garnered economic and political power after the fall of the Soviet Union. As a former Financial Times correspondent in Moscow, Belton's access to Kremlin insiders helped her untangle the web of Russia's oligarchs. Bob said she "masterfully" ties together well-known events in Putin's history to "shed more light on how did we get to this point." Bob's choice prompted Heather to recommend Karen Dawisha's Putin's Kleptocracy: Who Owns Russia?, which tracks the development of modern Russian corruption.  
I love to read, and one of the perks of my job is that publishers (and authors) send me lots of books. Some recently published books that taught me a lot include Michael Kimmage's The Abandonment of the West, Ali Wyne's America's Great-Power Opportunity, and Aaron Friedberg's Getting China Wrong. Because our podcast rules allow me to recommend only one book, I went with a great one that I just finished reading: Michael Mandelbaum's The Four Ages of American Foreign Policy: Weak Power, Great Power, Superpower, Hyperpower. Mandelbaum does a splendid job of both retelling the story of America's engagement with the world and tracing the common themes that have run through U.S. foreign policy over two and a half centuries. He also highlights a fascinating paradox, namely, that over the last thirty years the United States has enjoyed the most relative power in its history—it was a hyperpower—but also had its least successful foreign policy. Mandelbaum joined me on an episode of The President's Inbox to discuss why that was the case as well as to review some of the hits and misses in U.S. foreign policy. History is said to be an argument without end, and Mandelbaum offers a lot to keep the argument going.
Books We Look Forward to Reading
Bob plans on reading The Love Songs of W.E.B. Du Bois, the first novel by award-winning poet Honorée Fanonne Jeffers. Jeffers offers a nonlinear history of the United States through the eyes of Black women in Georgia over two hundred years. Bob said he is particularly drawn to the novel because Jeffers's choice to write a feminist Black history is an important perspective at a time when Americans are grappling with their identity and history. Bob said his wife has been immersed in the audiobook in recent weeks. She's not alone: Reviewers have called The Love Songs of W.E.B. Du Bois "compulsively readable."
Heather loves a good mystery, so she looks forward to reading Say Nothing: A True Story of Murder and Memory in Northern Ireland, by Patrick Radden Keefe. When Jean McConville was abducted from her Belfast home in December 1972, everyone knew the IRA was responsible, but no one was willing to say it. Keefe uses McConville's murder—her body wasn't found until 2003—to tell the stories of the people on both sides of what we now know as the Troubles. Northern Ireland is particularly topical this summer amid the ongoing uncertainty over the Northern Ireland protocol, some twenty-four years after the Good Friday Agreement. It's a reminder, as Heather said, that often the "hard work only begins after the [peace] agreement is reached." (For a look at the negotiation of the Good Friday Agreement, Heather recommended former Maine Senator George Mitchell's book, Making Peace). Heather also plans to watch Kenneth Branagh's recent Oscar-winner, Belfast.
I jumped the gun on my planned beach reading and am about a third of the way through Richard Cohen's Making History: The Storytellers Who Shaped the Past. Cohen has written what is essentially a history of historians, from Herodotus and Thucydides to Ken Burns and Henry Louis Gates, Jr. As the last two names suggest, Cohen takes a broad view of who qualifies as a historian: Shakespeare, Ulysses S. Grant, and Winston Churchill are among the figures who appear in Making History. Cohen himself is not a professional historian; he is instead a highly successful British book editor. He makes the case that those who tell the stories of our past are shaped, and frequently driven by, the events of their present. As a result, so are we. As Cohen covers more than 2,500 years of history, he offers up a stunning array of historical tidbits that will leave you both smarter and in awe of the breadth of his expertise.
Podcasts We Recommend
We had the choice to offer any type of "lighter" summer entertainment, but coincidentally we all recommended podcasts. Bob picked the biweekly podcast Gastropod, hosted by Cynthia Graber and Nicola Twilley, which traces the interconnection of food, science, and history. Episode topics range from aquaculture to composting and often have a global bent. For example, one installment traces the ubiquity of coffee in the world and the history of coffee plantations and slavery.
I've previously written that I enjoy listening to history podcasts like The British History Podcast, The History of England, The History of Rome, and The History of Byzantium. Those podcasts all focus on the Western world. So this summer I plan to broaden my horizons by making my way through The China History Podcast. The U.S.-China great power competition is already underway, so it makes sense to learn more about how the Chinese understand their history. Host Laszlo Montgomery has recorded more than three hundred episodes, so I should have a lot to keep me busy.
Heather is looking forward to listening to Inside Julia's Kitchen, hosted by Todd Schulkin, executive director of The Julia Child Foundation for Gastronomy and the Culinary Arts. The podcast joins a collection of recent Julia Child-centered entertainment, including the new HBO Max series Julia. Heather has aspirations to work through Child's recipes one day, but has no immediate plans to blog about it.
Other Books Worth Reading
As I noted above, we don't plug books by our CFR colleagues on the summer reading edition of The World Next Week. That rule doesn't apply to posts on The Water's Edge. So if you want to learn more about foreign policy, check out these recent books by my colleagues—or in some cases, former colleagues, thanks to the Biden administration's recruitment efforts. You'll be glad you did.
And now out in paperback are Alice Hill's Building a Resilient Tomorrow: How to Prepare for the Coming Climate Disruption, coauthored with Leonardo Martinez-Diaz, and Ray Takeyh's The Last Shah: America, Iran, and the Fall of the Pahlavi Dynasty.
If you want even more suggestions for summer entertainment, check out our recommendation lists from 2013, 2014, 2015, 2016, 2017, 2018, 2019, 2020, and 2021.
Margaret Gach assisted in the preparation of this post.