India Needs a Second Green Revolution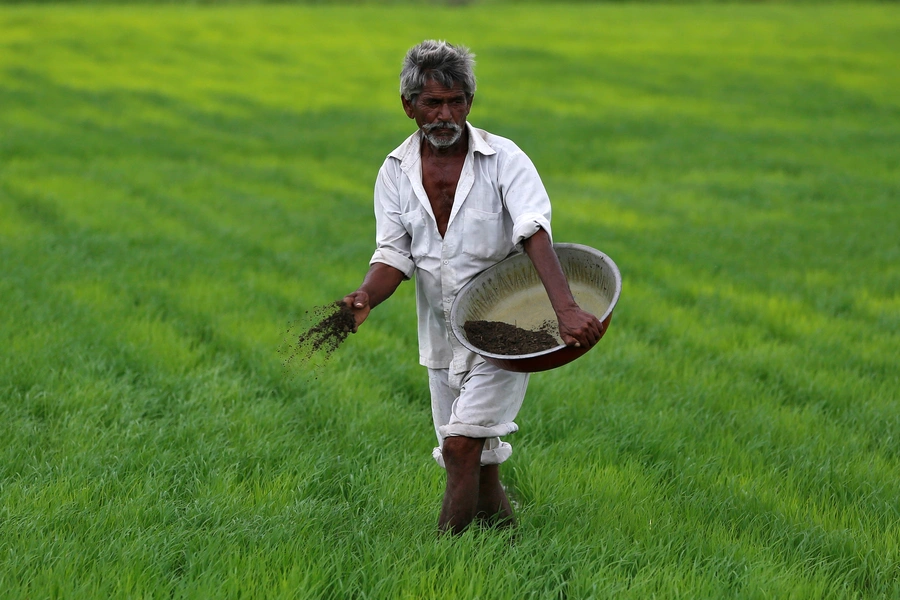 Arjun Reddy is an intern with the international economics program at the Council on Foreign Relations. 
In the 1960s and 70s, India—and much of the developing world outside of sub-Saharan Africa—underwent an agriculture transformation called the Green Revolution. The development of high yield varieties of maize, wheat, and rice combined with the introduction of chemical fertilizer, expansion of irrigation infrastructures, and use of modern management techniques led to an explosion in agricultural productivity, arguably saving a billion lives.
Today, the agricultural industry only contributes 15 percent of India's GDP. Other sectors, especially services, have made up much of the growth in the Indian economy over the last few decades. The agricultural industry remains so important in India because it employs around 44 percent of India's working population, forming, by far, the largest industry in terms of employment. In 2018, farmers around the country protested the low food prices, export curbs, and anti-inflation policies that were devastating their livelihoods. Waves of farmer suicides also drew attention to mounting agrarian distress.
The inefficiencies of farms in India is well documented, but the ways that farmers go to market also presents opportunities for improvement. The government's original solution for farmers to move their produce down the supply chain was through selling to 'mandis'—a Hindi word for market. In most states, mandis were created after various states wrote their own Agricultural Produce Market Committee (APMC) acts. These acts created physical marketplaces where farmers (or private actors who purchased from farmers) could bring their produce to sell to licensed agents. These agents were supposed to be paid on commission by bringing goods to auction for traders in the mandi who, in turn, eventually sold to distributors.
In practice, however, traders at these mandis notoriously employ methods to cheat farmers, through means such as rigged weighing machines, poor auction transparency, and unauthorized charges. Agents also often act as creditors and purchase crops at low prices from farmers as a form of repayment, thereby skirting the regulations. This, combined with high input costs, often trap farmers in debt spirals, with farmer debt-to-asset ratios increasing 23 percent between 1992 and 2013. Mandis also have poor storage infrastructure and high participation fees representing costs passed on to both farmers and end consumers. Due to weak government oversight, mandis—which were set up to help farmers—instead often act as a cartel-like monopsonists, extracting profits from farmers and consumers alike.
Beginning in the early 2000s, these abuses led many states to attempt to reform the mandi system. The nature and efficacy of the reforms have varied widely, and have included allowing private mandis, bulk purchases, and contract farming. For example, short-term success was seen with PepsiCo setting up pre-agreed contract prices and access to drip irrigation techniques, access to land management experts, and financial tools for potato farmers. The farmers made less risky money and became more efficient; Pepsi received cheap potatoes for its Lay's brand chips. However, this arrangement eventually soured when PepsiCo sued farmers in Gujarat over the non-sanctioned use of patented potatoes. Though these reforms did not solve the underlying problems farmers face, they represented a step in the right direction.
In India, the average farm is less than three acres (versus a U.S. average of 442), and farmers are often unable to negotiate properly due to their fractured organization. Amongst a slew of possible solutions—such as deregulating ownership laws to facilitate consolidation or intensely investing in agricultural infrastructure—there is one model that has already had great success in India: the co-operative.
For instance, the dairy industry is led by large brands like Amul and Nandini, consortiums of dairy farmers developed during the "White Revolution" in the 1940s. These co-operatives originally functioned with farmers providing milk at collection points where they are issued a receipt. The co-op can then sell to traders, vendors, or directly to consumers. Expenses like salary, transportation, storage, and marketing are paid out of revenues, with the profit being paid back to farmers proportionally to the milk they contribute, accounting for 80 to 82 percent of revenue at Amul, Gujarat's co-operative. The access to information and negotiating power that comes from consolidation allows farmers to make more from each ounce of milk they produce. Co-operatives can negotiate directly with large purchasers of produce, or at least shorten the supply chain, thereby cutting out many layers of inefficient bureaucracy that currently plague the mandi system. For the dairy industry, this system increased both the dairy supply and farmer salaries.
Such pooling also helps farmers better utilize financial tools critical to the industry. Access to credit and insurance for India's farmers is incredibly difficult. Banks—many of which are state-owned in India—are difficult for farmers to borrow from as they have strict risk requirements and face recurring government loan waivers that hurt their balance sheet. Instead, the vast majority of farmers receive credit from private sources with very high interest rates and collateral demands. A system that does away with the same information and negotiating power disparities by operating through a co-op allows financial institutions to diversify their risk to an extent, and in time might even allow it to be done in-house. Co-operatives can also help farmers access modern agricultural technologies, lower input costs, and better management techniques. India's success in the White Revolution resulted in an increase in dairy output, lower prices, and increased profit for farmers.
India is a country where both farmers and consumers suffer. High prices, food waste, and widespread malnourishment have held back the country's development. By cutting out a corrupted system of middlemen and traders, co-operatives might be able to feed India's growing population and ensure that farmers don't get caught in debt traps.