India-Nepal Bilateral Relations Slide: Perspective From Kathmandu
India's relationship with Nepal is at its lowest point since the five-month "Indian Blockade" of 2015. The gap between Kathmandu and New Delhi is widening as India has not been able to keep up with transformations in Nepal and uses old lenses to view its neighbor.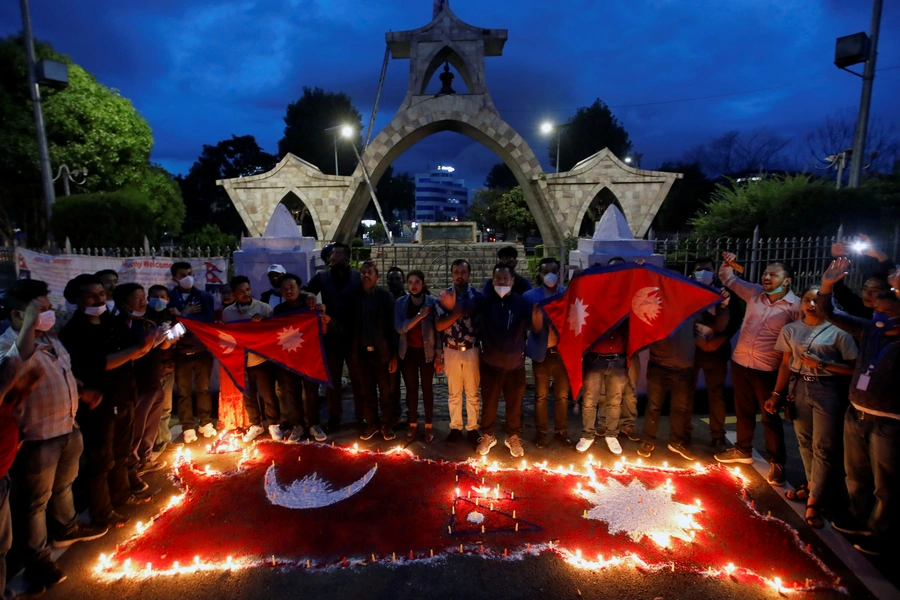 Sujeev Shakya is author of Unleashing the Vajra – Nepal's Journey Between India and China and chairs the Nepal Economic Forum.
The Nepal House of Representatives endorsed a historic second amendment to its 2015 constitution by updating its map and national emblem on June 13. The new political map included the territories Kalapani, Lipulekh and Limpiyadhura—an area of 335 square kilometers (129 square miles) that India also claims. In response, the government of India registered a border dispute with Nepal.
In Nepal, anyone who does not agree with or celebrate this amendment is touted as an anti-national. The Nepal government and the ruling political party used this nationalism as a veil to cover their bungled response to the COVID-19 pandemic. The opposition parties also took solace in this act of nationalism as it helped them cover for their lack of engagement with citizens in this time of crisis. So long as the Nepal government stoked anti-India sentiments as a way to distract from corruption and bad governance, this dispute has been inevitable. Meanwhile, India has wrongly denied Nepal's requests for official talks ever since releasing its own revised map on November 2, 2019. When India released a map that showed Jammu and Kashmir and Ladakh as union territories, the government also made changes to the India-Nepal border and included the disputed area of Kalapani as part of India. The government of Nepal promptly rejected India's claim and requested a dialogue, which never happened.
Frail Relationship
India's relationship with Nepal is at its lowest point since the five-month "Indian Blockade" of 2015. Many Nepalis believe that in September 2015, India tried to tip the scale to prevent the election of Nepal Communist Party leader K.P. Sharma Oli as prime minister. Nonetheless, he was elected, and as China-Nepal ties warmed, the Indian stance on Nepal has been quite obvious ever since. An "Eminent Persons Group" formed between the two countries submitted a report in July 2018 that outlined a new framework for the Nepal-India relationship. News reports alleged that New Delhi did not like parts of the content of the report (yet to be made public,) and the last official reaction from the Indian side was a statement by the Indian Ministry of External Affairs in response to a December 2019 question in parliament:  "The formal submission of the EPG Report to the two Governments is yet to take place." The gap between Kathmandu and New Delhi is widening as India has not been able to keep up with transformations in Nepal and uses old lenses to view its neighbor.
Hell Breaks Loose
When Indian Defense Minister Rajnath Singh on May 8, 2020 shared his delight "to inaugurate the Link Road to Mansarovar Yatra" on Twitter, all hell broke loose in Nepal, as this road passed through the territory Nepal claims as its own. When protests in Nepal began despite the pandemic, Indian Army Chief General Naravane issued a statement suggesting China was to blame, saying, "There is reason to believe that they [Nepal] might have raised this issue at the behest of someone else." Notably, General Naravane maintains a position in the Nepal army, and his Nepali counterpart in the Indian army commands 32,000 Nepali soldiers in the Gurkha Regiment, reflecting the long history of close ties between India and Nepal.
As China and India have skirmished at the border of Ladakh since May 5, 2020, many in the right-wing Indian media were quick to blame China for instigating Nepal's action. Popular Nepali actress Manisha Koirala, a Bollywood star, was trolled for being a "traitor" by Indians and the Indian media when she spoke in favor of Nepal's amendment. In Nepal, because of many people's perception of the Indian media as close to the Modi administration, the media's actions were seen as being instigated by the Indian government itself. Nepali citizens viewed what was coming out of television and print media as the Indian strategy for dealing with the border issue, rather than diplomatic dialogue.
China Matters
For Nepal, the biggest change in geopolitics since the September 2015 blockade has been increased Chinese interest as part of the Belt and Road Initiative, and other measures to provide an economic alternative to reliance on India. President Xi Jinping visited Nepal in October 2019—the first time in twenty-three years a Chinese head of state made the trip— but Nepal could not take advantage of this visit due to being underprepared. The trade war between China and the United States, along with the border skirmishes between China and India, puts Nepal back into the center of regional geopolitical activity. This is much like in the 1960s, just before India and China went to war and the United States used Nepali territory to push military aid to rebels in Tibet.
Nepal understands its economic dependency on India: the Nepali rupee is pegged to India's, landlocked Nepal relies on Indian ports for trade, and six million Nepalis work in India. However, with Nepal's dependence on India for jobs receding and more Indians working in Nepal than ever before, Indians will lose equally if the open border and parity in economic opportunities outlined by the 1950 Friendship Treaty come into review. Disputes require talks for resolution, and therefore, the sooner India engages in discussion, the better. Nepal also needs to learn from its own mistakes, such as not being well-prepared for talks due to the lack of thorough research, and failure to communicate well. These were mistakes made during Nepal's dispute with Bhutan on refugee issues in the early 1990s. The stalling of this border dispute can have grave consequences, which both India and Nepal need to understand. This is why they must engage in fruitful discussion as soon as possible.