Meet Michael Bloomberg, Democratic Presidential Candidate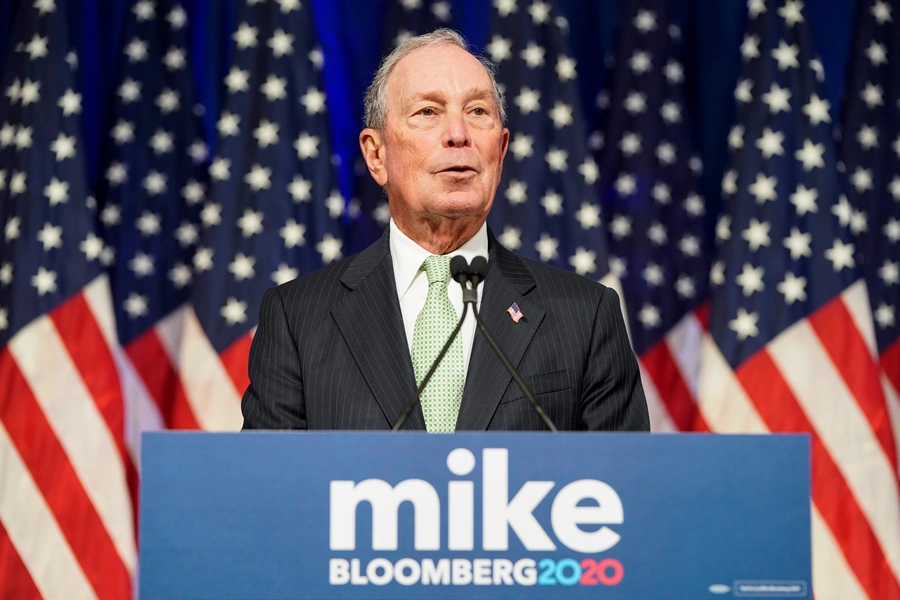 Update: Michael Bloomberg announced on March 4, 2020, that he was ending his campaign.
Former New York Mayor Michael Bloomberg seems to be taking the advice of John Maynard Keynes. The legendary economist is said to have remarked, "When the facts change, I change my mind." Back in March, Bloomberg announced he wouldn't run for president in 2020. But he also warned: "We cannot allow the primary process to drag the party to an extreme that would diminish our chances in the general election and translate into 'Four More Years.'" Flash forward eight months. With presumed favorite Joe Biden foundering in the polls and Elizabeth Warren rising in them, Bloomberg has now jumped into the race. He shares some similarities with his new rivals. Like Warren, he is divorced and used to be a Republican. Like Corey Booker, Pete Buttigieg, Julián Castro, and Bernie Sanders, he has been a mayor. And like Tom Steyer, he founded his own, very successful, business. If Bloomberg wins the White House, he will become the oldest person and the first Jewish American ever elected president.
[Full disclosure: Bloomberg (the candidate) is a life member and Bloomberg (the firm) is a corporate member of the Council on Foreign Relations. Bloomberg Philanthropies has generously supported the work of the Council on Foreign Relations' Global Health Program.]
The Basics
Name: Michael Rubens Bloomberg
Date of Birth: February 14, 1942
Place of Birth: Boston, Massachusetts
Religion: Jewish
Political Party: Democrat
Marital Status: Divorced. Lives with domestic partner, Diana Taylor
Children: Georgina and Emma
Alma Mater: Johns Hopkins University (BS); Harvard University (MBA)
Career: Partner at Salomon Brothers, founder of Bloomberg, three-term mayor of New York City (2001-2013).
Campaign Website:  https://www.mikebloomberg.com/
Twitter Handle: @MikeBloomberg
Bloomberg's Story
Bloomberg grew up in Medford, Massachusetts, a suburb of Boston. His father was a bookkeeper, and his mother was a secretary. Bloomberg was an Eagle Scout and graduated from Medford High School. He earned a BS in engineering from Johns Hopkins University in 1964. Two years later he earned his MBA from Harvard.
Bloomberg turned his MBA into a job at the legendary New York investment firm, Salomon Brothers. He eventually became a partner. Salomon Brothers was bought out in 1981, and Bloomberg was fired.  He took his $10 million severance package and started a company predicated on a simple idea: that Wall Street would pay top dollar for high-quality information delivered quickly. Bloomberg was right. The firm he founded, now known simply as Bloomberg, has expanded far beyond its initial business niche to include a news service (Bloomberg News), a television network (Bloomberg Television), and magazines (Bloomberg Businessweek and Bloomberg Markets), among other ventures. The firm operates globally, with offices in New York, London, and Beijing, among other places, generates $10 billion in revenue annually, and employs 20,000 people.  
In 2001, Bloomberg was elected mayor of New York. He ran as a Republican despite being a registered Democrat most of his life. He financed his campaign and set records doing it. The New York Times calculated that he spent nearly $69 million, or $92.60 for each of the 744,757 votes he won. He took office a little more than three months after the September 11 attacks and helped lead the city's recovery.
Although Bloomberg had no prior political experience, he turned out to be a good politician. In 2005, he won re-election, defeating his opponent by twenty points. In 2007, he announced he had left the Republican Party and registered as an Independent, saying that the switch "brings my affiliation into alignment with how I have led and will continue to lead our city." In 2008, he launched an effort to revamp the city's term-limit laws, which barred him from running for a third consecutive term. He argued that New York City needed a leader with a strong financial background to guide it through the Great Recession. Bloomberg got his way. In 2009, he won his third and final term as mayor.
Bloomberg had his share of detractors when he was mayor. A leading criticism was his support for "stop-and-frisk" policing, which disproportionately targeted young black and Latino men and which a U.S. district court judge ruled in 2013 had been unconstitutionally applied. A week before announcing his presidential run, Bloomberg apologized for supporting stop-and-frisk. But even people who didn't vote for him as mayor say he was one of the city's best and credit him for his work improving public schools, solidifying the city's finances, and boosting tourism. In 2014, Queen Elizabeth II named him an honorary knight.  
Bloomberg flirted with running for president in 2016 as an independent. He decided not to after concluding that doing so would siphon votes from Hillary Clinton and elect Donald Trump. In 2018, Bloomberg switched his party affiliation again, this time joining the Democratic Party. He spent $80 million to help Democratic candidates (and a few Republicans) win in the 2018 midterm elections.
Philanthropy has been a major priority for Bloomberg. The Chronicle of Philanthropy listed him as the second most generous philanthropist of 2018, when he gave away $767 million. It is estimated that as of the end of last year he had given away $6.4 billion, including $1.5 billion to his alma mater, Johns Hopkins University. Those two numbers don't include the $1.8 billion he has pledged to give Johns Hopkins to be used exclusively for financial aid. It's the biggest single gift ever given to a university. Other issues that have been the focus of Bloomberg's philanthropy have been reducing tobacco use, improving public health, upgrading cities, reducing traffic deaths, and combating climate change. When Bloomberg announced back in March that he wouldn't run for president, he pledged to expand his contribution to the Sierra Club's Beyond Coal campaign. That contribution turned out to be $500 million.
Bloomberg's Announcement
Bloomberg tipped his hand about joining the presidential race when he filed paperwork in early November to put his name on the ballot for the Alabama primary. He formally announced his campaign by posting a written statement on his campaign website on November 24. He also followed the new campaign tradition of releasing an announcement video:
Bloomberg used the video to tout his accomplishments as mayor as well as his efforts to mobilize action to tackle climate change and curb gun violence. He described himself as a "jobs creator, leader, and problem solver," saying all three qualities were needed in a president.
Most candidates face the challenge of raising the funds needed to be competitive. Not Bloomberg. He has pledged to spend as much as $150 million of his own money on the race. He spent an estimated $30 million on a television ad blitz during his first week in the race. Bloomberg won't be taking campaign donations. One consequence of that decision is he cannot qualify for the upcoming Democratic debates. The Democratic National Committee requires debate participants to have campaign contributions from at least 200,000 individual donors.
Bloomberg's other significant challenge is the electoral calendar. Given his late entry into the race, he is not contesting any of the first four nominating states: Iowa, New Hampshire, Nevada, and South Carolina. He's focusing instead on Super Tuesday, March 3. That's when California, Texas, and a dozen other states will be holding primaries. A third of all Democratic convention delegates will be up for grabs. That's substantially more than the 4 percent of delegates at stake in Iowa, New Hampshire, Nevada, and South Carolina. Bloomberg will be testing the conventional wisdom that winning in the early states is essential to building the momentum needed to win on Super Tuesday.
Bloomberg's decision to run for the president created a dilemma for his firm: How do you cover a presidential race fairly when one of the candidates is your boss? Bloomberg News tried to split the difference. It announced that its journalists will continue to cover the 2020 race. However, they will extend the firm's tradition of not investigating Bloomberg personally to cover all the Democratic presidential candidates. Bloomberg News did say, however, it would continue to investigate the Trump administration. That move prompted Trump to accuse Bloomberg News of bias and the Trump campaign to say it will not grant press credentials to Bloomberg News reporters.
Bloomberg's Message
The first sentence of Bloomberg's campaign website says why he jumped into the race: "I'm running for president to defeat Donald Trump and rebuild America." Bloomberg points to his experiences in business, government, and philanthropy as evidence he knows how to "win and lead." Bloomberg's pollster says the former mayor will target climate change, gun violence, education, and inequality in his campaign.
Bloomberg's Foreign Policy Views
Bloomberg doesn't have a detailed track record on foreign policy and national security, but his general pronouncements suggest he favors returning to a more traditional U.S. foreign policy. His firm has a global footprint, and its press releases describe Bloomberg as "internationally minded." Bloomberg News has been open about the fact that the unsigned opinions Bloomberg Opinion produces "have reflected his views." This has prompted efforts to parse those editorials for insights into how he would approach foreign policy as president.
Bloomberg (the firm) has extensive business operations in China, and Bloomberg Philanthropies has cooperated with the Chinese government to help finance green energy initiatives. Bloomberg (the candidate) can cite those ties as evidence he has the experience needed to work with, and if necessary, stand up to, Chinese leaders. But those same ties also open him up to criticisms that he views U.S. interests in China through the narrow lens of immediate commercial interests rather than broader national security concerns. Critics point to how Bloomberg News killed stories back in 2013 about corruption involving members of Xi Jinping's family in order not to jeopardize the company's operations in China. (Bloomberg did not return to the company as CEO until late 2014, though he still retained his ownership stake.) Bloomberg's critics similarly point to his claim that "Xi Jinping is not a dictator" because "he has to satisfy his constituents, or he's not going to survive." On the specific question of the tariffs that Trump has imposed on China, Bloomberg argues that they are counterproductive and that the two countries should "work together."
Bloomberg has long championed more aggressive efforts to combat climate change. In March 2018, UN Secretary General António Guterres appointed Bloomberg his Special Envoy for Climate Action and tasked him with galvanizing support for the UN's 2019 climate summit. Last month, Bloomberg condemned Trump's decision to withdraw the United States from the Paris Climate Agreement and said that his charities would continue the fight to limit the impact of climate change.
Bloomberg favors immigration reform. He founded the New American Economy, a bipartisan research and advocacy organization of U.S. mayors and business leaders that calls for "smart federal, state, and local immigration policies that help grow [the] economy and create jobs for all Americans." Bloomberg has called Trump's immigration policies "xenophobic" and "un-American."
Bloomberg has long supported Israel. During the 2014 Gaza War, when the United States temporarily banned commercial flights into Israel, Bloomberg flew on his private jet to Tel Aviv to "express solidarity with the Israeli people."
Bloomberg wrote in 2015 that he had "deep reservations about the Iran nuclear agreement," saying that the Obama administration was "grossly overstating" the deal's merits.
More on Bloomberg
Bloomberg wrote a biography back in 1997, appropriately titled Bloomberg by Bloomberg. He updated it earlier this year. He is also the coauthor with Carl Pope of Climate of Hope: How Cities, Businesses, and Citizens Can Save the Planet. Bloomberg has had several books written about him, including The Many Lives of Michael Bloomberg, Mike Bloomberg: Money, Power, Politics, and Michael Bloomberg: A Biography.
In September, Bloomberg wrote an op-ed criticizing the claim that "speech is violence," arguing that a "healthy democracy is about living with disagreement, not eliminating it."
Bloomberg wrote an op-ed last month for the Washington Post arguing that presidential success requires hiring and empowering talented people, something he thinks that Trump has too often failed to do.
One consequence of Bloomberg's prominence as a businessman and mayor is that he has been profiled numerous times. New York Magazine wrote about "The Mayor and His Money" back in 2005. The New Yorker asked back in 2009, "Can a good mayor amass too much power?" Esquire Magazine argued back in 2011 that "Mike Bloomberg Will Save Us From Ourselves If Only We Let Him." The New Yorker asked in 2013, "What kind of city is the Mayor leaving to his successor?" Politico in 2015 chronicled Bloomberg's return to his firm after running New York City for a dozen years. Politico profiled Bloomberg again last January, concluding that "the centrist, self-funding billionaire could have enough money and voters to sustain a long campaign that could last until the 2020 convention."
The New York Times interviewed Bloomberg back in 2017 on how he succeeded in business. He said: "If I hadn't gotten fired from Salomon, which became part of Citigroup, I wouldn't have gotten a $10 million severance, used my electrical engineering degree to begin my own information technology company and program a computer terminal for bond traders. I'd be working for my girlfriend now, who's on the board of Citibank!"
The New York Times examined policies that Bloomberg has backed that could raise red flags for voters, concluding that "though he has received a hero's welcome from Democrats for his role in the midterms, Mr. Bloomberg is plainly an uncomfortable match for a progressive coalition passionately animated by concern for economic inequality and the civil rights of women and minorities."
Vox reviewed Bloomberg's career and political prospects, arguing that he "is running as a centrist alternative to the more progressive candidates in the field, and appears to be trying to occupy the space Biden and Buttigieg are competing in."
The Center for Public Integrity offered "9 Things to Know About Michael Bloomberg."
Anna Shortridge and Caroline Kantis contributed to the preparation of this post.