The President's Inbox: Should the United States Rethink Its Russia Policy?
Each week between now and the Iowa caucuses, I'm talking with two experts with differing views on how the United States should handle a foreign policy challenge it faces. These special episodes are part of CFR's Election 2020 activities, which are made possible in part by a grant from the Carnegie Corporation of New York.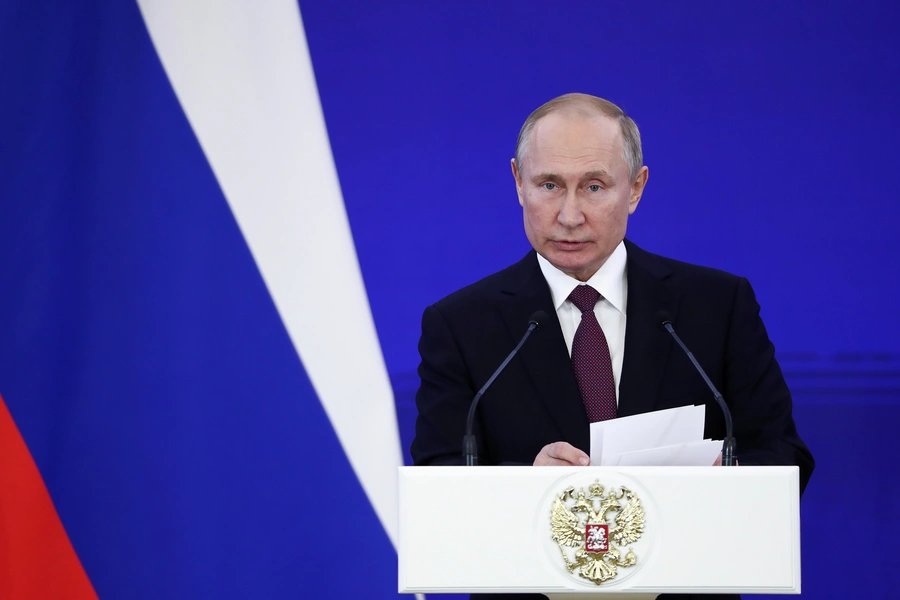 The latest episode of The President's Inbox is live. I sat down with Rajan Menon, Anne and Bernard Spitzer Professor of International Relations at the Powell School at the City College of New York, and Ambassador Stephen Sestanovich, senior fellow for Russia and Eurasian studies at CFR. We discussed whether the United States should rethink its policy toward Russia.
Here are three takeaways from our conversation:
1. U.S. policy toward Russia is divided. The National Security Strategy of the United States, which was issued in December 2017, labels Russia as a competitor that (along with China) seeks to "challenge power, influence, and interests, attempting to erode American security and prosperity." That's the dominant view on Capitol Hill, which has pushed for tougher sanctions on Russia. President Trump, however, doesn't seem convinced that Russia is a strategic competitor. He prefers to weaken U.S. sanctions on Russia and often speaks warmly about Vladimir Putin, even taking the Russian president's word for it that the Kremlin didn't interfere in the 2016 U.S. presidential election.
2. The debate over U.S. policy toward Russia isn't over whether it should be a mix of confrontation and cooperation but rather what the balance between the two should be. Decisions on how tough, or how cooperative, Washington should be toward Moscow turn on numerous judgments. Two stand out. One involves what Putin wants. Proponents of softening U.S. policy typically think he will change course if Washington offers him something enticing. Proponents of a tougher line believe that Putin will simply pocket any concessions. The other judgment involves the practical consequences of policy choices. To take one example, will providing lethal military aid to Ukraine deter Russian aggression by signaling Western commitment and raising the cost to the Kremlin of supporting separatist forces? Or will it provoke Russia by trampling on its interests?  
3. The significance to U.S. policy of Russia's recent gains in the Middle East and elsewhere is a matter of debate. Russia has reemerged in recent years as a significant player not just in Syria but also in Libya and Sudan. Russia has also deepened its ties with Israel and the Gulf states, increased its arms sales across Africa, and worked to help prop up the Maduro government in Venezuela. This has prompted talk of a Russia on the march. Whether these Russian gains are U.S. losses will vary with your assessment of U.S. interests. And the fact that Russians have new leverage doesn't necessarily mean that the United States has none.
Raj, in a piece with my colleague Thomas Graham, has called for the United States to pursue "engagement leavened by realism" in its relations with Russia. That means Washington should recognize there will inevitably be conflicts with Moscow even as it looks to "exploit opportunities for cooperation." Tom has developed and extended this argument in the latest issue of Foreign Affairs. He wants the United States to take a "pragmatic approach" to Russia that works to balance "accommodation and resistance." Raj made the case against arming Ukraine in an article with Will Ruger. They think it risks provoking Russia and enmeshing the United States to a war on Russia's doorstep.
Former U.S. Ambassador to Russia Michael McFaul takes an opposing view. He says the United States "must accept that Putin is here to stay and won't end his assault on Western democracy and multilateral institutions anytime soon." The lesson? While McFaul acknowledges that on some issues it "is truly necessary" for Washington to work with the Kremlin, otherwise the United States should "freeze it out."
Dmitri Trenin has reviewed the past twenty years of Russian foreign policy and identified Putin's successes, failures, and mistakes. What Putin wants and whether his hold on power is weakening are important questions. Julia Ioffe appeared on The President's Inbox last year to discuss Putin's political goals. Steve Sestanovich wrote back in August that Putin has now made two mistakes that have taken down Russia leaders in the past: "brazen manipulation of elections" and "official impunity," that is, ignoring or abusing Russian law.
One consequence of increased U.S.-Russian tensions may be the final collapse of the arms control regime that Democratic and (even more so) Republican presidents crafted in the 1970s and 1980s. Secretary Ernest Moniz and Senator Sam Nunn discussed, both in Foreign Affairs and on The President's Inbox, why the breakdown of that agreement won't serve the interests of either country or the world writ large.
Margaret Gach helped in the preparation of this post.