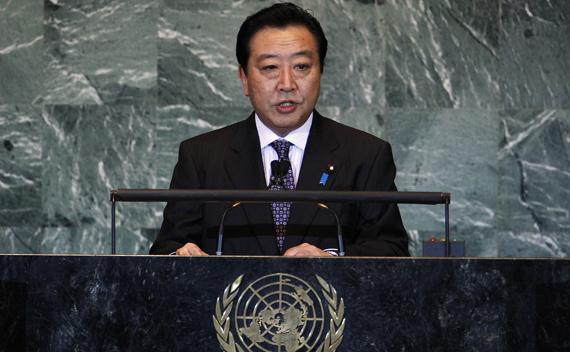 Japan's newest prime minister, Yoshihiko Noda, arrived in the United States this week for his much anticipated first meeting with President Obama, and a debut at the UN General Assembly—the first conversation there since the March 11 earthquake-tsunami disaster struck.
U.S. officials seemed upbeat about the prime minister's meeting with President Obama. Yet, media questioning about the infamous Futenma Marine base on Okinawa set off another round of speculation about the state of the relationship. Earlier in the week, at a George Washington University conference hosted by Professor Michael Mochizuki, the governor of Okinawa, Hirokazu Nakaima, laid out current political realities in Okinawa and argued the U.S.-Japan governments' plan to relocate the marine airfield was too difficult to realize. The governor presented his thinking on how to proceed, a position that surprised few of us who have been watching Okinawa politics of late. Pressure is building again here in Washington, as Congressional budget cuts loom, and the governor spent some time on Capitol Hill with Senators Levin, McCain and Webb sharing his thoughts.
But Prime Minister Noda presented a broader—and more strategic—agenda during his New York visit.
He clearly articulated his priorities for Japan. In the public remarks before his private meeting with President Obama, Noda forcefully reminded us that his top priority is the recovery of Japan from the devastation of the great East Japan earthquake and the restoration of Japan's economy. He thanked the United States for its support in the immediate aftermath of that tragedy, and singled out U.S. Ambassador to Japan John Roos for his tremendous effort in leading the U.S. response on the ground.
The prime minister startled some by speaking out on his immediate concerns about the global economy, saying he worried about a double dip recession. The need for the United States and Japan to help stabilize the global economy as they seek to address their own national economic needs was clearly on his mind. This week, as the specter of Greece's default looms large, and as the volatility of global markets continues, Noda clearly understands the need for the United States, Japan, and Europe to find a common approach to avoid catastrophe.
The next day, at the UN High-Level Meeting on Nuclear Safety and Security, Prime Minister Noda presented an update on the situation at Fukushima Daiichi nuclear plant. He expects that cold shutdown of the reactors will be accomplished within this year, ahead of schedule, and thanked the 2,000 workers on the plant site who have made this possible. In addition, he outlined Japan's reporting to the International Atomic Energy Agency (IAEA), its efforts to analyze the accident, and its plans to convene an international conference next year co-hosted with the IAEA to announce the results of the analysis and "lessons learned."
Nuclear safety reform is one of Japan's top priorities, and Prime Minister Noda made it clear that he is committed to having Japan play a leading role in enhancing the safety of nuclear power generation worldwide. Reform of Japan's own nuclear safety standards, and the oversight mechanisms for implementing them, will be completed in concert with the IAEA, and the development of the global capacity to respond to—as well as prevent—any future nuclear accidents will be strengthened. In addition, Japan's prime minister made a personal pledge to continue to work with Washington and others on nonproliferation and nuclear security enhancements.
Let's hope that Prime Minister Noda's calm and clear articulation of his priorities, and of our bilateral agenda for cooperation, sets the tone for our next several months of alliance dialogue. Squabbling over Futenma is an indulgence we can no longer afford. We need a serious review of alternative options to solve this problem now so that Washington and Tokyo can turn their attention to their broader strategic agenda.