Prized Panda Diplomats Return to Beijing
The National Zoo's giant pandas will return to China by mid-November.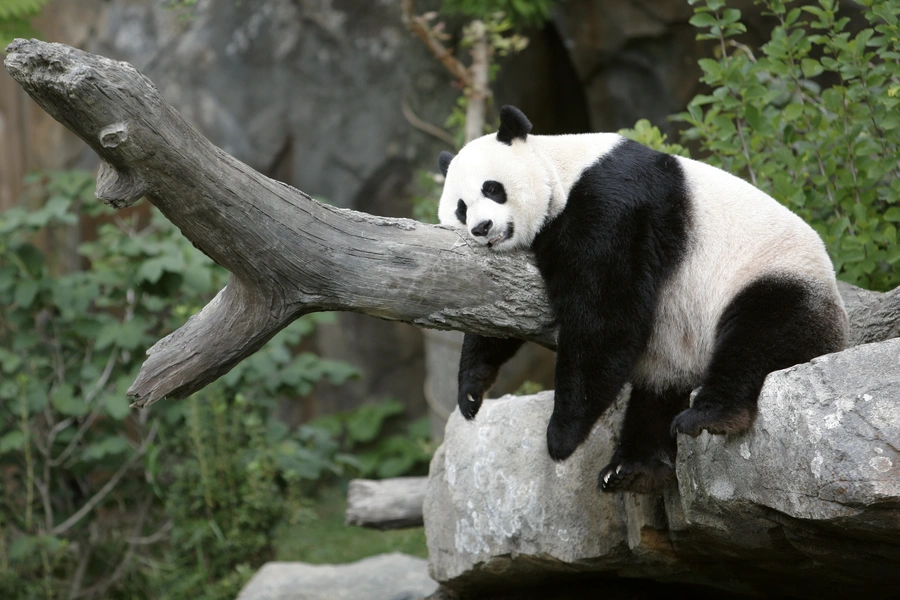 Washington has bid a giant farewell to three of its most popular ambassadors this fall. Tian Tian, Mei Xiang, and Xiao Qi Ji, who are giant pandas, will depart for Beijing by mid-November.
The large black and white bears—only native to China—have served as the ultimate tokens of friendship and diplomacy in many countries, including the United States. There is no shortage of giant panda iconography throughout Washington, from t-shirts to cake pops to Metrobuses. In a way, Olivia Diaz and Michael E. Ruane of the Washington Post acknowledged, "the giant panda became a symbol of Washington."
China's cultural interaction with the United States, however, is on the decline. Recalling the pandas signals a move away from China's attempted use of soft power in the United States and toward a more aggressive form of diplomacy toward the United States amidst an overall chill in U.S.-China relations.
Pandas as Diplomats
China's overseas lending of pandas had in the past coincided with warming relations between world powers as well as attempts to burnish China's global soft power. Take China's opening to leading liberal democracies and the aftermath of the 1989 Tiananmen Square crackdown as two instances.
In recognition of former U.S. President Richard Nixon's historic trip to China in 1972, then Chairman Mao Zedong offered the United States two giant pandas. His gesture had a name: panda diplomacy.
Since then, giant pandas have called the National Zoo in Washington, D.C. home for some fifty-one years. Following the passing of the first pair of pandas, Ling-Ling and Hsing-Hsing, China sent two more pandas to the United States: Mei Xiang and Tian Tian.
The Chinese government stipulated that the pandas and any cubs born to Mei Xiang and Tian Tian were allowed to reside in the United States as part of a research agreement, but they belonged to the People's Republic of China. The agreement was originally set to expire in 2010 but was extended several times. The agreement was not re-extended this year. Instead, Tian Tian, Mei Xiang, and Xiao Qi Ji will board a specially chartered one-way flight dubbed by FedEx as the "Panda Express" back to China like panda cubs Bei Bei and Bao Bao did in years prior. The United States will have no pandas by 2024, when the Atlanta Zoo's twin pandas, Ya Lun and Xi Lun, are expected to return to China.
The return of giant pandas to China is not just limited to the United States. The Netherlands and Japan returned their panda cubs to China earlier this year after the termination of existing contractual agreements. Britain is set to return its pandas this December on a similar timeline as the National Zoo. Australia's agreement will expire next year. Russia, however, will continue to have pandas for the foreseeable future. China's President Xi Jinping presented Russian President Vladimir Putin with two giant pandas in 2019 as part of a fifteen-year lease.
A Decline in Soft Power
The end of China's panda diplomacy coincides with a broader decrease in its cultural interaction with the United States. China has shown less interest in bolstering its influence in the United States through soft power, like winning over panda-obsessed hearts or continuing educational exchange programs.
This shift reflects the growing belief among China's leadership that regardless of what it does, the United States will seek to obstruct its rise and global influence. It poses the question then to Beijing's leaders: why share China's highly desired cultural capital without a diplomatic return? At the same time, the U.S. government is growing increasingly hawkish regarding overall relations with China.
U.S. officials have grown increasingly weary of other aspects of China's public diplomacy. Lawmakers have sought to restrict the presence of Confucius Institutes, which are funded by the Chinese government to promote Chinese language and cultural education on university campuses, resulting in most Confucius Institutes shuttering their doors in the U.S. and other liberal democracies. At one point, 118 Confucius Institutes existed in the United States, but by December 2022, only seven were left.
While the opportunities for cultural exchange in people-to-people relations declined, Americans could still interact with their panda diplomats. Cui Tiankai—China's ambassador to the United States in 2013—wrote an op-ed for the Washington Post acknowledging China's panda diplomacy when Bao Bao was born. (Bao Bao returned to China in 2017 as part of the contract). Cui wrote at the time: "Many people don't realize it, but there are actually two Chinese ambassadors in Washington: me and the panda cub at the National Zoo."
The departure of Tian Tian, Mei Xiang, and Xiao Qi Ji is noteworthy for what it symbolizes—vestiges of the era of greater U.S.-China opening. Even though the Washington pandas command a sky-high approval rating, their country of origin does not. Looking ahead, it is difficult to imagine how China could devise novel forms of soft power in the United States to rival their panda diplomats.
Michelle Kurilla is a research associate for U.S. Foreign Policy. Abigail McGowan is a research associate for Southeast Asia and U.S. Foreign Policy.