Remembering Those Whom Memorial Day Honors
The stories of five Americans who were awarded the Medal of Honor for making the ultimate sacrifice.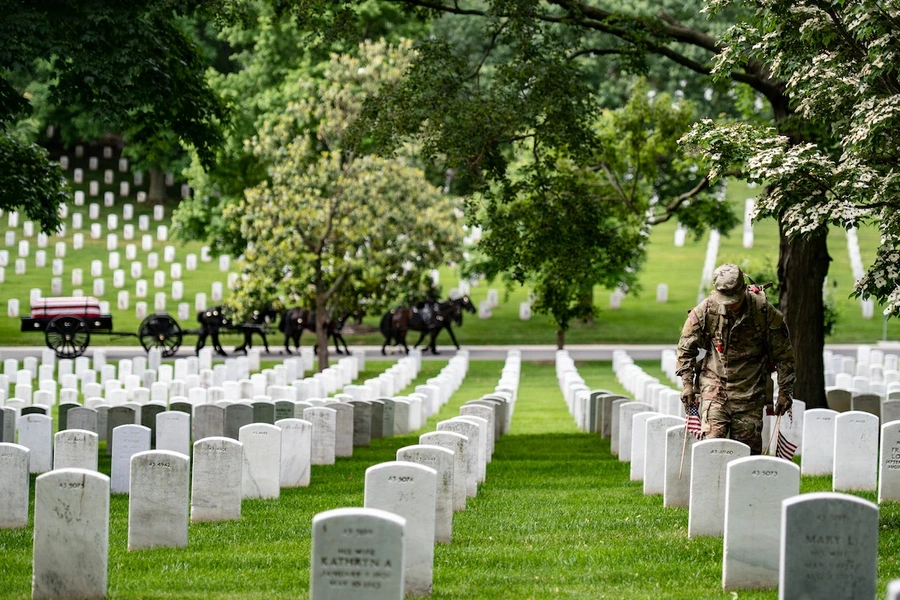 The United States has fought twelve major wars and numerous smaller skirmishes in its history. Memorial Day is how we honor the soldiers, sailors, airmen, airwomen, and Marines who did not return home. The holiday dates back to the months immediately following the Civil War when a few towns and cities began honoring their dead. In 1868, General John A. Logan—at the time the head of an organization for Union veterans, later a U.S. senator from Illinois, and the man for whom Logan Circle in Washington, DC, is named—called for May 30 to be designated "Decoration Day." He said the purpose would be for "strewing with flowers or otherwise decorating the graves of comrades who died in defense of their country during the late rebellion." The holiday was renamed Memorial Day after World War I, and its purpose became to honor all Americans who have died fighting the nation's wars. Since 1971, Memorial Day has been celebrated on the last Monday in May. 
In honor of Memorial Day, here are the stories of five Americans who were awarded the Medal of Honor, the nation's highest award for bravery, for making the ultimate sacrifice: 
Corporal James Davidson Heriot was born on November 2, 1890, in Providence, South Carolina, a small town located sixty miles southeast of the state capital of Columbia. After completing high school, he attended Clemson Agricultural College, which today is Clemson University. Heriot majored in agriculture and graduated in 1912 from what was then an all-white, male military school. He returned home to work on the family farm and joined the South Carolina Army National Guard. The United States declared war on Germany in April 1917. Two months later, Heriot was summoned to active duty. He was assigned the American Expeditionary Force's 118th Infantry Regiment, 30th Infantry Division and ordered to France. On August 8, 1918, Allied forces launched the Hundred Days Offensive, an effort to break through German lines and end the war. On October 12, Heriot's division was fighting alongside British and Australian troops at the Battle of St. Quentin Canal in Vaux-Andigny, a town in northern France near the border with Belgium. The canal was the most heavily defended section of the German defense known as the Hindenburg Line. After their company took heavy fire from a German machine-gun nest, Heriot and four other soldiers decided to attack the position. Two of the soldiers were quickly killed, while two others took cover. Heriot, however, refused to stop, covering the thirty yards to the nest and using his bayonet to force the German gunners to surrender. Despite being wounded, Heriot continued to fight. Later that day, he charged another machine-gun nest. This time he was cut down by enemy fire. He was three weeks shy of turning twenty-eight, and thirty days shy of witnessing Armistice Day. His Medal of Honor is on display at the Camden Archives and Museum in Camden, South Carolina. 
Private First Class Harold Christ Agerholm was born on January 29, 1925, in Racine, Wisconsin, where he grew up. After graduating from high school, he worked briefly at a local manufacturing company. On June 16, 1942, he enlisted in the Marine Corps Reserve. He completed basic training in San Diego and was sent in November 1942 to Wellington, New Zealand, where his battalion trained for eleven months. He saw action at the Battle of Tarawa in November 1943. He was then ordered back to Hawaii with the 2nd Marine Division to train for the invasion of Saipan in the Mariana Islands, a strategic target 130 miles northeast of Guam that, if taken, would make it possible for B-29 bombers to target the Japanese home islands. The Battle of Saipan began on June 15, 1944. Agerholm landed on the island three days later as a member of the 4th Battalion, 10th Marines, 2d Marine Division. On July 7, Agerholm's battalion was engaged in fierce fighting when the Japanese forces mounted a major counterattack. A nearby artillery battalion was soon overrun. Agerholm volunteered to help evacuate the wounded. For more than three hours, he repeatedly braved enemy rifle and mortar fire to bring his wounded comrades back to safety. He eventually evacuated an estimated forty-five Marines. As he ran to aid what he believed to be two more wounded men, he was killed by a Japanese sniper. Agerholm was nineteen years old. On June 26, 1946, the USS Agerholm was named in his honor. It would fight in both the Korean and Vietnam wars. The Jerstad-Agerholm elementary and middle school in Agerholm's hometown of Racine also bears his name.  
Private First Class Herbert K. Pililaau was born on the Hawaiian island of Oahu on October 10, 1928. He was the ninth of fourteen children and grew up in Waianae, a small beachfront town on the west coast of Oahu thirty miles north of Honolulu. He loved to sing and play the ukulele. He had just turned thirteen when Japanese forces attacked Pearl Harbor. He graduated from high school in 1948 and studied accounting at a local business school. Deeply religious—he didn't drink and preferred reading the Bible to socializing—Pililaau initially considered seeking conscientious objector status when he received his draft notice shortly after the Korean War began. He ultimately decided to report for duty, however. In March 1951, he was deployed to Korea, serving with Company C, 23rd Infantry Regiment, 2nd Infantry Division. In August, he fought at the Battle of Bloody Ridge, in which his division seized a ridge in east central Korea just north of the 38th parallel. The division then turned its sights toward another target roughly a mile away. It would come to be known as Heartbreak Ridge. On September 17, 1951, Pililaau's unit was under heavy attack from North Korean forces on Heartbreak Ridge. Ordered to withdraw as their ammunition was running low, Pililaau volunteered to stay behind to provide covering fire. He fired on the attackers until he had exhausted all his ammunition and grenades. He then engaged in hand-to-hand combat. He was finally shot and then bayoneted. When U.S. forces subsequently retook the position, they found Pililaau's body surrounded by more than forty enemy dead. He was three weeks shy of turning twenty-three. He was the first native Hawaiian to be awarded the Medal of Honor and is buried in the National Memorial Cemetery of the Pacific in Honolulu. In January 2000, the U.S. Navy christened the USNS Pililaau, a military sealift command cargo ship, in his honor. The Herbert K. Pililaau Army Recreation Center in Pililaau's hometown of Waianae is named after him.  
Private First Class James Anderson Jr. was born on January 22, 1947, in Los Angeles. He grew up in Compton, one of seven children. He loved to sing, dance, and play the clarinet. He graduated tenth in his high school class in 1964. He took pre-law classes for a year and a half at Los Angeles Harbor College and aspired to become a pastor. His family and friends described him as "peaceful, caring, and gentle." Expecting to be drafted into the Army, Anderson left school and opted to enlist in the Marines on February 17, 1966. By year's end, he was a rifleman with Company F, 2nd Battalion, 3rd Marines, 3rd Marine Division in Quang Tri Province on the central coast of South Vietnam. On February 28, 1967, Anderson's platoon was tasked with extracting a reconnaissance patrol that was pinned down in dense jungle northwest of Cam Lo. As the platoon moved forward, it too came under heavy attack. As the Marines closed ranks and returned fire, an enemy grenade landed near Anderson's head. As his Medal of Honor citation describes it, "unhesitatingly and with complete disregard for his personal safety, he reached out, grasped the grenade, pulled it to his chest and curled around it as it went off." Several of Anderson's fellow Marines suffered minor shrapnel wounds but survived. He did not. He was just twenty years old. Nineteen months later he would become the first African-American Marine to be awarded the Medal of Honor. In 1983, the U.S. Navy named a maritime prepositioning ship after him. In December 2022, Congress passed a law naming a post office in Compton after Anderson. 
Staff Sergeant Travis W. Atkins was born on December 9, 1975, in Great Falls, Montana. He lived in Helena until he was five, when his family moved two hours south to Bozeman. He loved the outdoors and was an accomplished hunter, fisherman, and snowmobiler. After leaving school, he had a succession of jobs painting, laying concrete, and repairing small engines. He enlisted in the Army on November 16, 2000, three weeks before his twenty-fifth birthday. In March 2003, he was ordered to Kuwait, where he fought in the invasion of Iraq as a fireteam leader with the 101st Airborne Division. He left the Army as a sergeant in December 2003, and returned to Montana to work and attend the University of Montana in Missoula. Two years later he reenlisted in the Army. By May 1, 2007, he had been promoted to staff sergeant and was a platoon leader in the 2d Brigade Combat Team in the 10th Mountain Division. One month later, while manning an observation post with his four-man squad in Abu Samak, Iraq, Atkins noticed four men acting oddly. Suspecting the men were insurgents, he led his team in approaching the group to conduct a search. A scuffle quickly erupted. When one of the insurgents reached under his clothes, Atkins wrestled the man to the ground, pulling him away from his three fellow soldiers. With Atkins lying on top of him, the insurgent detonated an explosive vest. "He saved my life and the life of several others," Army Sgt. Sand Aijo later said. "I would not be here today without him." Atkins was thirty-two when he died. He left behind a wife and an eleven-year-old son. He was originally awarded a Distinguished Service Cross. In 2019, his valor was recognized with a Medal of Honor.  
Other post in this series: 
Remembering Those Whom Memorial Day Honors (2022) 
Remembering Those Whom Memorial Day Honors (2021) 
Remembering Those Whom Memorial Day Honors (2020) 
Remembering Those Memorial Day Honors (2019) 
Remembering Those Memorial Day Honors (2018) 
Remembering Whom Memorial Day Honors (2017) 
TWE Remembers: Memorial Day (2016) 
TWE Remembers: Memorial Day (2014) 
TWE Remembers: Memorial Day (2013) 
TWE Remembers: Memorial Day (2012) 
Sinet Adous assisted in the preparation of this post.