Responsible Recruitment Through Technology: A Path Forward
This post was authored by Sophie Zinser, a Schwarzman Academy Fellow in the Asia Pacific Program and Middle East North Africa Program at Chatham House in London. She is also a consultant at Diginex Solutions, a technology business developing tools to combat forced labor and modern slavery in Hong Kong.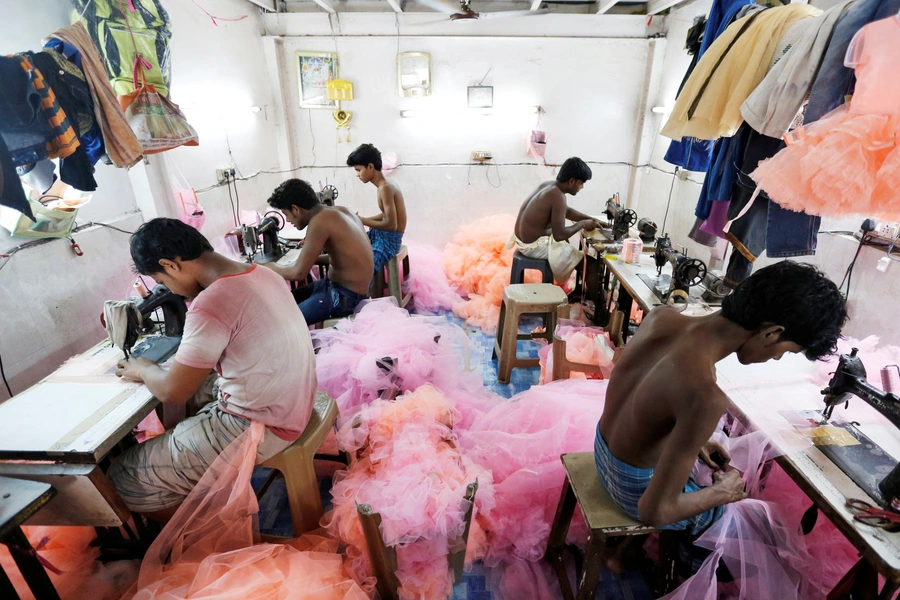 This post was authored by Sophie Zinser, a Schwarzman Academy Fellow in the Asia Pacific Program and Middle East North Africa Program at Chatham House in London. She is also a consultant at Diginex Solutions, a technology business developing tools to combat forced labor and modern slavery in Hong Kong.
When Americans went into lockdown last year, they bought fewer things—at first. Demand for major consumer goods in the United States decreased sharply when lockdown began, while stimulus checks, holiday shopping, and general boredom resulted in winter surges for the e-commerce market. At the same time, those making and shipping goods—an estimated 450 million people working across global supply chains—are still feeling whiplash from shifting consumer appetites.
Indeed, no singular event in world history has more acutely exposed the difficulties that vulnerable workers along global supply chains face daily. Migrant worker exploitation, in particular, dotted 2020 news stories, which featured heart-wrenching descriptions of crowded worker dormitories and the long treks on foot that unemployed migrant workers endured during India's first and second COVID-19 waves. The Topglove scandal in Malaysia exposed how deadlocked PPE manufacturers refused to pay migrant workers, subjecting workers to forced overtime and passport confiscation. The Boohoo scandal revealed that a garment factory in the United Kingdom was paying workers $4 per day, proving that forced labor is not restricted to low- and middle-income countries.
An estimated 24.9 million people are victims of forced labor globally. They often work against their will and under threat of punishment. Their circumstances are further complicated because forced labor can be difficult to identify; it exists on a spectrum and includes both withholding of wages and worker intimidation. To make matters worse, the pandemic tragically reduced incomes, led to lockdowns, and exacerbated worker debt. Rates of gender-based violence and other types of physical and emotional abuse increased for millions of workers across the world, including those who were previously not under threat of forced labor.
As border restrictions lift and developed economies surpass pre-pandemic levels of growth, surges in work-related migration will expose millions of migrant workers to a largely unregulated global recruitment industry. Thousands of third-party recruitment actors help suppliers to multinational garment, beverage, packaged foods and other consumer goods companies meet recruitment needs. Many of these actors charge hiring fees directly to workers at no corporate cost. But recruitment organizations can act insidiously by using fees to trap workers in debt bondage, unlawfully retaining identity documents that restrict workers' freedom of movement or hiding exploitative terms inside worker contracts. Under immense pressure to keep pace with production demands and competition, buyers and suppliers often find ethical recruitment strategies detrimental to their bottom line. Recruitment actors don't always set out to abuse and exploit either; they are many cases unaware of industry norms or the illegality their activities are. Both therefore can perpetuate forced labor, at times without even knowing it.
If nothing changes, global production stands to keep profiting at workers' expense. Despite forced labor risks, migrating for work is a fundamental right and attractive options for millions. The Philippines' and Bangladesh's economies, for example, are propped up by so-called "expatriate labor:" migrant workers sending remittances home to provide for their families. Not only are companies financially invested in keeping migrant labor essential to global supply chains, but governments have a stake in keeping expatriate labor a safe option for their people.
Modern slavery legislation is already pressuring companies' compliance and sustainability departments to identify areas at risk of involving forced labor. And during the COVID-19 pandemic, companies made meaningful strides in integrating some innovative technology, including remote social compliance auditing tools, into global supply chains. Technology—a double-edged sword—can be used to perpetuate labor exploitation. But when used properly, it can allow companies to identify hidden instances of violations, such as the role of suspicious recruitment actors, and take steps toward remediation.
Work is already being done, but the low level of global investment in technology approaches to end forced labor is stunting the sector's potential growth. Piecemeal approaches will continue to lead to piecemeal solutions. Nongovernmental organizations such as the Mekong Club, the Global Fund to End Modern Slavery (GFEMS), and the impact technology company Diginex (with which the author is affiliated) are at the forefront of holistic approaches to technology for ending forced labor; identifying recruitment issues before they arise and decreasing the need for late-stage interventions for companies and workers once a labor rights violation has already occurred.
Global supply chains would benefit from tools like Diginex Lumen, one centralized and technology-driven risk-mapping tool. A web-based platform like Lumen implemented at scale would give companies, suppliers, and recruitment actors a birds-eye view of risks along the worker's journey from when they make the decision to migrate until they leave their jobs to return home, keeping each actor informed of risks as they arise. In the same tool, workers can actively report on their conditions as buyers and suppliers share their own forced labor policies and recruitment actor information. These web-based platforms incentivize participating companies to end forced labor in two ways: first, they would be more likely to hop on the trend of buyers and suppliers reimbursing existing recruitment fees charged to workers when they leave their country of origin; thereby decreasing migrant workers' debt bondage. Making the Employer Pays Principle a norm, rather than an exception to the rule, is one place to start.
Second, easy-to-use technological tools that buyers and suppliers trust incentivizes confidential disclosure of information on the complex web of recruitment actors that companies source from. Once anonymized, stored on a privacy-preserving data repository, and collected at scale, this data could give the world a fuller picture of which recruitment actors are more likely to perpetuate first labor. Companies in the future could use this platform to identify "gold star," low-risk recruitment actors. With an easy-to-use interface and integrations for Facebook, WhatsApp, and other platforms that migrants already use, tools must integrate with existing worker voice technology that regularly collects worker perspectives on their pathways to employment. This ensures that worker's voices could be heard and escalated up the chain at every stage of a migrant worker's journey.
The biggest opportunity to end forced labor is cooperation among buyers, suppliers, worker unions, multilateral institutions, governments, and large corporations to use tech tools that comprehensively identify "good" recruitment pathways and boycott "bad" ones; thereby reducing the recruitment industry's sprawling scale and amplifying the impact of law-abiding actors. Such an approach can end forced labor before it starts.
The time for corporate buy-in on developing such a system is now. As COVID-19 risks reduce in the West, discretionary spending is predicted to recover, giving the supply chains manufacturing clothing, food, plastics, and other goods a push to move faster than ever. At the same time, new modern slavery legislation has never been stronger at holding corporations accountable.
A recent survey of two hundred senior-level supply chain executives showed that supply chain visibility will be the industry's number-one priority over the next three years. Let's make sure that visibility includes recruitment agencies, which are not all bad. Workers and companies across the globe will stand to benefit from more ethical supply chains.