Signals for the Indo-Pacific From Trump's Summitry
India, which still views U.S. foreign policy with some skepticism, is essential to the success of the "Free and Open Indo-Pacific" strategy. What will New Delhi conclude from the recent U.S. diplomacy on display?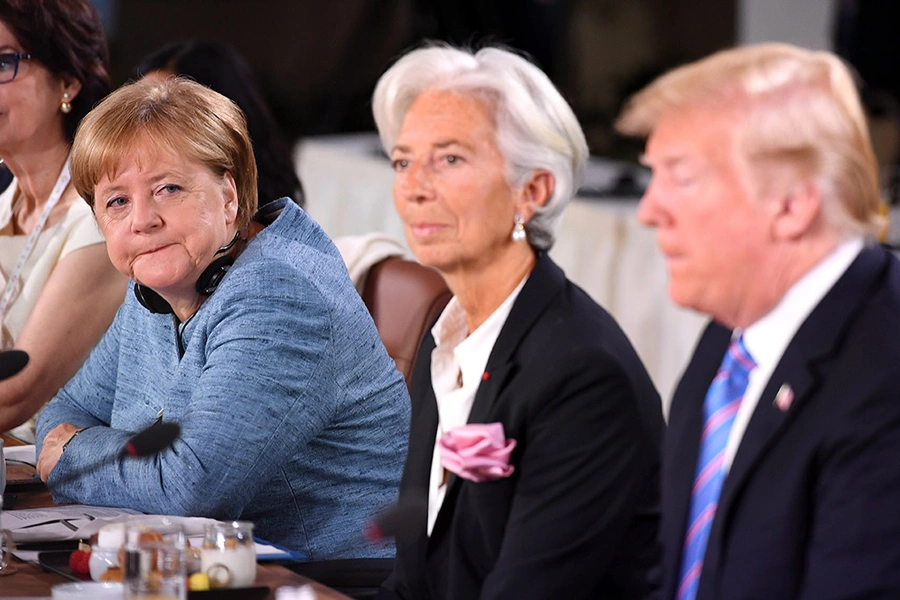 Over the past four days, the world has watched U.S. President Donald J. Trump's diplomatic practice in action with two back-to-back summits: the Group of Seven (G7) meeting in Canada, followed immediately by the "#TrumpKimSummit" in Singapore. The former gathering, a longstanding summit among the staunchest of U.S. allies, could not have been more different from the latter, an initial meeting with the dictator of the world's most repressive state that last fall threatened an "unimaginable" strike against the United States.
As is by now well known, the G7 summit over the weekend resulted in total diplomatic chaos. Prior to setting out for Canada, the president stated in a press conference that Russia should be brought back into the G7. This recommendation came out of nowhere, and on the face of it has little merit, for Russia is no longer among the world's top ten economies, nor is it a democracy. Further, Russia was expelled in 2014 following its illegal annexation of Crimea, a situation which remains unchanged.
Then the president tore through Twitter with a series of tweets targeting Canadian Prime Minister Justin Trudeau, who had noted in a press conference that Canada "would not be pushed around" by the imposition of U.S. tariffs on steel and aluminum. For reasons that remain unexplained, this statement appeared to trigger President Trump into a tirade; he instructed U.S. representatives not to endorse the G7 communiqué, typically an anodyne statement about shared values and economic growth endorsed by all attendees, and called Trudeau "dishonest and weak."
Let's leave aside the follow-on comments about Canada from members of President Trump's White House staff; this unfortunate series of events brought the United States to a place where it not only disassociated itself from its closest, most reliable allies in the G7 but further instigated a public spat with a country renowned (and sometimes mocked) for being too nice. Canada has fought side by side with the United States and—as former U.S. Ambassador to NATO Nicholas Burns reminded—the Canadian ambassador to NATO was the first to suggest invoking Article 5 to come to the collective defense of the United States after the September 11, 2001 attack. This weekend, none of that mattered against an angry explosion over dairy trade.
Two days later, the president stood side by side with Kim Jong-un and called him "talented" and someone who "loves his country," although he conceded that Kim is not "nice." Indeed, this is a man who operates gulags, executes people with machine guns, and sets their bodies on fire with flamethrowers. Not "nice" doesn't begin to cover it.
The images now circulating on Twitter—a glowering Angela Merkel with other G7 leaders looming over a seated Trump, with his arms crossed, juxtaposed with a seeming Trump-Kim "bromance" of smiles all around—tell the story visually.
Between the G7 catastrophe and the messaging out of Singapore, the president—whether he realizes it or not—is signaling to the world that the United States does not place its closest allies in a privileged position. Fighting side by side, and deep historical commitments over decades, do not dissuade the president from going on the attack. Diplomatic traditions like G7 communiqués mean little and can be jettisoned with a tweet. On the other hand, the president appears curious and interested in Russia and North Korea, rather than distant, cautious, and concerned.
Let me bring this back to the Indo-Pacific, where the United States has a declared strategy to uphold a "free and open Indo-Pacific region," emphasizing a rules-based order, shared values like democracy and freedom, and free trade. India, a strategic partner but not an ally, and a country famously and historically suspicious of U.S. foreign policy, is a centerpiece of this strategy.
What will countries that still view U.S. foreign policy with skepticism—like India—infer from the diplomacy on display over the past four days? It's hard to conclude that the arbitrary and tempestuous public attacks on allies set a precedent for American reliability. It's also hard to conclude that Washington sees the countries with which it shares values of democracy and freedom as occupying a more important place in U.S. policy. And finally, it's hard to conclude that deep strategic cooperation can offset economic frictions.
Signals matter, and leaders in other capitals around the world will draw their own conclusions.
My book about India's rise on the world stage, Our Time Has Come: How India Is Making Its Place in the World, was just published by Oxford University Press in January. Follow me on Twitter: @AyresAlyssa. Or like me on Facebook (fb.me/ayresalyssa) or Instagram (instagr.am/ayresalyssa).