Sixteen and Married: Why Identity Matters for Syrian Girls
Ensuring that displaced women and girls have official identification is a critical step toward reducing rates of child marriage among Syrian refugees.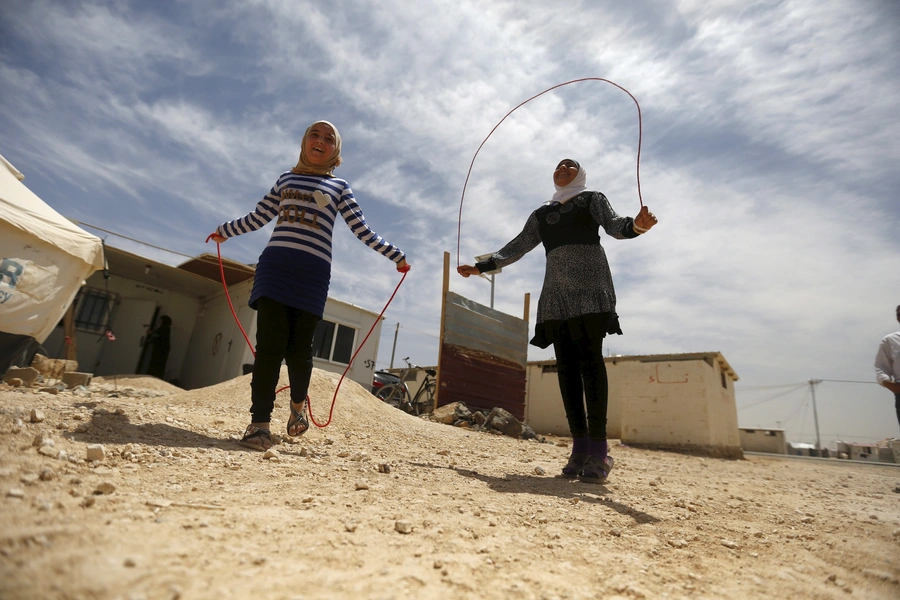 This blog was coauthored with Rebecca Hughes, a research associate at the Women and Foreign Policy program at the Council on Foreign Relations.
I met Bushra in the husk of a bombed out building in Tabqah. Bushra was clearly educated, bright, and savvy. She had had some schooling, was familiar with Skype, and had managed to make her way in a war-torn country. But by the time she was 16, she was married and a mother to two children—ages two-and-a-half years and six months. She said that every girl she knew from school had either disappeared, been forced into marriage, or kidnapped.
"I'm one of the lucky ones," she told me. She said she was lucky because at least her husband was kind and she cared for him.
Child Marriage in Humanitarian Settings
Decades of research on child marriage demonstrates that it has devastating effects on girls' health, education, and economic potential. Research also shows that rates of child marriage increase during humanitarian emergencies. The Syrian conflict is no exception. According to the UN Population Fund, there has been a significant rise in the rate of child marriage among displaced Syrians. For instance, in refugee camps in Jordan the rate of registered Syrian marriages that involved a girl between the ages of 15 and 17 climbed from 12 percent in 2011, to 36 percent in 2018.
For many displaced Syrian families, child marriage serves as a coping strategy. Some families marry their daughters off for economic reasons – both to provide their daughters with financial stability and to ease the family's financial burden. Other families view marriage as a means to protect their daughters from sexual harassment and assault, and by extension, as a safeguard for the family's "honor." Yet, although the negative impact of child marriage in humanitarian emergencies is clear, relatively little has been done to end the practice.
The Role of Identification in Ending Child Marriage
Ensuring that displaced women and girls have official identification is a critical step toward reducing rates of child marriage among Syrian refugees. Many Syrian refugees were forced to flee the conflict without their national ID cards and family booklets. In host countries, refugees' lack of identification from their home country combine with gaps in local law and policy to make it difficult for them to acquire identification documents and register marriages and births.
While lack of identification increases the vulnerability of all refugees, this is particularly true for girls. When girls are unable to prove their age, they often have difficulty staying in school and delaying marriage. Even when countries have legislation in place to prevent child marriage these laws can be circumvented. For instance, under Jordanian law the minimum age for marriage is 18. Theoretically Syrian girls are afforded the same protections as their Jordanian counterparts. However, Jordan's process of registering a marriage for foreigners requires the provision of official identity documents that many refugees lack, and is opaque, costly, and time consuming. These barriers prevent many refugees from registering their marriage, and helps allow the practice of child marriage to continue in refugee communities.
Host countries and humanitarian organizations can reduce child marriage among Syrian refugees by identifying and addressing the barriers that prevent girls and women from obtaining official identification, and by prioritizing efforts to register them. First, with support from donors, host countries can address discriminatory laws and policies that impede girls' and women's ability to acquire identity documents. Second, international organizations and host countries should coordinate to develop and streamline robust and secure identification and registration systems. In particular, these systems should ensure that children are registered quickly and given the documentation they need to be enrolled in school. Third, outreach programs should provide refugees with the information and assistance they need to successfully navigate these systems, and should target women and girls in particular.
Hope for the Future
When I asked Bushra to tell me about her hopes for the future, she told me, "All my hopes are for the next generation." It was a startling thing to hear a sixteen-year-old girl say, but child marriage robs bright and capable girls of the opportunity to shape their own future and contribute to their communities. It is devastating to think that Bushra is not the only Syrian girl whose potential will go untapped. Yet, if we ensure that displaced Syrian women and girls have access to official identification, we can help support them as they build a better future for themselves, their families, and their communities.