South Korea's 2030 Expo Bid: A Confluence of Diplomacy, Economic Prosperity, and Global Influence
The successful pursuit of the 2030 Busan Expo bid could significantly bolster South Korea's global ambitions. Regardless of the outcome, Seoul must continue to rejuvenate Busan's regional economy.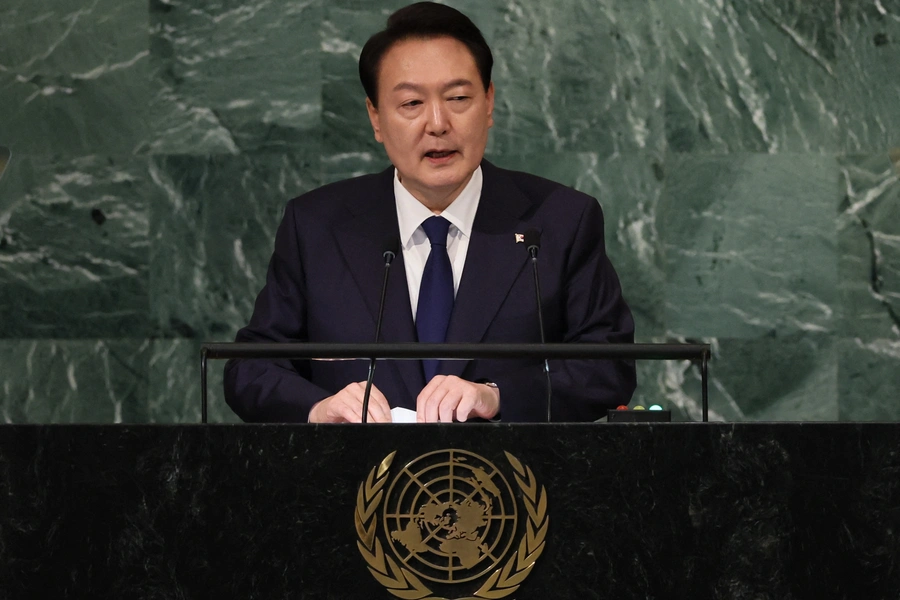 From September 18, South Korea's President Yoon Suk Yeol will embark on a five-day journey to the United States, focusing on pivotal foreign policy discussions. Notably, on September 20, he is slated to deliver a keynote address at the United Nations General Assembly. However, drawing significant attention are the over thirty bilateral meetings with foreign leaders planned for the week, aimed at rallying support for South Korea's aspirations to host the 2030 Expo in Busan, its second-largest city. Given this concerted effort, one might wonder about Seoul's motivations and the potential implications for the country's future.
The World Expo, commonly referred to as the World's Fair, stands as the preeminent international showcase that celebrates each nation's technological, cultural, and commercial achievements. Hosting such a significant global event, which sees participation from over 190 countries, is perceived to bring substantial economic and political advantages to the host country. Following the 2022 presidential election, Seoul has been actively leveraging its soft power by enlisting global celebrities like BTS and Squid Game's Lee Jung-jae for promotional campaigns and investing in diplomatic strategies designed to secure international backing for its bid. Despite stark partisan divisions present in South Korean politics, there is a rare bipartisan consensus on this initiative among lawmakers. The potential economic benefits and the chance to further solidify South Korea's position as a central global player are key motivators. In this endeavor, South Korea stands united, ardently chasing the dream of hosting the 2030 Busan Expo.
World Expo as a Catalyst for South Korea's Future Success
Hosting the international exhibition would serve as a critical showcase of South Korea's expanding influence on the global stage. In contrast to the specialized expos held in Daejeon (1993) and Yeosu (2012), Busan aims to host South Korea's first registered exhibition. This event stands as a successor to the traditional World's Fair, tracing its origins back to the 1800s, and is considered the quintessential Expo, given its larger scale and broader participation. If selected, this accomplishment would place South Korea as the seventh nation to host the Olympics, the FIFA World Cup, and the World Expo.
Rarely does an opportunity arise for a country to display its capabilities and technological advancements so comprehensively. South Korea has evolved from one of the most impoverished countries in the world to a top-ten global economy leading in cutting-edge smart technologies. The Busan Expo would offer a platform for South Korea to solidify its international brand as a global pivotal state. With the theme of "Transforming our World, Navigating Toward a Better Future," South Korea would have the chance to articulate its vision for humanity's future and affirm its role in shaping that future to a global audience. This platform would also allow audiences to witness first-hand the highly developed and economically thriving country that South Korea has become, thus reshaping outdated perceptions and stereotypes.
The Expo would also underscore South Korea's strategic importance in international affairs and to allies such as the United States by highlighting South Korea's considerable economic and industrial strength. The Busan Expo's successful launch would serve as a lens through which the world can view South Korea's successful diplomatic strategies, enhancing its international influence and fostering deeper relations with states that recognize South Korea's economic and technological potential.
Clouds Over South Korea's Chance of Winning
The Expo bid for Busan is one of the few topics that has garnered bipartisan support within the politically polarized landscape of South Korean politics. President Yoon routinely includes the promotion of the Busan Expo in his talking points during state visits, including his recent trips to the United States, the NATO summit, France, and Vietnam. He receives support from Speaker of the National Assembly Kim Jin-pyo, a member of South Korea's opposition party, who has been actively endorsing South Korea's bid during discussions with European and Indo-Pacific countries, including Vietnam and New Zealand. Additionally, Busan's Mayor Park Heong-joon is at the forefront of these efforts, engaging with foreign diplomats and influential figures in Busan and hosting various city-wide events aimed at rallying public enthusiasm and support for the bid. Park's regional popularity has been supported by the strong desire of Busan residents to potentially host the World Expo and revitalize the region's economy, further motivating Park to secure the bid successfully.
However, the optics are mixed regarding whether South Korea will secure victory in the Bureau International des Expositions (BIE) bidding process, which necessitates a simple majority in the final vote conducted by member states. The South Korean government has declared the prospects as promising, with vote projections placing them neck-and-neck with their competitor, Saudi Arabia's Riyadh. This stands in contrast to Saudi Arabia's assertion that it has gained two-thirds of the votes and Italy's claim that they are currently leading the bid with a count of seventy votes.
Although the United States has refrained from publicly declaring its support for any particular bid, both South Korea and Italy are making concerted efforts to ensure the United States endorses their respective campaigns. However, the growing influence of Saudi Arabia, backed by its commitment to invest $7.8 billion in hosting the Expo and coupled with strengthened economic ties with countries like France that publicly support Riyadh, poses a formidable challenge to South Korea's ambitions. This growing clout of the kingdom, such as the PGA Tour merging with Saudi-backed LIV Golf, is causing significant apprehension within South Korea about its likelihood of securing the event.
The latest hurdle facing South Korea is China's suspected disruptive influence. China is reported to be using its coercive power to sway other member states. According to a high-ranking official in Seoul, one of the Latin American countries that had previously pledged support for Busan's bid rescinded their verbal commitment after receiving messages from China. This reported coercion from China is an extension of ongoing tensions between China and South Korea that have escalated during the Yoon administration over its foreign policies to bolster relations with the United States and Japan. Despite previous support for South Korea's bid – as demonstrated by an oral statement of support from China's consul general in Busan during a meeting with Park in 2022 – the Chinese government quickly altered its position.
Consequently, the growing competition and hurdles have led to dwindling confidence among South Korean citizens about hosting the event, as revealed by a recent Newsis poll. Although there is bipartisan backing for the bid, inability to secure the event for Busan might spell trouble for the Yoon administration. Given that the bid for the Busan Expo has become a pivotal aspect of Yoon's foreign policy, failing to garner the support of BIE member states might provoke questions regarding the administration's diplomatic prowess, particularly its ability to engage key stakeholders such as China.
The anticipation among South Korean citizens, if met with disappointment, could also influence the 2024 legislative election, which is slated just four months after the announcement of the final result. It is worth noting that Seoul's approach to the bidding process has already elicited mixed reactions from its citizens. Recent polling data reveals that 40 percent of respondents expressed dissatisfaction with President Yoon's speech at the BIE General Assembly in Paris. This disapproval was especially pronounced among residents of the Gwangju region and voters in their 40s, a demographic traditionally seen as the core base for the opposition Democratic Party. While there was robust support exceeding 80 percent from various regions and age groups, these two groups stood out with their significant opposition to hosting the World Expo, as shown in a Gallup survey.
A Vision Beyond the Bid Itself
South Korea will likely persist and intensify efforts to bolster bilateral communications with countries that have not yet publicized their voting stance until the final election on November 28. This approach should incorporate active utilization of private sector ties, showcasing how hosting the event in Busan could stimulate economic growth and foster stronger trade collaborations. Concurrently, Seoul should leverage the coalition it has recently solidified, urging its most steadfast allies to publicly endorse its endeavors and convince other member states to transform their relative indifference into favoritism.
Simultaneously, South Korea should acknowledge that winning the Expo for Busan will present a valuable opportunity to showcase the city's economic potential and attract foreign investments and cooperation. Opportunities to promote Busan's beauty and potential on this scale are scarce. Leveraging the event to introduce Busan globally and display its capacity to host major international events and accommodate global corporations should be part of Seoul's strategy regardless of whether the bid is successful. This approach aligns with South Korea's broader efforts to diversify its supply chain, contributing to a more robust and resilient economy. In this vein, it is vital to continue city-wide initiatives in Busan, such as the Busan North Port Redevelopment Project, which would generate a $23 billion economic effect, and the construction of the Gadeok-do Island Airport.
Revitalizing Busan and its economic infrastructure will demonstrate South Korea's commitment to fulfilling its promise made during the bidding process of developing the regional infrastructure, thus paving the way for hosting various events in Busan even if the World Expo bid fails. It will also serve as a critical steppingstone for advancing the Yoon administration's policy of decentralizing South Korea's economy and population. Recognizing the significance and opportunities the bid can bring, South Korea should prepare for a "post-bid Busan" to ensure their efforts are not rendered in vain.
Jinwan Park is the former summer 2023 intern for Korea studies at the Council on Foreign Relations.