The Status of Women and Girls in Iraq and Afghanistan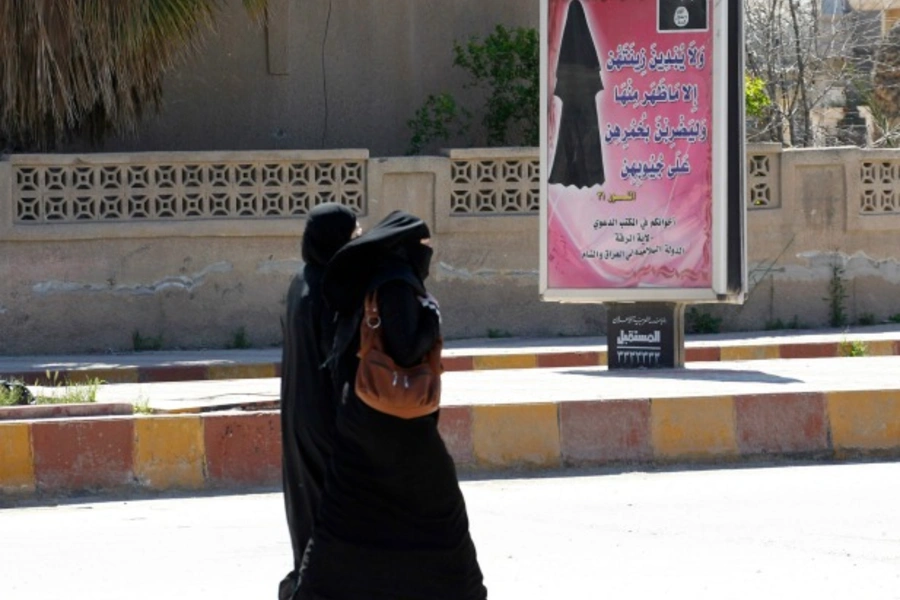 This post is by Catherine Powell, fellow for CFR's Women and Foreign Policy Program; and Amelia Wolf, research associate for CFR's Center for Preventive Action and International Institutions and Global Governance Program.
The recent increase in attacks by the self-proclaimed Islamic State (IS)—known until recently as the Islamic State of Iraq and Syria (ISIS)—and the group's claims to territory in northern Iraq have spurred observers to draw comparisons between the current crisis in Iraq and the Taliban insurgency in Afghanistan. In Iraq, the IS has begun to impose Sharia law in areas under its control, forcing boys and girls to be separated at school, requiring women to wear the niqab in public, and banning music. There have been reports that the IS has forced women to marry or have sex with militants, ordered families to hand over their daughters, and distributed leaflets promoting the rape of women. In addition, a Saudi-based cleric recently issued a fatwa allowing militants to rape women in towns claimed by the group. All this has caused fear and concern that the drawdown of U.S. troops in Afghanistan by the end of 2016 will result in a similar unraveling and a revival of extremism in the country—which would undermine the primary intent of a decade of U.S. intervention.
Whether or not the crisis in Iraq compares directly to Afghanistan—given the historical, cultural, geographic, ethnic, and political differences between the two countries—it certainly provides a cautionary tale for U.S. policy toward Afghanistan. In particular, just as gender equality is threatened by the rise of IS in Iraq, the gains made by Afghan women and girls over the course of the U.S. presence in the country would be greatly imperiled by a resurgence of the Taliban if the Afghan National Security Forces (ANSF) are not strong enough to step in as U.S. troops withdraw.
Prior to the overthrow of the Taliban, women and girls were banned from schools; segregated in many aspects of public life, including the workplace; and prevented from leaving their homes without a male guardian. In 2001, virtually no girls were enrolled in school, and women rarely participated in the formal economy and or held leadership positions. Now, more than ten years later, women have made great strides in education, health, political participation, economic empowerment, and social engagement. Approximately 40 percent of children enrolled in schools are girls and maternal mortality has fallen from 1,600 to 327 deaths per 100,000 births. Additionally, women hold three out of twenty-five cabinet seats and 120 judicial positions. Backsliding on this progress would undermine security, stability, and development, as gender equality and stability are correlated.
Even if U.S. troops stay in Afghanistan beyond President Barack Obama's December 2016 deadline for complete withdrawal, U.S. public opinion and funding for an ongoing U.S. military presence much beyond that date is unlikely to change, given the other potential demands on the U.S. military and constraints on resources. Obama's recent announcement that U.S. military involvement will come to an end before he leaves office reflects this political reality as well as his desire for a legacy of pulling the United States out of two wars and refocusing U.S. counterterrorism efforts on new fronts in the Middle East and North Africa. While policymakers and media have focused on the continued presence of U.S. troops, severe cuts to U.S. funding of the ANSF are in the works and pose a great threat to the rights of women and girls going forward. U.S. policymakers should utilize the leverage they currently have in Afghanistan to strengthen the ANSF's own ability to prevent the country from a fate similar to that of Iraq.
The 2003 U.S. invasion of Iraq was a fool's errand from the beginning–particularly since a focus on Afghanistan instead would have better served U.S. interests in the region. However, once the United States toppled Saddam Hussein, it had a responsibility to assist the country with an orderly transition to a society in which human rights and security are guaranteed. Part of the current problem in Iraq is the fact that the United States withdrew before adequately training Iraqi forces. To avoid a similar erosion of security and backtracking on gender equality in Afghanistan, Washington should follow the recommendations outlined in a recent CFR report, Women and Girls in the Afghanistan Transition:
Support the ANSF's ability to maintain security and enhance the environment for the participation of women and girls in public life.

Double funding to support women's integration into the ANSF.

Invest in women's rights and leadership–including in rural areas–as this will support sustainable development for the country as a whole.

Maintain and expand girls' education in Afghanistan.
In comparing the Afghanistan and Iraq, it is important to remember the crucial differences between the two countries. For example, gains made by women and girls since 2001 have been widely supported by a majority of Afghans, including men. This has not been the case is Iraq. In addition, sectarian divisions that lie at the heart of the resurging violence in Iraq do not exist to the same extent in Afghanistan. Lastly, while Iraqi Prime Minister Nouri al-Maliki refused to an agreement for a U.S. residual force in Iraq, the runoff candidates in Afghanistan—Abdullah Abdullah and Ashraf Ghani Ahmadzai—have both agreed to sign the bilateral security agreement to ensure a U.S. presence in the country. A security agreement is essential to ongoing cooperation between the two countries to achieve shared policy goals, including promoting the participation of women and girls in public life.