Tsai Ing-wen's Victory: A Few Initial Notes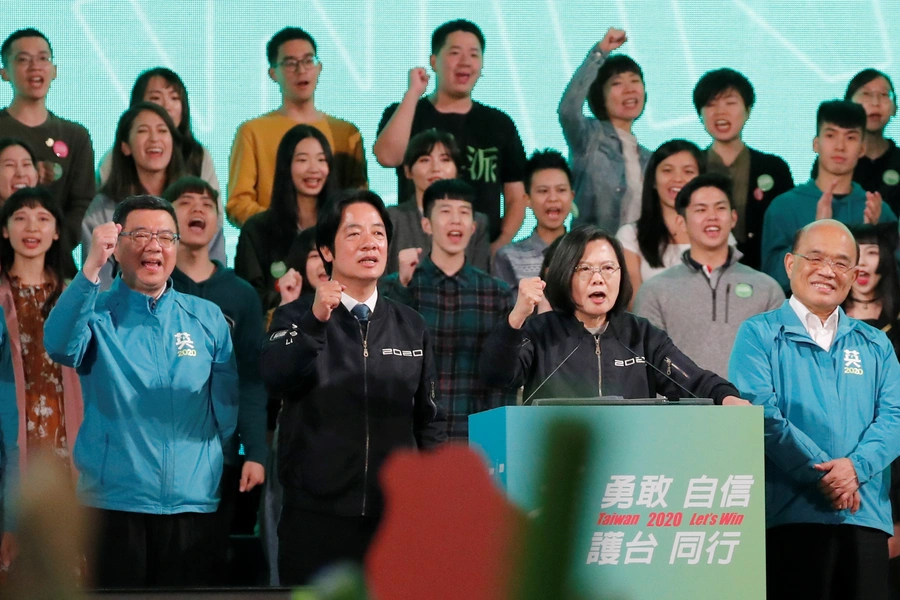 Although Taiwan's presidential election seemed, in the middle of last year, like it was going to be a close contest, this past weekend incumbent Tsai Ing-wen, of the Democratic Progressive Party (DPP), was handily re-elected to a second term in office. Tsai won in a landslide, badly outperforming her challenger, the Kuomintang's (KMT) Han Kuo-yu. Tsai won the most total votes of any candidate since Taiwan began to hold direct elections for president more than two decades ago. She took roughly 57 percent of the vote; though she was favored to win, she triumphed by even more than polls had predicted. In the legislature, meanwhile, the DPP retained control, meaning that Tsai will have considerable ability to pass key priorities. The DPP ran particularly strong in Taiwan's big cities.
Tsai's decisive victory offers several possible lessons. For one, she was a more effective candidate—disciplined, with coherent messages, and without major scandals, while Han struggled to explain his policies and got caught up in several scandals relatively late in the campaign. Taiwan's economy has performed relatively well under Tsai, although it still faces major long-term challenges, and its performance boosted the incumbent, especially since Han did not have a clear economic plan or team. Han's tough-talking, off-the-cuff, and sometimes abrasive style may have worked in getting him more attention in the earlier stages of the campaign, but comments by him and other KMT officials that seemed sexist could have hurt the KMT among voters.
But the biggest lesson from the election comes from how the candidates used China, always the biggest issue in a Taiwan election campaign—and how China's behavior, including its attempts to sway the election, may actually have helped Tsai win re-election. Once the protests began in Hong Kong last year, Tsai was able to utilize Han's warm views of China—and Taiwanese voters' concerns about the situation in Hong Kong one day being repeated in Taiwan—to blast Han as being too close to Beijing. Han had no real response, and so his ties to China became a major liability for his campaign as the Hong Kong protests spiraled on.
And as I and many other commentators have detailed, China aggressively tried to influence these elections, seemingly in favor of Han. Pro-China media outlets in Taiwan, like those owned by the powerful Want Want China Times Group, reportedly appeared to have been publishing propaganda for Han, and also taking direction from the Chinese government. (Want Want China denies that it has done so.) In addition, Taiwan was deluged with disinformation in the run-up to the presidential election, including a whole series of fake Facebook posts, sketchy YouTube videos that spread false information, and many other dubious tactics.
Such strategies seem to have backfired—badly. As Rush Doshi of the Brookings Institution notes, Taiwanese have become increasingly savvy media consumers, and are developing their abilities to sort through disinformation and propaganda. Many Taiwanese know full well the policy positions of outlets like the Want Want China Times Group and factor that into their readings and viewings of Want Want outlets' coverage, and of other Taiwanese outlets known for being sympathetic to China.
And China's heavy-handed use of disinformation and other influence tactics actually might have led more Taiwanese to vote for Tsai and the DPP. Indeed, China's clandestine and corrosive style within the Taiwanese media can backfire—just as it has backfired in other regions where China has gained significant leverage over the local media, It seems that sharp power, when exposed, leads to sharp responses.
As the scale of disinformation was exposed in the run-up to the 2020 election, thousands of Taiwanese voters took to the streets to protest China's influence in the Taiwanese media and China's disinformation tactics. The Taiwanese government imposed tougher new laws designed to curb disinformation, and built a partnership with Facebook to crack down on false posts. Tsai slammed China's influence efforts, and her tough stance on Beijing's approach to Hong Kong and disinformation seems to have pushed more voters toward her and the DPP.
China is indeed building up a global media and information apparatus, and I am working on a book that looks at how that apparatus is developing and expanding. But just because China is putting this apparatus into place does not mean Beijing will be successful at controlling information in other countries, controlling it enough to support Beijing's policy goals. Taiwan is often seen as an indicator of how Beijing will utilize media and information in other countries in the future. For now, it also shows how China's media and information strategies very often still fail.
(This post was adapted from a series of tweets I wrote over the weekend about the Taiwan elections.)