TWE Remembers: Four Memorable Foreign Policy Moments in Vice-Presidential Debates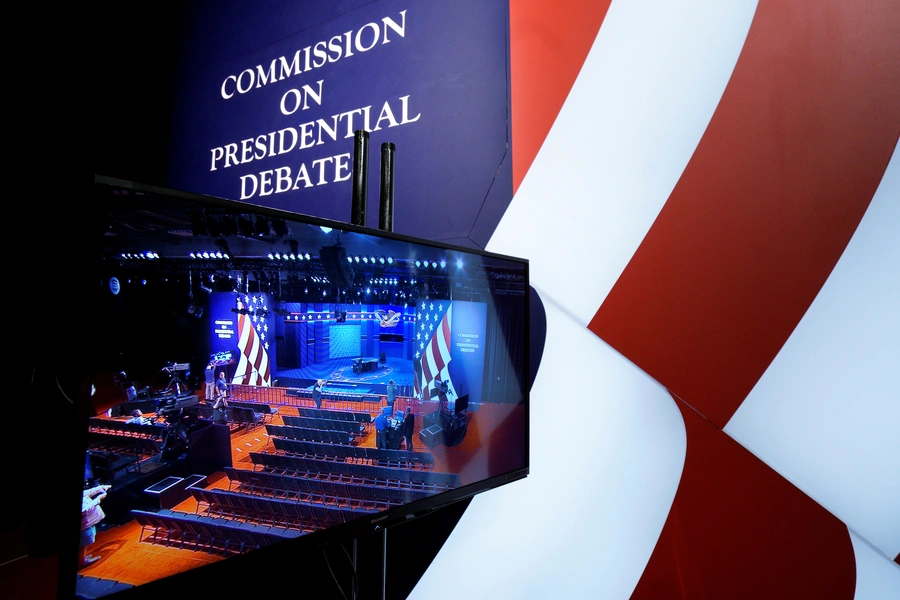 This blog post was written by Anna Shortridge, research associate for U.S. foreign policy at the Council on Foreign Relations.
The vice-presidential debate is scheduled to be held tomorrow tonight in Salt Lake City. I've written about memorable foreign policy moments during presidential debates. My colleague Anna Shortridge decided to look at notable moments where those going for the No. 2 seat discussed foreign policy.
Senator Kamala Harris and Vice President Mike Pence are set to meet tomorrow night at the University of Utah in Salt Lake City for the first and only vice-presidential debate. Susan Page, USA Today's Washington bureau chief, will moderate. Now that President Donald J. Trump has COVID-19, tomorrow night's debate may be more important than ever. And in light of the outbreak of the coronavirus in the White House, Harris and Pence will stand twelve feet apart and will be separated by plexiglass. The plan for the ninety-minute debate calls for nine separate segments. As of this morning, Page had not named the topics she intends to explore.
So it's anyone's guess whether Harris and Pence will get a chance to square off over foreign policy or whether they will make news if they do. But sometimes presidential understudies do make headlines when they turn to foreign policy. Here are four notable examples:
1976: Bob Dole and Walter Mondale
When Republican vice-presidential nominee Bob Dole was asked about President Gerald Ford's decision to pardon Richard Nixon, the Kansas senator answered by saying it was "not a very good issue any more than the war in Vietnam would be or World War II or World War I, or the war in Korea, all Democrat wars, all in this century." He went on to say that "if we added up the killed and wounded in Democrat wars in this century, would be about 1.6 million Americans, enough to fill the city of Detroit."
Democratic vice-presidential nominee Walter Mondale responded that Dole had "earned his reputation as a hatchet man" and condemned him for suggesting that partisanship is why the United States entered those four wars. After the debate, Dole walked back his comment about "Democrat wars" in a bid to defuse the controversy he had sparked.
1984: George H.W. Bush and Geraldine Ferraro
Democratic vice-presidential nominee Geraldine Ferraro was asked about horrific bombings a year earlier of the U.S. embassy in Beirut and later the Marine Battalion Headquarters. In her answer, she drew a comparison with the Iran hostage crisis. Vice President George H.W. Bush responded by saying: "Let me help you with the difference, Mrs. Ferraro, between Iran and the embassy in Lebanon." Bristling at what we would today call "mansplaining," which was made all the worse by the fact Bush that hadn't addressed her by her title, "Congresswoman," Ferraro responded: "I almost resent Vice President Bush, your patronizing attitude that you have to teach me about foreign policy."
Ferraro later admitted she was not a foreign policy expert, but said that she "didn't need a man who was the Vice President of the United States and my opponent turning around and putting me down." The exchange with Bush illustrated one of the challenges Ferraro faced as the first female vice-presidential candidate: many people conflated leadership with masculinity and questioned if Ferraro, as a woman, had what it took to be vice president.
2012: Joe Biden and Paul Ryan
The first topic of discussion when Vice President Joe Biden and Republican vice-presidential candidate Paul Ryan debated was the September 2012 attack on the U.S. consulate in Benghazi that killed a U.S. ambassador and three U.S. consulate workers. Ryan was asked if Mitt Romney's claim immediately after the attack that the Obama administration had apologized to the perpetrators was "appropriate right in the middle of a crisis." The apology Romney referenced had actually been issued by the U.S. Embassy in Cairo before the Benghazi attack and had condemned an anti-Islamic video rather than anything happening in Libya.
Ryan said the Obama administration should have spoken out sooner about the Green Revolution, mullahs in Iran, and Bashar al-Assad. He added that the United States should not cut its defense budget because it would make the United States look weak. Biden responded: "With all due respect, that's a bunch of malarkey." Biden said that Ryan cut the Obama administration's budget request for diplomatic security by $300 million and condemned the Romney-Ryan campaign for making a political statement following the attack in Benghazi. "Malarkey" quickly gained attention on social media. It has returned as a motto in Biden's current campaign.
2016: Tim Kaine and Mike Pence
During the 2016 vice-presidential debate with Democratic nominee Senator Tim Kaine, Pence called Putin a "small and bullying leader" and blamed the Obama administration's "Russia reset" for Russia's annexation of Crimea two years earlier. Pence even insinuated that the United States should use military force against Russia if its behavior continued in Syria.
Unfortunately for Pence, his tough line on Russia contradicted Trump's own comments. After the debate, the media highlighted the discrepancy.  During the second presidential debate five days later, Trump said that he had not spoken with Pence on Russia and Syria, and that he "disagreed" with his running-mate's stance.
The vice-presidential candidates' primary job during the debate is to press the case for the positions their running-mates have staked out. So, if foreign policy does come up tomorrow night, watch to see if Harris and Pence faithfully recite the party program—or create daylight with the top of the ticket, thereby triggering a fresh round of critical news stories.