The U.S. Presidential Race: Hillary and India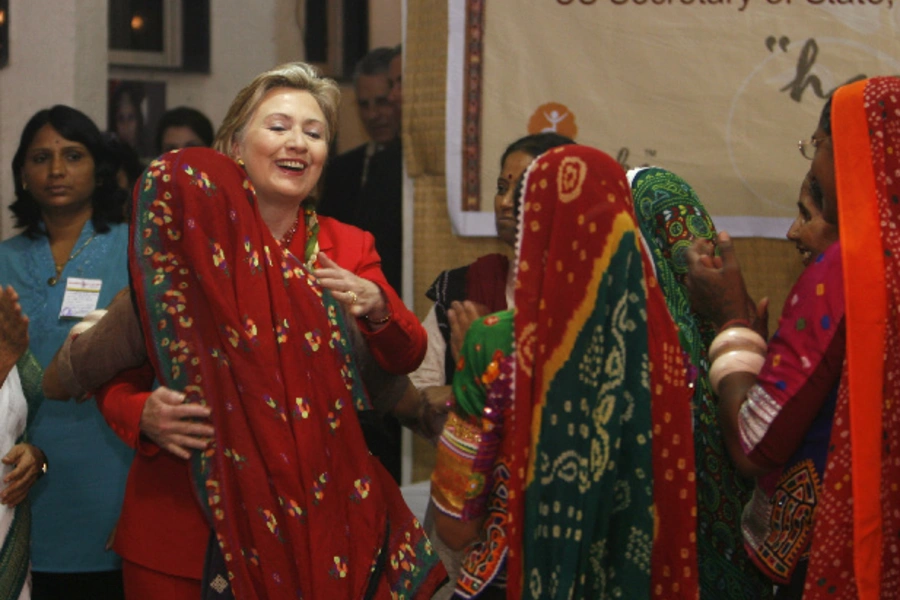 This post is the first of a series looking at how India and South Asia will feature in the American presidential election of 2016.
Hillary Clinton's April 12, 2015 presidential campaign launch kicked the U.S. presidential race for 2016 into higher gear. It's also the first American campaign announcement to garner significant media attention in India. Due to her long history with India—as first lady, a senator, and secretary of state—Clinton is a known quantity in the region and has a clearly articulated policy record on South Asia, unlike other presidential candidates. One Indian paper covered her campaign launch with the headline, "Hillary hearts India." That background makes it easier to assess how a possible Clinton administration might approach ties with India.
First and foremost, she sees India as a crucial part of U.S. strategy in a world increasingly centered on Asia, where, in her words, "the future of politics will be decided." As secretary of state her focus on rebalancing U.S. foreign policy toward Asia contained a strong emphasis on expanding ties with India, one of the emerging Asian powers highlighted in her Foreign Policy essay of 2011. This was the essay that referred to "actively support[ing] India's Look East effort" and talked of India as a "linchpin" of an "economically integrated and politically stable South and Central Asia."
During her July 2011 visit to India, she delivered an important speech in Chennai—India's maritime gateway to Southeast Asia—that reinforced U.S. interest in working with India to steward the Asia-Pacific waters. It was that speech which, while noting American support for India's Look East policy, also urged India "not just to look East, but to engage East and act East as well." (Three years later, in November 2014 India formally announced it would revise its Look East policy to an Act East policy.)
The Chennai speech marked the public introduction of a U.S. "New Silk Road" vision for promoting regional economic integration to connect Afghanistan more deeply to markets, communication networks, and energy links within the region, particularly as the international troop presence shrinks. It's no accident that Clinton rolled out this strategy publicly in India, home of South Asia's largest economy by orders of magnitude. (Full disclosure: I worked in the Clinton State Department as deputy assistant secretary for South Asia from 2010 to 2013.)
As secretary of state, Clinton placed a high priority as well on economic statecraft to advance trade and investment ties around the world. Here, too, India received important focus, although on this count a Clinton presidency would likely differ little from other administrations given the heft of India's economy.
Another area a Clinton administration would likely prioritize with India would be women's empowerment. During her travels to India as secretary of state, she often met women's organizations and women leaders, such as her Mumbai meeting with the Self-Employed Women's Association in 2009 (pictured above); her Chennai interaction with the Working Women's Forum in 2011; and her discussion with women at the Indian Council for Cultural Relations in Kolkata in 2012.
It's perhaps as important to note that Clinton's willingness to speak bluntly and publicly to Pakistan about the problems of terrorism in their country won her plaudits in India. Articles in the Indian press covering her campaign announcement mentioned her "tough messages" to Pakistan with approval.
That's an overview of policy priorities. What adds to her warm reception in India, as noted earlier, is the interest in India and South Asia she has demonstrated extending back to her visit as first lady in 1995. As a senator, she helped create and co-chaired the Senate India Caucus. She supported the U.S.-India civil nuclear agreement spearheaded by the Bush administration which won congressional approval in 2008. She has traveled extensively in India, and over the decades interacted just as extensively with Indian media, such as in "townterview" appearances with India's leading journalists. This is a much deeper level of familiarity with India, going back two decades, than any other candidate in the race.
In future posts I will take a look at other candidates—both Democratic and Republican—to assess the extent to which India and South Asia feature on their policy agendas.
Follow me on Twitter: @AyresAlyssa