This morning, the White House released an unusual statement: "The Department of Defense confirmed that Ahmed Godane, the leader of al-Shabaab, is dead as a result of a U.S. military targeted airstrike in Somalia undertaken over the weekend." What was particularly unique about the statement is that, previously, the Pentagon has purposely refused to confirm the deaths of terrorist leaders killed with legal counterterrorism strikes. On June 5, 2012, when Pentagon spokesperson then-Capt. John Kirby was asked about the reported death of al Qaeda's no. 2 official, Abu Yahya al-Libi, Kirby replied: "We don't discuss the specifics of counterterrorism operations.  So I'm not going to speak to specifics of operations."
Similarly, when asked about the U.S. drone strike in Yemen that killed sixteen-year old American citizen Abdulrahman al-Awlaki, Kirby asserted:  "We do not discuss the specifics of our operations." (Of course, this was precisely the same time that the Pentagon public affairs officials was arranging meetings between Hollywood screenwriters and special operations civilian officials and planners who were associated with the covert raid that killed Osama bin Laden, but never mind.)
Obama administration officials have repeatedly claimed—both on and off the record—that discussing or acknowledging the deaths of specific terrorist leaders undermines the operational security of ongoing future operations. However, in this case, they have apparently decided to, yet again, become selectively transparent about the killing of a long sought after terrorist leader. The extent to which this transparency is meaningful will be revealed by whether U.S. spokespersons and officials are willing to clarify how this targeted killing was consistent with the White House's presidential policy guidance published in March 2013—namely the non-existent preference to capture suspected terrorists rather than kill them.
Finally, this publicly touted death of a suspected terrorist leader shrouds the truth about U.S. targeted killings in non-battlefield settings. The overwhelming majority of reported deaths are of suspected militant or terrorist foot soldiers, rather than someone in the leadership role. According to the three best public estimates, somewhere between 2.2 percent and 5 percent of targeted killing victims are leaders. See below for the most up-to-date publicly available estimates of America's third war.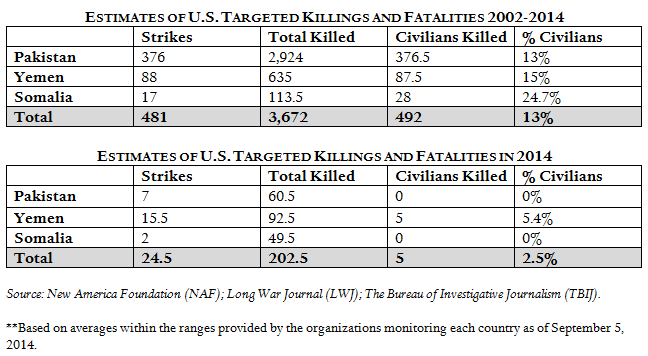 For a full breakdown of U.S. targeted killings and fatalities by year and country, see my most recent update from December 2013.