What's New in the U.S.-India Strategic and Commercial Dialogue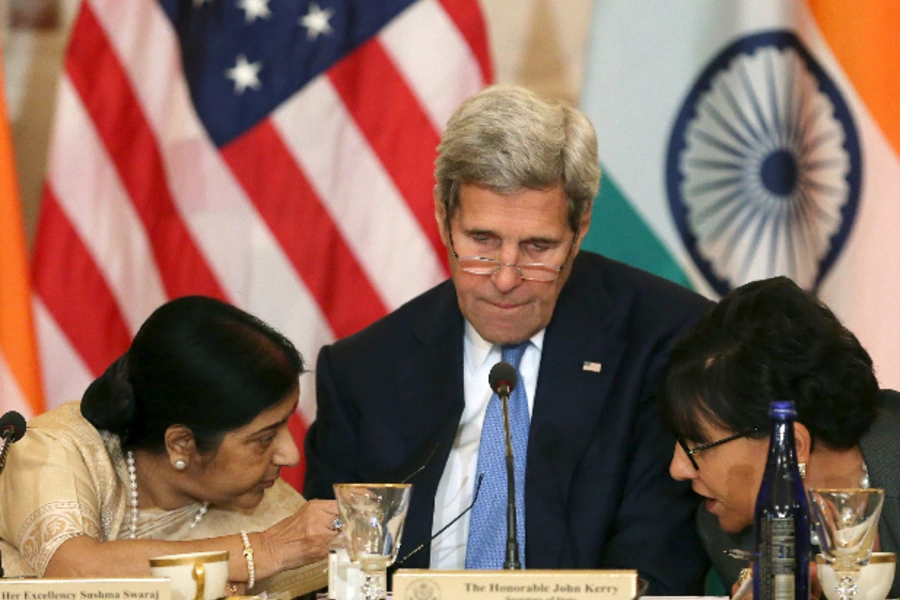 Yesterday U.S. Secretary of State John Kerry and U.S. Secretary of Commerce Penny Pritzker co-convened, with their Indian counterparts External Affairs Minister Sushma Swaraj and Commerce and Industry Minister of State Nirmala Sitharaman, the new U.S.-India Strategic and Commercial Dialogue (S&CD). India and the United States have been convening a strategic dialogue since 2010, so the change this year elevated discussion of economic and commercial issues to the cabinet level alongside the central matters of security and global diplomatic concerns.
Economic issues were always part of the previous strategic dialogues with India—I staffed three of them from 2011 to 2013 so can attest—but in raising this set of bilateral issues to the cabinet level, and by including the commercial agencies on both sides, the new structure signals a higher level of importance for economic and commercial matters. It also, notably, revises the structure of the dialogue to parallel the U.S.-China Strategic and Economic Dialogue. That change was lost on no one, and Minister Swaraj expressly invoked it during the press conference which followed the dialogue. The U.S.-India economic relationship may be one-sixth the size of U.S.-China, but the dialogues now look similar.
Based on the joint statement, joint press conference, and numerous fact sheets released following the dialogue, here's a selective overview of what's new—and what didn't make it to the press releases—from the discussions.
More talking: India and the United States agreed to formalize new consultations in several areas. (Some of these had taken place previously either at other levels, or without being officially institutionalized.) The U.S. Deputy Secretary of State Tony Blinken will lead a new "High Level Consultation" with India's Foreign Secretary, S. Jaishankar. A new "Policy Planning Dialogue" will begin. Talk has begun about a new "Oceans Dialogue." There will be a new "Track 1.5" (involving government as well as participants from outside government) on Internet and cyber issues. Diplomats from each country will spend time at each other's training centers. There will be a new "joint work stream" on the ease of doing business.
New areas of formal cooperation: Building on longstanding consultations on peacekeeping, and success in joint training for third countries in subjects like agriculture and technology, India and the United States will together train UN peacekeepers from six African countries. An agriculture biotechnology group has been set up to facilitate research in this area. There are plans for a formal memorandum of understanding on "Energy Security, Clean Energy, and Climate Change." There's a new memorandum of understanding to tackle wildlife trafficking, with a special mention of support for India's Project Tiger anti-poaching effort. There's a new private sector-led initiative focused on standards to help ease trade.
More expansive public concern on terrorism: A separate joint declaration issued on countering terrorism highlights Washington and New Delhi's shared terrorism concerns. Previously, language on combatting terrorism had been included in joint statements themselves, but admittedly given the several thousand words comprising such documents, it was just one part of many. The separate statement underscores shared worries about al-Qaeda, Lashkar-e-Taiba, Jaish-e-Mohammad, D-Company, and the self-proclaimed Islamic State. The statement also condemns two recent terrorist attacks in India (in Gurdaspur and Udhampur). It also references "continuing efforts to finalize a bilateral agreement to expand intelligence sharing and terrorist watch-list information."
More activities on esoteric topics: It's often surprising to read a roster of the U.S.-India cooperation underway that exists off the high-diplomacy radar screen. The areas of science and technology have long been the most quietly productive, and least controversial, parts of the U.S.-India relationship. Following the U.S. export control reforms of 2010, the kinds of technology cooperation permitted has expanded further, including in subjects like high-energy physics. A readthrough of the current bilateral cooperation includes references to launching U.S. components on Indian space launch vehicles; mental health; traditional medicine; work on a High-Intensity Superconducting Proton Accelerator; new research on Smart Grids; more joint research between Fermi National Accelerator Laboratory with the Bhabha Atomic Research Center and the Raja Ramanna Center for Advanced Technology; more monsoon and climate research in the Indian Ocean, plus "deep core samples of the seabed" analysis. There will be new health cooperation on environmental and occupational health, cancer, and antimicrobial resistance, building on joint work on rotavirus, Ebola, and other global health topics announced earlier this year. Commercially, a new exchange on "Technical Textiles" will be launched.
What's missing: Neither the joint statement nor the fact sheet on economic cooperation mentioned India's interest in Asia-Pacific Economic Cooperation (APEC) forum membership, something included in the January "Joint Strategic Vision for the Asia-Pacific and Indian Ocean Region." During the press conference, Minister Swaraj said that "Secretary Kerry and I agreed to work towards forming India's membership of APEC" but similar statements appear nowhere else. On the long-pending bilateral investment treaty (BIT) process, the economic cooperation fact sheet merely references plans to "continue discussions to assess the prospects for a high standard BIT." I am afraid this weak gruel provides little to suggest any near-term progress on this small but symbolic agreement.
Also missing was any announcement of defense sales like those appearing in the press about the Indian military's likely procurement of Boeing Apache and Chinook helicopters. These sales will likely be formally announced when Prime Minister Narendra Modi and President Barack Obama meet next week.
Commercial civil nuclear cooperation does not appear in the joint statement, the commercial and trade cooperation fact sheet, or the energy, climate, environment, and science cooperation document, either.
Finally, though the joint declaration on counterterrorism includes reference to the "serious threat posed by ISIL/Da'esh," I was struck by what transpired in the press conference. A journalist asked Secretary Kerry about developments in Syria and Russian military activity. Kerry's answer, extending seven paragraphs on that section of the question, had no reference whatsoever to India—a reminder that despite deepening Indo-U.S. partnership in some parts of the world, that cooperation isn't yet in some of the hottest hot spots for U.S. foreign policy.
Resources
Joint Statement on the First U.S.-India Strategic and Commercial Dialogue
Joint Press Conference with Commerce Secretary Penny Pritzker, Indian External Affairs Minister Sushma Swaraj, and Indian Minister of State for Commerce and Industry Nirmala Sitharaman
Joint Statement on the First U.S.-India CEO Forum
U.S.-India Joint Declaration on Combatting Terrorism
U.S.-India Cooperation, Aligned Across the Globe
U.S.-India Commercial, Trade, and Economic Cooperation
U.S.-India Energy & Climate, Environment, Science & Technology, and Health Cooperation
U.S.-India Higher Education and Skills Development Cooperation
Follow me on Twitter: @AyresAlyssa