Where Should Donald Trump Begin in South Asia?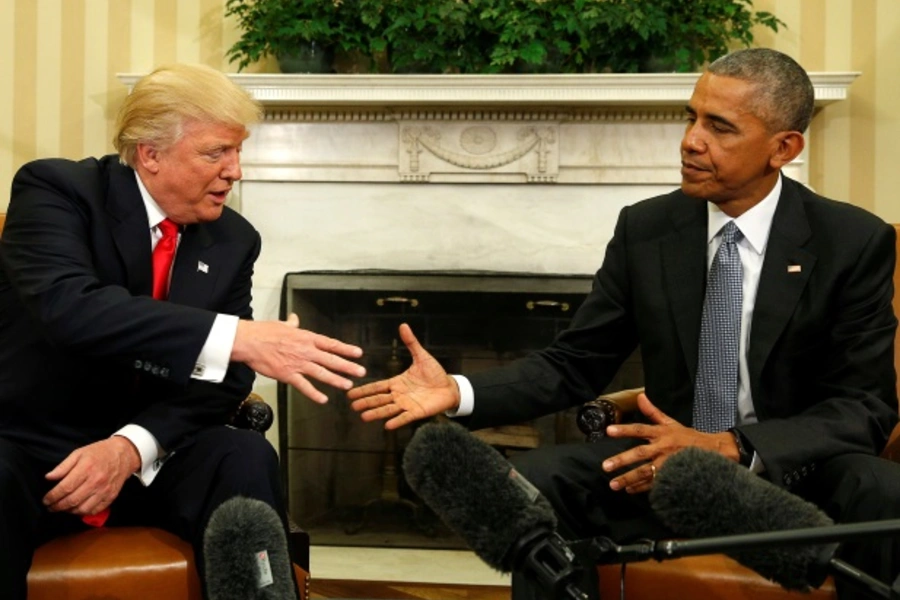 Donald J. Trump will assume the U.S. presidency at a time of flux in South Asia. Afghanistan appears at risk of greater instability, Pakistan continues to harbor terrorists that attack its neighbors, India-Pakistan tensions have increased, and India's growth story has hit a speed bump. China has escalated its involvement in the region, with extensive infrastructure development plans for Pakistan, Bangladesh, Sri Lanka, and Nepal. The Trump administration's national security and international economic teams will enter office with both near-term tactical as well as long-term strategic decisions to make about how to approach the region.
At the top of the list, given the U.S. troop presence there, will be Afghanistan. Afghanistan figured little during the presidential campaign, so a Trump policy for Afghanistan has yet to be articulated. He can make a virtue of this fresh approach by calling for an immediate review of U.S. interests there. First on the list: a consideration of the size and scope of the U.S. military deployment in Afghanistan—scheduled earlier for a drawdown to around 5,500 troops by the end of this year, but now stabilized at around 8,400 troops to advise the Afghan army now facing a resurgent Taliban that has made territorial gains.
The Trump team, like the Obama team and the Bush team before it, will need to reach its own conclusion on U.S. national interests in Afghanistan, and develop its approach to counterterrorism and development there. With the benefit of greater hindsight on our longest war, and a more jaundiced sense of what a U.S. presence can achieve, they will most likely focus on what role U.S. forces can continue to play in providing advice, training, and counterterrorism support for Afghans. Trump has spoken frequently of defeating the Islamic State as a top national security priority, and the rise of pockets of the Islamic State in Afghanistan suggest additional security focus on the country. How he will work with NATO—which maintains a train, advise, and assist presence in Afghanistan, and which Trump disparaged on the campaign trail as "obsolete"—remains an open question.
In Kabul, the Afghan National Unity Government's uneasy truce—a brokered marriage of rivals—has also grown brittle. Trump's national security team will need to determine how they will approach diplomatic efforts to assist the fragile government in Kabul. And if that weren't enough to worry about, the revival of Taliban attacks does not suggest readiness to engage in reconciliation negotiations toward a political solution.
The interlocking puzzle piece next confronting the Trump team will be Pakistan. Trump's occasional campaign comments about the country suggested his awareness of the challenge. Pakistan's endless civil-military tensions continue to plague its development, but a newly-appointed chief of army staff allows Prime Minister Nawaz Sharif some scope to attempt once again to better ties with Afghanistan and with India. The Trump team should take advantage of this change in Pakistan by focusing early diplomacy on impressing upon Pakistani civilian and military leaders how Washington has tired of Pakistan's games. Fifteen years after 9/11, Pakistan continues to openly harbor UN- and U.S.-designated terrorists who, through attacks on Afghanistan and on India, instigate problems in the region and create the possibility of military escalation. The Trump administration should spell out to Pakistan the potential costs to its ties with the United States from its refusal to adequately address terrorism—and be prepared to start making changes.
India-Pakistan ties are at a low point, precisely due to the problem of Pakistan's unwillingness to curb terrorist groups. Despite the efforts of Indian Prime Minister Narendra Modi and Pakistani Prime Minister Sharif to create a better working relationship, terrorist attacks in a series of locations in India (Gurdaspur, Udhampur, Pathankot, and Uri, to name a few) pushed India to a new kind of response this past September. Following a terrorist attack on an Indian army outpost in Uri, in Kashmir, about a week later the Indian army carried out ground-based "surgical strikes" against what they called terrorist "launching pads" along the Line of Control between India and Pakistan. This more heightened situation of tension is cause for concern, given that both countries possess nuclear weapons. But the regularity of the pattern has one common thread: each cycle of violence and escalation begins with a terrorist attack on India mounted from Pakistan. Breaking the cycle requires tackling the terrorism problem at its source.
These policy concerns will confront the Trump administration immediately, because of the U.S. troop presence in Afghanistan, and the interrelated problem that Pakistan poses for Afghanistan's success and for peace in South Asia. But the long-term strategic bet for the United States will involve our growing relationship with a rising India.
The U.S.-India relationship has grown significantly over the past two U.S. administrations, and the Trump administration should pick up the baton to carry things forward. Strategic ties have advanced dramatically, with a shared view of the world and a shared sense that Asia should not be dominated by any single power. Counterterrorism cooperation has grown closer. Defense ties have ramped up dramatically over the past four years, and should continue to grow with an uptick in joint exercises, new agreements permitting closer cooperation, and a joint strategic vision for the Asia-Pacific and the Indian Ocean region. The arena with some remaining challenges has been trade and economic ties, and a Trump economic team should be able to identify some positive incentives (such as membership in international economic organizations like Asia-Pacific Economic Cooperation forum, or APEC) to discuss with New Delhi.
As India rises on the world stage, it has increasingly sought a larger voice in global institutions. The Indian government will be looking for a clear statement of support on these matters from the Trump team, particularly regarding a permanent seat on the United Nations Security Council. Trump should support this bid, as did the Obama administration, but he could take more active steps on UN reform to make this statement more than just words.
Finally, a Trump administration can cast a fresh look at the shape of U.S. diplomacy across the Asia-Pacific, Central Asia, and Indian Ocean region. China's growing economic statecraft efforts—through its "One Belt, One Road" efforts and additional bilateral initiatives with Pakistan, Bangladesh, Sri Lanka, and Nepal—indicate expansive ambition. Its work shoring up alternative financial institutions and regional organizations which are not led by the United States or the West has given it other arenas of influence. With the demise of the Trans-Pacific Partnership (TPP), China has doubled down on the Regional Comprehensive Economic Partnership (RCEP), another Asia-wide trade negotiation which also includes India. (The TPP by contrast did not include either India or China.) The Trump administration should take a look at evolving economic and diplomatic patterns across Asia, a region of central long-term importance to U.S. interests, and step up U.S. involvement to ensure that American influence is not eclipsed. New Delhi will be a good partner for such a discussion, and the Trump administration should consult India actively on larger Asia-Pacific and Indian Ocean questions.
Follow me on Twitter: @AyresAlyssa. Or like me on Facebook (fb.me/ayresalyssa) or Instagram (instagr.am/ayresalyssa).
Read more about how the Trump administration should approach U.S. policy toward China (here and here), Japan, Korea, and Southeast Asia.