Why Women Matter in Peacebuilding
November 18, 2011
Blog Post

Blog posts represent the views of CFR fellows and staff and not those of CFR, which takes no institutional positions.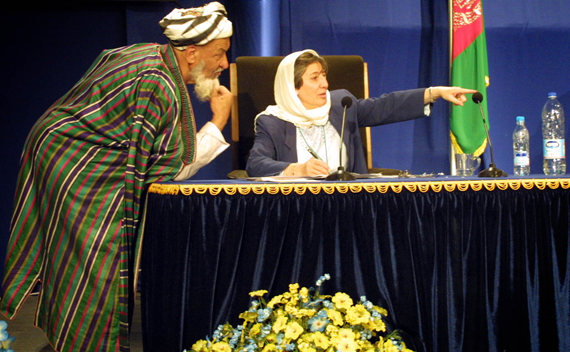 On October 31, 2000, the UN Security Council (UNSC) unanimously passed resolution 1325. The resolution marked the first time that the body recognized the unique impact of armed conflict on women—and women's undervalued role in peacebuilding. As Sanam-Naraghi Anderlini, who was a civil society drafter of the resolution, described, the resolution was spurred by the wars of the 1990s. The Bosnian conflict, the Rwandan genocide, and the peace processes in Northern Ireland and Israel-Palestine, all underscored that wars were no longer isolated to front lines or battlefields. Women were being directly targeted (as in mass rapes in Rwanda), and were also instrumental in peace processes.
UNSC 1325 was designed in response to these conflicts and negotiations, but what has been the real impact on the ground in armed conflicts and peacebuilding negotiations? On Monday, the International Institutions and Global Governance program and the Women in Foreign Policy program with Gayle Tzemach Lemmon cosponsored a meeting to answer this question, "Why Women Matter in Peacebuilding" with Michelle Bachelet, former president of Chile and undersecretary general and executive director of UN Women, as well as three remarkable panelists: Carla Koppell, senior coordinator for gender equality and women's empowerment at the U.S. Agency for International Development; Sanam Naraghi-Anderlini[i], cofounder of the International Civil Society Network; and Rosa Brooks, Georgetown University professor of law and former special coordinator for rule of law and humanitarian policy and the U.S. Department of Defense. The full event can be viewed here, and the transcript is available here. Highlights of the discussion follow.
While the international community has certainly increased its focus on women in peacekeeping, as Michelle Bachelet described,
"In spite of the rhetoric of women's centrality to peacebuilding, women are rarely invited to the peace talks.  They are usually absent from the donor conference and international contact group meetings."
And integrating women's issues into postconflict agendas is not simply—as one U.S. official stated about Afghan policy going forward—a "pet rock" that can be jettisoned in the name of pragmatism. For example, in order to earn a place at negotiations in Northern Ireland, women formed their own political party, which included both Catholic and Protestant women. When negotiations stalled, the women communicated with both sides and brought the disparate groups back to the table, paving the way for the peace that has endured until today. In Liberia, recent Nobel Peace Prize winner Leymah Gbowee and a group of women she mobilized, kept vigil outside deliberations between Liberian warlords until they agreed to settle their differences and set down their arms. And worldwide, while women should not be stereotyped as "less violent," empirical evidence shows that women devote 90 percent of their incomes to health, education, and food security, which underpin the sustainability of peace in postconflict zones.
Anderlini elaborated that international actors in conflict situations are often desperate to secure peace agreements as fast as possible, and focus on pacifying "the guys with the guns." However, Anderlini, continued,
"The problem with that is that the guys with the guns, when they're making the deals, they're also cutting out power for themselves and making—coming up with agreements that are not sustainable.  And, from the international side, we enable and abet this because we want a quick-fix solution.  So then we end up with a Somalia-like story, twenty years of quick fixes and (it's still appalling)."
There is some good news, however. Speaking of her work supporting the Undersecretary of Defense Michele Flournoy and heading the office for rule of law and international humanitarian policy at the U.S. Department of Defense, Rosa Brooks argued that the U.S. military has developed an appreciation for the centrality of women in conflict and postconflict situations.
"The recent experience in Iraq and Afghanistan meant that we had a generation of members of the military who had seen firsthand how vital it was to be able to engage with women, women -- Iraqi women, Afghan women who had seen how vital it was to have female military personnel in the coalition side there to help engage when it was culturally inappropriate for men to engage, and who had seen also firsthand the ways in which women were both able to be very powerful and influential actors in their communities when given the opportunity…"
Finally, westerners must avoid assuming that traditional societies are not ready or prepared to accept the growing role of women. For one, crises and conflicts drastically alter societies, and at times render cultural norms impossible. For example, Anderlini described that two Taliban representatives at one conference were grappling with how to address the population of 120,000 widows. Similarly, 90 percent of Iraqi fatal casualties were of men. "That means lots of widows, lots of young girls, lots of people that don't have men to look after them," as Anderlini put it.
More fundamentally every society comprises "multiple layers," and it's important to consider "who is defining the cultural space for you, and to be guided by the voices within that society as to how to move that conversation and that agenda forward," as Koppell described. For example, Koppel added, in Afghanistan, when women were included in the peace jirga in 2010, a significant number of male allies were appreciative of the women's presence and contributions, and supported electing female chairs to lead.
Integrating women into negotiations will be crucial in a number of nations, ranging from Afghanistan after the U.S. drawdown of troops to the Arab Spring countries that are in transition. In Egypt, Tunisia, and Libya, women were instrumental in advocating for the fall of old autocracies, but now risk being marginalized by male power structures. Women were absent from the committee that drafted Egypt's new constitution, and restrictions on polygamy in Libya appear to be under fire. In Afghanistan, as the United States dramatically reduces its military presence, some of the gains that women have made appear to be in jeopardy. It is worrisome that after participating in the historic 2001 post-Taliban Bonn conference, women now may not even be present at the upcoming Bonn conference a decade later. Failure to properly integrate women is not only a failure of representation for over 50 percent of these nations' populations, but more importantly, does not bode well for the future of any peace agreement or new government.
---
[i] While Naraghi-Anderlini is currently on the standby team of senior mediation advisers at the United Nations, she participated in a personal capacity and her comments do not represent the stance of the United Nations.