Xi Jinping to India: Mamallapuram Edition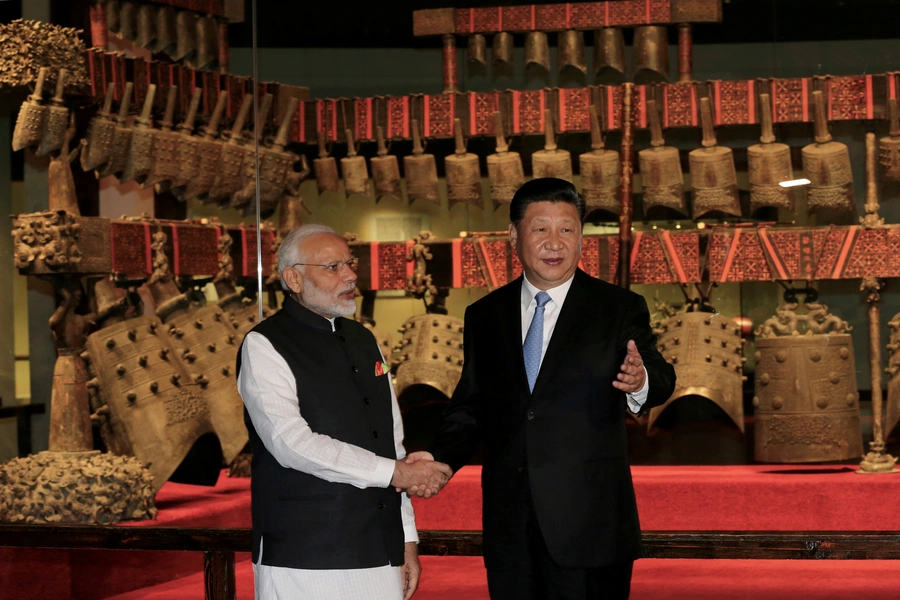 The Indian government announced today that Chinese President Xi Jinping will visit India later this week for an "informal summit" with Prime Minister Narendra Modi beginning October 11. The leader-level meeting occurs against a backdrop of geopolitical tensions between the two countries, although ties have improved since their tense military standoff at Doklam during the summer of 2017.
This week's Modi-Xi summit will take place in a location renowned for its cultural heritage: Mamallapuram (or Mahabalipuram), located on the southeast coast of India in the state of Tamil Nadu. The monuments at Mamallapuram date back to the seventh and eighth centuries, and have been recognized as a UNESCO World Heritage Site [UNESCO video]. The southeast coast of India faces the Bay of Bengal, Southeast Asia, and the larger Indian Ocean region—given the history of trade between south India and Southeast Asia, perhaps Modi intends to signal India's long seafaring history and outward links to underscore his "Act East" ambition. Writing for The Hindu, Suhasini Haidar reported that Indian officials planning the summit sought to emphasize Tamil Nadu's historic connections to China, including earlier links of Buddhism and maritime trade.   
The formal visit announcement provided general guidelines for their meeting agenda: "discussions on overarching issues of bilateral, regional and global importance and to exchange views on deepening India-China Closer Development Partnership." While this allows for virtually any topic under the sun, we can expect attention to the following issues of concern:
Regional security and terrorism:  India has long-standing concerns about terrorism emanating from Pakistan. China has not been particularly supportive of India on this issue, and in light of the decades-long China-Pakistan friendship, is not likely to change. India's August revocation of the traditional autonomy afforded to Jammu and Kashmir has prompted Pakistani outrage. China, too, called the conversion of Ladakh, until now a part of the erstwhile state, into a separate territory under Delhi's direct oversight "unacceptable." (China claims parts of Ladakh.) While Modi will not likely seek to open up the question of Kashmir's autonomy, or its bifurcation into two federally administered territories, he very well could express concerns about Pakistan-based terrorism and its deleterious effects on regional security. Modi and Xi could also discuss stability in Afghanistan, given shared concerns about the fragile state. (India and China more recently began joint training programs in Afghanistan.)
Bilateral concerns:  India and China fought a border war in 1962, and have yet to resolve their continued border issues. More than twenty rounds of negotiations have not resulted in clarity about the actual delimitation. Moreover, in the summer of 2017, Indian troops defended Bhutan's border against the Chinese People's Liberation Army's expansion of a road in what grew into a three-month standoff between India and China. While the "informal summit" will not resolve these concerns, the leaders could discuss the issue. Trade ties will almost certainly figure into the conversation; China is India's largest trade partner in goods alone, and India has consistently—for years now—been displeased with the trade deficit (now reportedly around $57 billion) and the composition of trade. Over the past few years, India has continued to raise tariffs on electronic goods in part due to its trade deficit.
Global and multilateral cooperation:  Despite the known border and trade tensions, the China-Pakistan relationship, and the growing geopolitical competition for influence in the Indian Ocean region, India and China do have a cooperation sweet spot: multilateral organizations and global issues. India's objections to China's Belt and Road Initiative notwithstanding, New Delhi supported Beijing on the creation of the Asian Infrastructure Investment Bank (India is the number two capital contributor, holds a vice presidency, and is the largest borrower at this point), and they worked together to develop the Brazil-Russia-India-China-South Africa (BRICS) forum and its related New Development Bank.
India and China have had similar complaints about representation in the World Bank and International Monetary Fund (IMF). China and India have also expressed similar concerns about climate change and historical responsibility for carbon emissions. This is not to say that China and India are in lockstep on all multilateral concerns; China remains a holdout, for example, on India's quest for membership in the Nuclear Suppliers Group, and in August, China helped elevate the matter of Kashmir's autonomy for a private UN Security Council discussion. But the existence of closer cooperation on matters like infrastructure development, regional connectivity, and global governance complicates a narrative of geopolitical competition. The "India-China Closer Development Partnership" specifically listed in the formal announcement of the informal summit falls squarely in this category.
Not likely to feature on the agenda: Tibet. India hosts the Central Tibetan Administration, the Tibetan government-in-exile, and of course has been home to the Dalai Lama for decades. Indian papers reported that eight Tibetan community activists had been detained in Tamil Nadu ahead of the "informal summit" in order to prevent protests during Xi's visit. It's a pity, because a peaceful expression of political views would have reinforced India's strength as a democracy—a strength China lacks.