You Are Planning to Visit China: Here's What You Need to Know
Foreign visitors to China focusing solely on the political risks of entering China may overlook other important factors that are more immediately relevant when travelling in the country.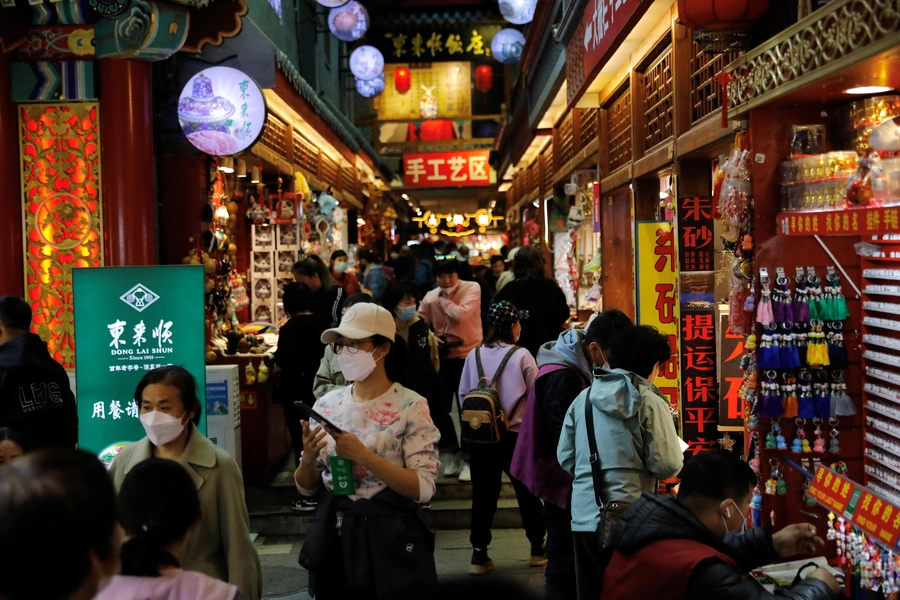 After China removed most of its COVID-related cross-border travel restrictions, foreign tourists are slowly returning. Ctrip, one of China's largest online travel agencies, reported that during the two-week period from the end of April to early May, inbound flight ticket orders and hotel bookings on the platform surpassed the numbers from the same period in 2019. However, government data presents a different story. From January to May 2023, the number of overseas tourists entering China through Shanghai as well as those entering the city through other ports in China, was 917,600, which accounted for only a quarter of the level during the same period in 2019.  
On June 30, the U.S. Department of State issued a travel advisory urging U.S. citizens to reconsider traveling to China due to concerns over "the arbitrary enforcement of local laws, including in relation to exit bans, and the risk of wrongful detentions." While these risks are indeed present and unsettling, they can create a perception of China as a dangerous country to visit. However, the reality is that China is an extremely safe destination, with friendly services, breathtaking scenery, and, of course, a renowned culinary culture. Focusing solely on the political risks may cause people to overlook other important factors that are more immediately relevant when travelling in the country.  
One of the main challenges of visiting China is the limited availability of flights. For most passengers departing from the United States, flying to China entails a long and expensive journey. Non-stop flights between the United States and China have accounted for no more than 10 percent of the pre-Covid era, with economy-class tickets to China costing approximately $2,000, more than double the airfare before the pandemic. Due to the lack of non-stop flights, most travelers heading to China have to transfer at a third location. During my recent trip to China, I had to go to JFK to catch a connecting flight in Tokyo. The taxi fare to JFK, including tips, was $255, and the journey took about 1.5 hours. After enduring a fourteen-hour flight, I had a lengthy five-hour layover at Haneda Airport before boarding the flight to Shanghai. After a one-hour delay and an additional three-hour flight, I finally arrived in Shanghai. Overall, my trip to China took approximately thirty hours, whereas prior to the pandemic, I used to enjoy the convenience of non-stop flights from Newark to Shanghai, which took no more than twenty hours.  
Upon arriving in China, one often feels like stepping into a parallel world. The familiar apps we use in our daily lives, such as Uber, Google, and Twitter, suddenly become unusable in the country. Instead, people heavily rely on Didi, Baidu, and WeChat.  Therefore, before embarking on your trip, it's essential to download apps like Didi or Ctrip for transportation purposes and preinstall a version of WeChat or Alipay digital wallet for making payments using QR codes. Nowadays, few Chinse people use credit cards; they simply carry a cell phone with all the necessary apps. They take pride in this as an example of China's superiority over the United States. So, don't be surprised if upscale hotels or fancy restaurants refuse to accept credit cards or cash. If you prefer not to use a cell phone with Chinese SIM cards, it is highly recommended to purchase an international roaming plan to use these apps on our phone.   
The good news is that you can now pay like a local by linking your credit or debit cards to Alipay or WeChat Pay. During the process, you will typically be asked to upload a copy of your passport page. WeChat may even require you to take a picture and upload it. Since November 2019, the train stations in eastern China no longer accept paper tickets, and foreigners must use special checking points reserved for them (referred to as "Manual Channels") that link the ticket information with passport numbers.   
If you wish to access Gmail, Twitter, or search for international news while in China, it is advisable to download a reliable VPN (Virtual Private Network) that works effectively within the country.  When I traveled there in March, my loaner laptop already had two VPNs preinstalled, and they worked well. However, upon my return in late June, both had difficulties bypassing the Great Firewall. Sam Kiernan, a former CFR research associate who recently graduated from the Schwarzman Scholars Program at Tsinghua, recommended Astrill VPN, stating, "It's worked everywhere I've traveled in the country." 
One final note: if you are not confident about your immunity to COVID, it is advisable to take precautions while travelling in China. The second viral wave in the country has largely subsided, and during my last visit, I observed that few people were wearing masks. It seemed as though the COVID-19 pandemic had left no visible traces. However, it is important to note that COVID has not entirely vanished. Towards the end of June, two friends I had planned to visit tested positive for the virus, although they experienced only mild symptoms. Infected individuals are no longer required to undergo quarantine, and many simply carry on with their work or travel as if nothing happened. However, this situation could pose challenges for foreign visitors. One of my friends arrived in Nanjing to visit her elderly parents but discovered, before meeting them, that both she and her husband had contracted COVID, likely from her siblings. They made the decision to self-quarantine in a serviced apartment, which, as she described it, was "just a stone's throw away" from where her parents live. In our last communication, she had already spent a week in the apartment, and her husband had to reschedule his flight back to the States, incurring an additional cost of $2,500. 
Over the past five years, President Xi Jinping has repeatedly emphasized the significance of China opening up to the outside world, declaring, "The door of China's opening will not close, but will only open wider." Regrettably, this rhetoric has not been effectively translated into tangible actions. As China's post-COVID economic engine continues to lose steam, it becomes crucial to revitalize its inbound travel market. A full market recovery cannot be expected without genuinely and meaningfully addressing the concerns of foreign visitors.