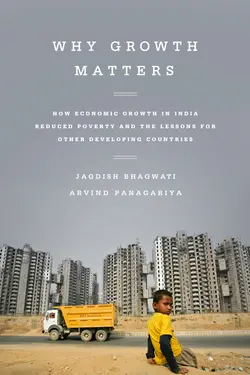 Why Growth Matters
How Economic Growth in India Reduced Poverty and the Lessons for Other Developing Countries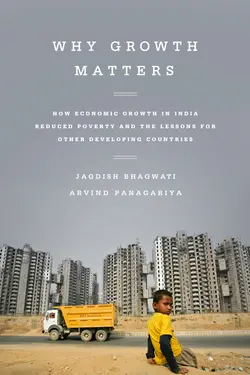 Two preeminent experts on the Indian economy argue that despite myriad development strategies, only one can succeed in alleviating poverty: the overall growth of the country's economy.
Book

Foreign policy analyses written by CFR fellows and published by the trade presses, academic presses, or the Council on Foreign Relations Press.
Read an excerpt of Why Growth Matters.
In its history since Independence, India has seen widely different economic experiments: from Jawharlal Nehru's pragmatism to the rigid state socialism of Indira Gandhi to the brisk liberalization of the 1990s. So which strategy best addresses India's, and by extension the world's, greatest moral challenge: lifting a great number of extremely poor people out of poverty?
Bhagwati and Panagariya argue forcefully that only one strategy will help the poor to any significant effect: economic growth, led by markets overseen and encouraged by liberal state policies. Their radical message has huge consequences for economists, development NGOs and anti-poverty campaigners worldwide. There are vital lessons here not only for Southeast Asia, but for Africa, Eastern Europe, and anyone who cares that the effort to eradicate poverty is more than just good intentions. If you want it to work, you need growth. With all that implies.
A Council on Foreign Relations Book
Educators: Access Teaching Notes for Why Growth Matters.
Reviews and Endorsements
Could not have come at a better time.
Almost a manifesto for policymakers.
In Why Growth Matters, the duo provide perhaps the most full-throated defence to date of India's economic liberalisation, which began in 1991 and is widely understood to have led to a period of fast growth over the past decade.
The authors' deep compassion for the poor, gimlet-eyed view of India's checkered economic past and genuine concern for its future shine through on every page.
The book is written with zest and confidence. . . the evidence they have collated is deployed effectively.
[Bhagwati and Panagariya] assert that India's economic development is relevant to the developing world as a whole, and, in lively fashion, rebut myths of growth and poverty under the Jawharlal Nehru and Indira Gandhi administrations. . . As much of the world struggles with elevated debt levels, the vision of India as 'a role model for reform today' has applications reaching beyond the developing world.
All economic correlations are complex, and many factors are at play, but Why Growth Matters shows how the poor benefit from economic development and which regulations still stand in the way. As Pope Francis opens a discussion on reducing poverty, the book could not have come at a better time.
For those who have followed India's recent growth story, Why Growth Matters is a useful summary of both the history of economic reform in India and of the controversies these reforms have generated, as well as a detailed and practical explication of what is necessary for the future.
Jagdish Bhagwati and Arvind Panagariya are two of the great intellectual lights behind one of the greatest miracles of economic history: the economic reform of India, and its subsequent takeoff. It is not just the well-to-do who have benefited, but, especially, the poor. The lessons from the spirit of 1991 are not just relevant for India today; they are also of prime importance for the billions of citizens of low income countries around the globe.

George A. Akerlof, Nobel Laureate in Economics, 2001
In this important book the two leading experts on India's economy refute the claims of those who reject pro-growth policies in favor of redistribution schemes. India's experience in the past two decades shows how a nation's economic growth reduces poverty and improves the well-being of disadvantaged groups. Bhagwati and Panagariya explain what India needs to do now and how other countries can learn from India's experience.

Martin Feldstein, George F. Baker Professor of Economics at Harvard University and President Emeritus of the National Bureau of Economic Research
Assembling reams of evidence from India's astonishing economic success story, Bhagwati & Panagariya make an unbeatable case for why market reforms are essential to economic growth—and improving the lives of the poor. Serious reformers throughout the developing world cannot ignore this book or Bhagwati's work throughout the years.

Hernando de Soto, President of the Institute for Liberty and Democracy and author of The Mystery of Capital
Every important developing country should be the subject of a masterful book like this. Bhagwati and Panagariya have paid a great service to India—and actually other emerging countries—by writing it. If it's a must read for scholars and practitioners of economic development, it should be absolutely mandatory for the Indian political leaders.

Ernesto Zedillo, Director of the Yale Center for the Study of Globalization and former President of Mexico