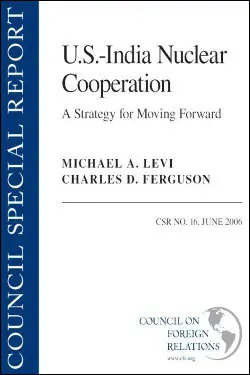 U.S.-India Nuclear Cooperation
A Strategy for Moving Forward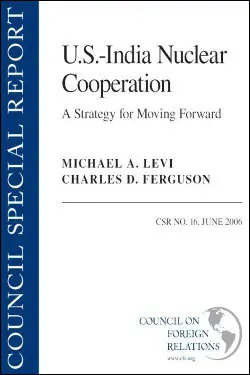 Council Special Report

Concise policy briefs that provide timely responses to developing crises or contributions to current policy dilemmas.
Overview
The recent nuclear deal concluded between the Bush administration and the government of India has highlighted tensions between two widely held American foreign policy objectives: strengthening bilateral relationships with major powers and preventing the spread of nuclear weapons.
The agreement, which proposes to change decades-old policy, has stirred considerable controversy, particularly in Congress, which must amend long-standing law if the deal is to go through. In hearings during the past two months, members of Congress from both parties have expressed a desire to find a strategy that contributes to an improved relationship with India without sacrificing American nonproliferation interests.
In this Council Special Report, Council Fellows Michael A. Levi and Charles D. Ferguson propose such a strategy. Rather than focusing on only one dimension of the challenge, they explain the implications of the nuclear deal for both U.S. policy toward India and U.S. nonproliferation policy. This leads them to propose a focused set of nonproliferation bottom lines that Congress should enforce through its legislation, while also prompting them to counsel against more extreme nuclear-related measures that would certainly scuttle the U.S.-India accord and set back prospects of improvement in an increasingly important bilateral relationship. They also argue that Congress should hold hearings to promote a broad reassessment of American nonproliferation strategy. The result is a thoughtful product that merits careful consideration by members of Congress, the administration, and other interested parties in both the United States and India.