Assessing the Early Response to Beijing's Pandemic Diplomacy
Responses to China's post-COVID overtures are largely falling along pre-existing political fault lines.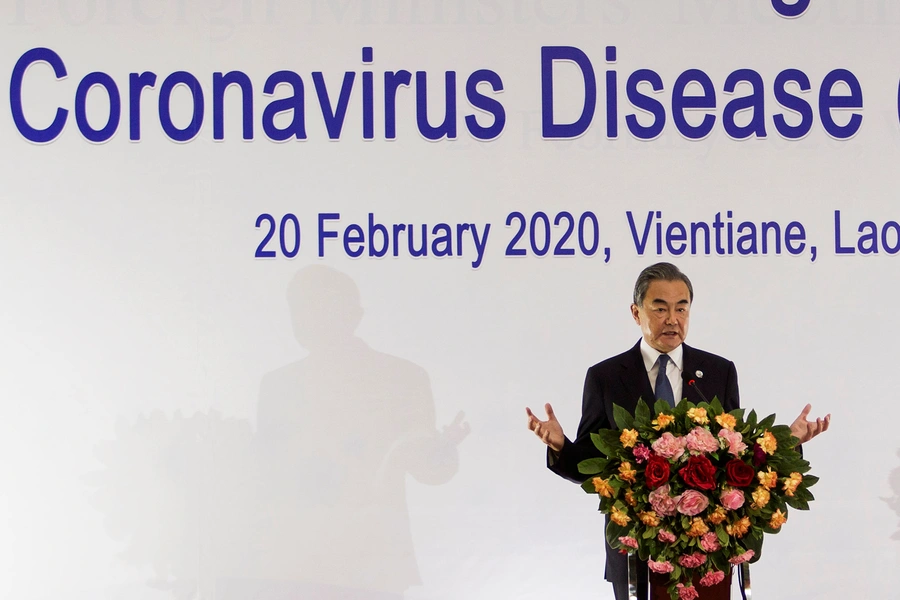 Since the COVID-19 epidemic has gone global, China has launched a campaign to cast itself as a global health leader. Chinese government entities, NGOs, and corporations have sent medical teams, personal protective equipment (PPE), and testing kits to dozens of countries around the world. The Chinese Communist Party (CCP) also has revived the Health Silk Road moniker in a branding effort to promote its health leadership abroad and redeem its international image.
But it appears this extension of political goodwill is being met with some resistance. From South and Southeast Asia to Europe and Africa, governments are reacting to China's so-called mask diplomacy with attitudes closely in line with prior attitudes toward China. What could have been an opportunity for Beijing to display prudent, thoughtful leadership in addressing the novel coronavirus has devolved into diplomatic self-defeat. Among a sample of countries targeted by Beijing's post-COVID-19 diplomatic and propaganda push, thus far it appears that the COVID-19 pandemic—and the Chinese government's international response—has primarily reinforced pre-existing relationships and sentiments.
Mixed Responses Abroad
Pakistan has been hit hard by the COVID-19 pandemic, and has received a significant amount of related aid from China. Within days of a March visit by the Pakistani President Arif Alvi to Beijing, planes stocked with tens of thousands of test kits and hundreds of thousands of face masks were flying from China to Pakistan's major cities. Pakistan's leaders have shown an outpouring of gratefulness to their Chinese counterparts, with Pakistan Foreign Minister Shah Mahmood Qureshi saying, "This challenge has brought the people of China and Pakistan even closer. In these challenging times, the Pakistani people expected China to come forth and China has lived up to expectations." The Pakistani reception of Chinese aid, at least at the official level, has thus far been reflective of the existing trend of close relations between the "all-weather allies." China and Pakistan have maintained intimate military cooperation, China has advocated for Pakistan's interests at the UN Security Council, and Pakistan has taken on new strategic importance under Chinese President Xi Jinping's multi-billion-dollar Belt and Road Initiative (BRI). The latest reception to COVID-19-related aid from China reflects continued support from Pakistani officials for close bilateral ties.
Reactions in Malaysia, in contrast, have been more mixed. Public opinion of Malaysians toward China has ranked among the the most favorable of any country in Asia, but in recent years that rosy picture of China may be waning. Malaysia's former Prime Minister Mahathir bin Mohamad was a staunch critic of Chinese investments in the country, and the government renegotiated the financing terms of a BRI project that saved Malaysia $5 billion in 2019. China and Malaysia also hold competing claims in the South China Sea, further dampening positive attitudes. In the fight against the COVID-19 pandemic, in which Malaysia has faced severe shortages of PPE, China has stepped up to deliver multiple shipments of the crucial safety equipment. Malaysian officials have primarily expressed gratefulness toward President Xi and the CCP, recognizing their "invaluable support" and noting that the aid reflects the strong partnership between both countries. In mobilizing a national COVID-19 response, Malaysia initially sought testing kits from China, but after reports of low accuracy rates it switched to buying testing kits form South Korea. Moreover, China has continued its behavior in the South China Sea during the pandemic, with a Chinese survey ship entering Malaysia's disputed waters in mid-April. It may take many months to learn the full effects of COVID-19 on China-Malaysia relationship, but it appears that Malaysian leaders have maintained a cautious, pragmatic attitude toward China's pandemic relief activity.
In many Western European countries like Spain, views of China's pandemic aid have been primarily negative. This is at least somewhat informed by negative attitudes prior to the pandemic, with an estimated 53 percent of Spain's population holding an unfavorable view of China. Since mid-March, Spain and other European countries have been the targets of China's mask diplomacy, through the likes of a "Health Silk Road" branded train transporting medical supplies from the Chinese city Yiwu bound for Madrid, as well as air shipments arriving in capital airports across the region. The Spanish government ended up recalling 50,000 testing kits received from China after it was revealed that they only had a 30 percent accuracy rate. Due to the inconsistency in the quality of aid received from China, European Union (EU) leaders have remained skeptical of the motives behind China's medical aid activity. Josep Borrell, EU high representative for foreign policy, wrote that China is engaged in a "struggle for influence through spinning and the 'politics of generosity,'" while noting that China's mass aid packages reflect how the Chinese government is "aggressively pushing the message that, unlike the U.S., it is a responsible and reliable partner."
Internal Contradictions
Among these displays of aid to dozens of other countries around the world, the Chinese government has worryingly sought displays of gratitude in exchange for medical supplies. Chinese officials have engaged in blatant quid pro quos, asking foreign governments to publicly thank China in exchange for crucial medical supplies; this was most recently revealed to be taking place in Germany. While foreign aid from various countries has a long history of being allocated for political and strategic purposes, China's recent overtures have taken on a clear discursive role with an aim to extract soft power concessions. In addition to cajoling praise from foreign governments, Chinese officials have used coercion to muffle criticism. Chinese diplomats pressured European Union officials to soften their criticism of China in a report documenting how governments have pushed disinformation about COVID-19.
Moreover, at the same time as Beijing has worked to highlight praise and dispel criticism of its COVID-19 diplomacy, Chinese operatives have increasingly spread disinformation about the coronavirus abroad. The CCP has a long history of manipulating and controlling information abroad in attempts to advance its preferred narratives. In the midst of the COVID-19 pandemic, this pattern has manifested in the sowing of Russian-style misinformation, with the amplifying of conspiracy theories alleging the origin of the virus may have been the United States or Italy rather than China. U.S. officials assess that Chinese state-linked social media accounts targeted at Europeans have spread messages of disunity between European nations in responding to COVID-19, while praising China's provision of medical aid abroad.
It should be noted that the picture is far from black and white. One complicating factor is the Chinese aid of notably substandard quality. Alongside the examples of Spain and Malaysia above, the Czech Republic, Netherlands, Turkey, and other nations have noted the substandard quality of testing kits procured from Chinese companies. While China has taken steps to mitigate the quality issues of its medical exports, countries on the receiving end should still be expected to be disgruntled as a result, regardless of any pre-existing political relationships between the state and the Chinese government.
The global reactions to Beijing's pandemic diplomacy reveal how China's global ambitions are increasingly colliding with local realities. As China's overseas interests grow in scope and scale, the government and Party will need to pay closer attention to local political circumstances, including the origins of popular attitudes toward China, and develop the expertise required to understand and meet the needs of local communities within certain countries. For example in Nigeria, where medical professionals have opposed the visit of a Chinese medical team, the Chinese government could have established a dialogue with local medical groups to assess the best possible assistance they could provide to the local doctors and other health care professionals.
China's post-COVID-19 messaging has exposed the contradictions at the core of Beijing's diplomacy. Officials vociferously condemn anti-Chinese racism abroad, but racism was tolerated—and possibly encouraged—at home. The state condemns misinformation about the coronavirus when it is promoted by other nations' politicians, but is more than willing to spread it itself. Chinese leaders, including Xi Jinping himself, have framed the country's pandemic aid as charitable and benevolent, but in at least some cases it has turned out to be a means to extract soft-power concessions with expressions of gratitude. If the CCP wishes to successfully fulfill its ambitions abroad, it will first have to work to resolve these internal contradictions at the heart of its diplomatic efforts.