Campaign Foreign Policy Roundup: The Sixth Democratic Debate
Each Friday, I look at what the presidential challengers are saying about foreign policy. This week: the Democratic debate, financial corruption, and progressive foreign policy.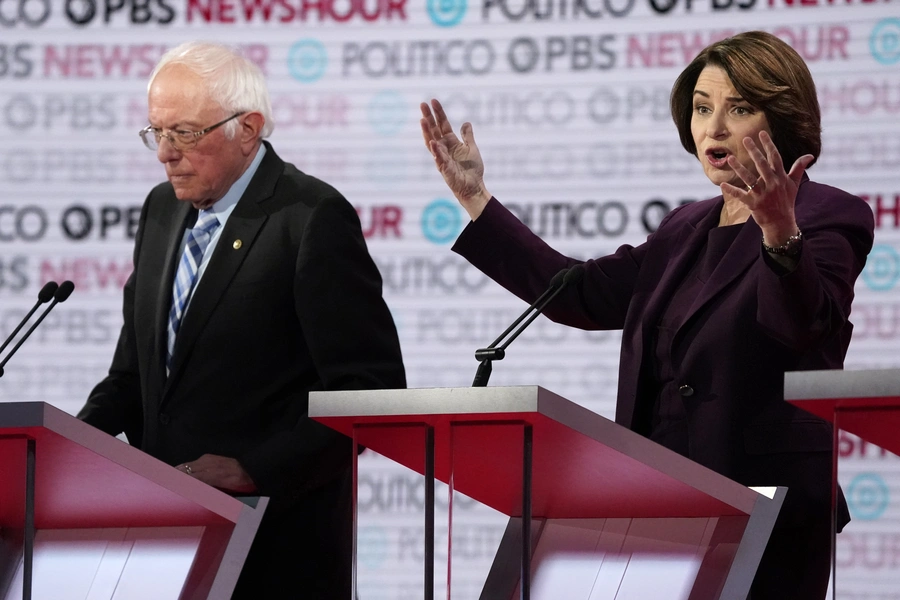 The seven leading Democratic presidential challengers met in Los Angeles last night for the sixth Democratic debate. The conversation touched on a range of foreign policy issues, including Afghanistan, U.S.-Israeli relations, China, the U.S.-Mexico-Canada Agreement (USMCA), and climate change. For the most part, the candidates didn't break any new ground. They also seldom challenged each other—as they did on campaign contributions. Whether that's because they fundamentally agreed, or because they didn't see any political benefit to mixing it up, is an open question.
The closest the discussion came to a true debate was when conversation turned to USMCA. Bernie Sanders said the deal made some "modest improvements" on NAFTA, but that he would still vote no on USMCA because it didn't do enough for workers, farmers, or the climate. Amy Klobuchar followed by saying she would vote yes precisely because of the improvements that Sanders deemed insufficient. The contrast formed a perfect opportunity to draw all the candidates out on what a good trade deal looks like. But as happened repeatedly all night, the moderator changed topics, leaving viewers to wonder what the other candidates think about trade.
Financial Corruption
Corruption is a global problem that produces a long list of pernicious consequences. As the World Bank points out, corruption undermines efforts to end extreme poverty, "erodes trust in government," "impedes investment," and "fuels and perpetuates the inequalities and discontent that lead to fragility, violent extremism, and conflict." And "much of the world's costliest forms of corruption could not happen without institutions in wealthy nations: the private sector firms that give large bribes, the financial institutions that accept corrupt proceeds, and the lawyers and accountants who facilitate corrupt transactions."
But how can governments combat illegal transnational monetary flows, especially when world leaders are part of the problem, as the 2016 Panama Papers revealed? This week, Elizabeth Warren released her "Plan to Fight Global Financial Corruption." It would stem the flow of so-called dark money by, among other things, requiring owners of U.S. businesses to disclose their names when registering companies. That would curb the use of shell companies to hide who owns a business and how it is funded. Warren also proposes to use access to the U.S. financial market as leverage to push other countries to adopt similar transparency measures.
(Shell companies have gotten a lot of play recently. The Netflix movie The Laundromat used the Panama Papers revelations to dramatize how a Panamanian firm helped people around the world set up shell companies for nefarious purposes. Shell companies are also a plot point in the second season of Amazon's Jack Ryan series. NPR's Planet Money podcast has devoted several episodes to exploring how shell companies are created and used. Spoiler Alert: You don't have to go to Panama or the Cayman Islands to set one up.)
Warren's effort to rein in dark money is in keeping with her general pledge fight financial corruption in the United States and abroad. She explained in a Twitter thread why her plan is needed:
We need a president who will fight back against global financial corruption—and that starts here at home. The United States is at the center of the global financial system and helps to shape international financial rules. We have the leverage to strengthen global transparency.

— Elizabeth Warren (@ewarren) December 17, 2019
Around the world, protestors are rising up against corruption and economic inequality. The United States must stand with them and lead the way to fight financial corruption here at home and around the world.

— Elizabeth Warren (@ewarren) December 17, 2019
Reporters quickly pointed out that targeting shell companies may also be a subtle way for Warren to criticize Joe Biden. The former vice president's home state of Delaware allows owners to register companies without disclosing their identities. The topic didn't come up, however, at last night's presidential debate.
Candidates in Their Own Words
Pete Buttigieg sat down with the Washington Post's editorial board. Most of the conversation addressed domestic policy. He did not make any news when the conversation did turn to foreign policy. As he has said before, he wants to bring U.S. troops home from Afghanistan—but in a way that continues "to support gains that have been made there"—and that "it's unlikely that we could simply resurrect and rejoin the JCPOA [the formal name for the Iran nuclear deal] in its prior form." When asked to what extent foreign policy was on the minds of voters, Buttigieg answered:
I hear a lot more about foreign policy than I hear about impeachment, for example, in terms of the questions that I get from voters. And they're not always arcane questions of foreign policy; there are questions about what are we going to do with America's relationship to the world. The fact that American prestige has been reduced to an SNL mockery of the guy in the lunchroom nobody wants to talk to shows you what's at stake and something that goes beyond just what's interesting to foreign policy buffs, but the more basic question of whether America can continue to be regarded as a credible, reliable force for good in the world, something on which our own security depends, because our advantage has always been that our interests have aligned with universal interests or I should say, universal values, as well as more specific concerns.
Even so, as the Post editor pointed out, visitors have to go the "Issues" page on Buttigieg's website and then click on "More Issues" before they can see the South Bend mayor's thoughts on foreign policy.
What the Pundits Are Saying
Politico's David Siders took a run at answering the question, "What Would the Bernie Presidency Really Look Like?" Siders reports that Rep. Ro Khanna, a Sanders supporter and a possible secretary of defense in a Sanders administration, told him that under President Sanders: "Day One there would be a fundamental shift in foreign policy that emphasized restraint from intervention, that emphasized cooperation with other major powers on tackling climate change, that prioritized human rights and that aspired to make America a moral leader in the world and not just an economic leader."
The Daily Beast's Spencer Ackerman reviewed Biden's views on Iraq. The title of the piece telegraphs Ackerman's assessment: "How Biden Kept Screwing Up Iraq –Over and Over and Over Again (Blood and Malarkey)." Ackerman believes that the former vice president "got it wrong at every stage, from invasion to occupation to a withdrawal that led to ISIS' rise."
Data for Progress and Common Defense teamed up to assess the extent to which each of the Democratic presidential candidates is articulating a progressive foreign policy vision. What constitutes "progressive foreign policy?" The two organizations define it as one that "rejects Trump-esque 'America First'" policies and also "avoids 'American exceptionalism' framing, which fails to recognize the harm that some of the United States' policies have done in the world (including policies instituted before Trump), and it does not view either the US's permanent, global military hegemony as a prerequisite for a peaceful world, or the peaceful rise of other countries as an inherent threat." Data for Progress and Common Defense claim that's the foreign policy Americans want. However, it's not too hard to find public opinion data that suggest the public's views are more complicated than that.
There are 45 days until the Iowa caucuses, and 319 days until Election Day.
Margaret Gach assisted in the preparation of this post.