Climate Change and the Global Economy Should be the Top Priorities for Policymakers
How should world leaders prioritize global challenges in the coming year? Experts from twenty-eight think tanks ranked mitigating and adapting to climate change and managing the global economy as the two most important global issues.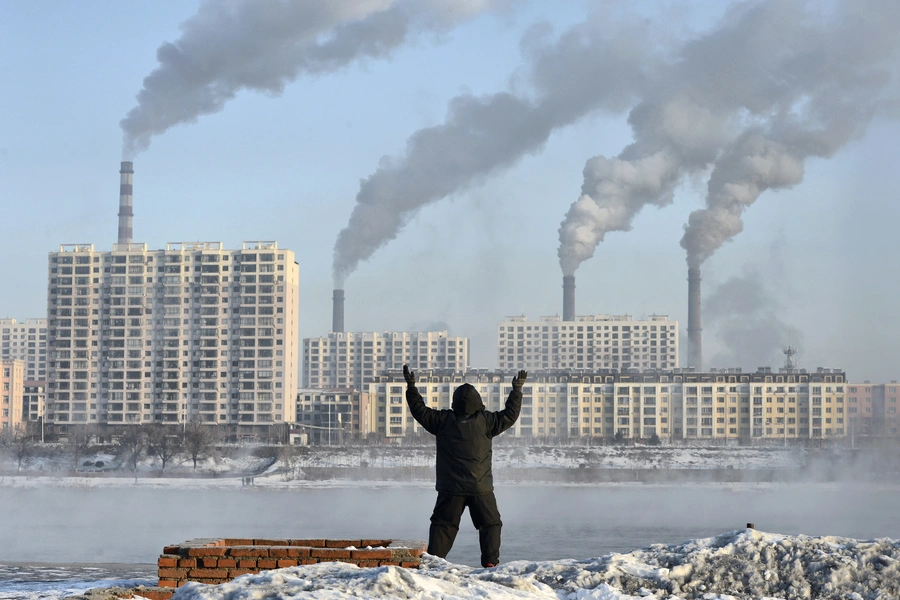 The following is a guest post by Terrence Mullan, assistant director for International Institutions and Global Governance at the Council on Foreign Relations.
The results of the 2018–2019 Council of Councils (CoC) Report Card on International Cooperation signal a shifting global agenda. In its latest iteration, the report card featured two human security issues—mitigating and adapting to climate change and managing the global economy—atop its list of priorities for the first time in its five year history. This marks an important departure from precedent, as global think tank leaders appear to have turned their focus away from the hard security issues of combating terrorism and mitigating violent conflict. Preventing and reversing nuclear proliferation was again ranked a top priority, but it dropped to third this year.
Shifting priorities, however, are not indicative of apathy. "There is a high degree of interconnection in these ten subjects," writes Rohinton Medhora, of the Centre for International Governance Innovation (Canada). Tackling human security challenges could pave the way for progress on more traditional security issues.
Fluctuating priorities could also be indicative of a greater emphasis on prevention. "Climate change and development may not carry the same urgency as an imminent cyber, nuclear, or terrorist attack, or the need to end the humanitarian tragedy in Yemen. But unless these issues are prioritized now they will become urgent in the next few years," says Elizabeth Sidiropoulos of the South African Institute of International Affairs.
Climate Change
Either way, global think tank leaders are recognizing the inadequacy of current efforts to ensure that humanity and nature have a sustainable future. As Riccardo Alcaro of the Institute of International Affairs (Italy) notes, "above all, climate change is advancing at a far speedier pace than anticipated and no significant action has been taken."
"As time passes, it is more difficult to reach the Paris Agreement goals," write José María Lladós and Juan Battaleme of the Argentine Council for International Relations. Lladós and Battaleme call on all nations to act because "climate change policy is a public good that requires the greatest global collective effort. Although the harmful consequences will vary depending on geography, no one will be free of its effects, including free riders."
Without decisive action, climate change could widen fissures between developed and developing nations. According to Sunjoy Joshi and Samir Saran of the Observer Research Foundation (India), "Climate change will soon create new divisions as the economic, social, and political consequences for the global south will be more adverse." They added that "at the same time, the global north will struggle to meet financial assistance obligations as it responds to domestic crises related to climate change."
The Bank of International Settlements (BIS) recently recognized the danger climate change poses to financial stability. In a speech in Paris last week, Luiz Awazu Pereira da Silva, deputy general manager of the BIS, warned that climate-related risks have the potential to inflict massive damage on global financial markets, noting that central banks should take action now to mitigate risks.
Global Economy
Survey respondents ranked managing the global economy as the second most important challenge. Their reasoning was twofold. First, if the world suffers from another global recession, nations will have insufficient resources to manage other global challenges, such as climate change, economic development, and global health. Second, governments need to deal with rising inequality within and across nations, lest they face a worsening backlash against openness and globalization.
Many think tank leaders are worried about a global economic downturn in the near future. "Although 2018 has been the year with the best economic performance" since the global recession, "several events could damage the global economic system in 2019," say Lladós and Battaleme. One of the biggest fears highlighted in the survey was the damage a U.S.-China trade war would have on global supply chains.
The global economy has been fortunate, according to Carlos Ivan Simonsen Leal of the Getulio Vargas Foundation (Brazil): "The fall of oil prices has helped contain the deceleration of the world economy," but the world might not fare as well in the next year.
Again, interconnections between issues are of great importance: "The global economic system rests on trade, which opens up the various countries and regions, leading to prosperity and peace, thereby facilitating development at the national level," says Ong Keng Yong of the S. Rajaratnam School of International Studies (Singapore).
Conflict and Terrorism
Rounding out the top five global priorities are preventing and reversing nuclear proliferation and preventing and responding to violent conflict between states and within states. Combating transnational terrorism ranked seventh. The latter issue's downward trajectory is partly a function of success. Counter-terrorism efforts have reduced the jihadist threat, as International Institutions and Global Governance Program Director Stewart Patrick and I mention in a CNN op-ed.
Policymakers should not rest easy, however. "Unfortunately, policymakers will have to deal with many of these challenges simultaneously as the vulnerabilities of the global system become more pronounced and more acute," says Sidiropoulos. 
About the CoC Report Card
The Council of Councils (CoC) Report Card on International Cooperation evaluates multilateral efforts to address ten of the world's most pressing global challenges, from countering transnational terrorism to advancing global health. No country can confront these issues better on its own; on the contrary, combating the threats, managing the risks, and exploiting the opportunities presented by globalization all require international cooperation. To help policymakers around the world prioritize among these challenges, the CoC Report Card on International Cooperation surveyed the Council of Councils, a network of twenty-eight foreign policy institutes around the world between December 2018 and January 2019.
View the full CoC Report Card on International Cooperation to see how global think tank leaders graded the world's performance and prospects for 2019 on ten global challenges.
Other CoC Report Card Blogs
Don't Show the Parents: The 2018–2019 Report Card on International Cooperation
Trump's Trade War Unimportant in Grand Scheme of Things
Climate Change and the Global Economy Should be the Top Priorities for Policymakers
It's the Global Economy, Stupid!
Cyber Governance: More Spam Than Substance?
Iran and Beyond: Interstate Conflict Grows More Palpable
The Fissile State of International Nuclear Cooperation
Development Turns Competitive With Mixed Results
Apathy Continues to Plague Global Health