Trump's Trade War Unimportant in Grand Scheme of Things
Experts from the Council of Councils grade international cooperation on global trade a middling C in 2018, rank it one of the lowest priorities on the global agenda, and are only somewhat optimistic about progress in the next year.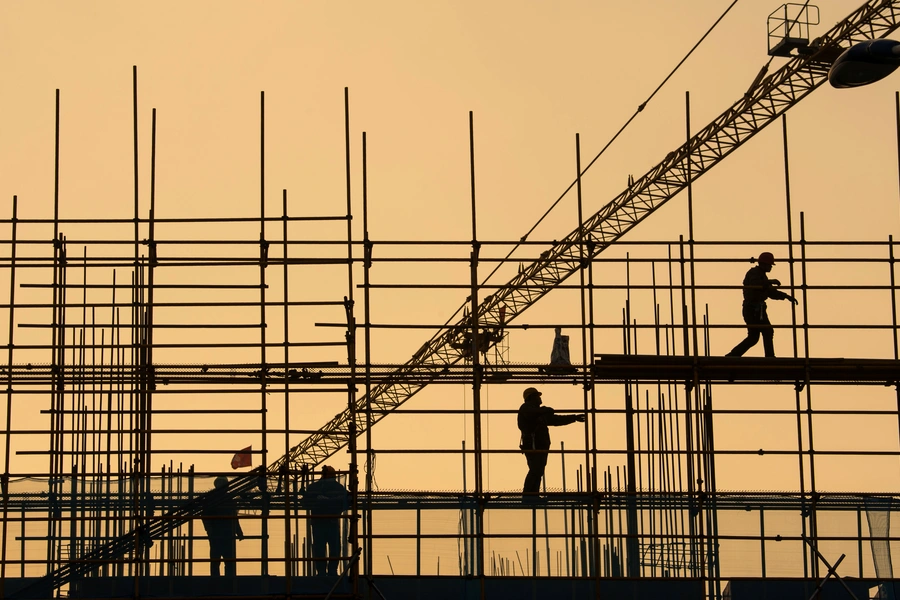 The following is a guest post by Terrence Mullan, assistant director for International Institutions and Global Governance, and Kyle Evanoff, research associate for International Institutions and Global Governance, at the Council on Foreign Relations.
President Donald J. Trump's trade war with China is the talk of the town in the Beltway and beyond. But the heads of the leading think tanks that comprise the Council of Councils (CoC) still place trade far from the top of the global agenda. Expanding global trade tied for the third lowest priority out of ten global issues in the 2018–2019 CoC Report Card on International Cooperation, only a slight increase from the previous year's report card.
Survey respondents were troubled by U.S. tariffs, the retaliatory responses from other governments, and a gridlocked World Trade Organization (WTO), but were optimistic about Canada, the European Union, and Japan's active leadership, awarding international efforts to expand trade a C in 2018, the same grade as in 2017. Many think tank leaders were fearful that U.S. President Donald J. Trump's skepticism of the benefits of free trade would spread. But their larger concerns centered on the effects of this contagion for global economic growth, and they ultimately assigned trade a lower priority than issues such as nuclear non-proliferation and climate change. Trade, in other words, is an urgent matter, with implications for other issues such as development, but less important than more existential threats.
Lackluster Efforts to Expand Trade in 2018
Trade tensions and tighter credit slowed global trade growth to 3.9 percent in 2018, below the WTO projection of 4.4 percent, but still higher than the 3.6 percent gain in 2017 and 1.3 percent increase in 2016. Memduh Karakullukçu, vice chairman and president of the Global Relations Forum (Turkey), believes that one of the biggest obstacles to expanding trade is how it "has become deeply and corrosively entangled with interstate rivalry." This is reflected in the Trump administration's sweeping tariffs on $250 billion worth of Chinese products, with further escalation possible.
Rohinton Medhora, president of the Centre for International Governance Innovation (Canada), had a blunter take: "global trade governance is a mess." Examples abound, Trump at the epicenter. The Group of Seven summit in Quebec, Canada, failed to produce a joint communiqué. Group of Twenty nations only agreed to a final communiqué at their summit after dropping commitments to resist protectionism. And the WTO muddled along in dire need of reform, hobbled in part by the U.S. president's antagonistic stance.
But Trump is not the only culprit: "China is aggressively promoting a more mercantile vision for trade which conflicts with a rules-based order," write Chairman Sunjoy Joshi and President Samir Saran of the Observer Research Foundation (India).
Despite all this, CoC experts still caught glimpses of progress. The grade for trade was a passing C. Many trade experts were disappointed with the United States–Mexico–Canada Agreement (USMCA), but the signatories "reached the best deal possible under current circumstances," according to Mariana Campero, executive director of the Mexican Council on Foreign Relations. Though the United States hindered trade liberalization efforts, much of the rest of the world continued to expand global trade. The European Union signed bilateral agreements with Japan and Mexico; the eleven-nation Comprehensive and Progressive Agreement for Trans-Pacific Partnership (CPTPP) entered into force; and forty-nine African countries committed to the African Continental Free Trade Area, the largest free trade agreement since the creation of the WTO.
Prospects for 2019
Nevertheless, "the major trend for future global trade is worrisome," warned Xue Lei, assistant research fellow at the Shanghai Institutes for International Studies. With no end in sight for Trump's trade tantrums and the WTO downgrading expected trade growth in 2019, the CoC ranked advancing trade fifth (a tie) in terms of opportunity for breakthrough. "It will be difficult to advance and achieve an expansion of trade" with the growth of populist movements across the globe, write José María Lladós and Juan Battaleme of the Argentine Council for International Relations. Furthermore, "managing trade and global economic issues will become harder as tensions between the United States and China are now structural," lament Joshi and Saran.
Somehow, after more than a year of Trump's trade wars, CoC respondents are more optimistic about expanding trade compared to the previous edition of the Report Card (tied for fifth, two slots ahead of its seventh-place showing last year). The potential for "a new wave of enthusiasm for free trade in some parts of the world" still exists, says Carlos Ivan Simonsen Leal, president of the Getuilio Vargas Foundation (Brazil). Richard Haass, president of the Council on Foreign Relations, downplays Trump's war on trade, writing that the combination of a ratified CPTPP and signed USMCA "gives momentum to global trade heading into 2019."
Recommendations
Global think tank leaders agree on the need to alleviate U.S.-China trade tensions, conclude more regional and multilateral trade agreements, and adapt the WTO to new political and economic realities. Respondents vary, however, in their preferred means of accomplishing these goals.
Yasushi Kudo, founder and president of the Genron NPO (Japan), suggests that the only way to improve the current trade crisis is to apply enough pressure "to make the United States and China comply with the existing rules." To build momentum for reducing protectionist measures, Ong Keng Yong, executive deputy chairman of the S. Rajaratnam School of International Studies (Singapore), proposes implementing "a fixed annual reduction of tariffs and non-tariff barriers under WTO scrutiny."
Looking forward, Joshi and Saran conclude that it is necessary to find "a new compromise between sovereignty and free trade." Other survey respondents agree with this sentiment, accepting the fact that some forms of protectionism are palatable in an age of conspicuous nationalism. Fyodor Lukyanov, chairman of the Council on Foreign and Defense Policy (Russia), for instance, recommends launching a high-level panel on adapting the WTO to a more mercantilist world.
According to this view, Trump is a mere symptom of the deeper malady of swelling dissatisfaction with globalization and new technology.
About the CoC Report Card
The Council of Councils (CoC) Report Card on International Cooperation evaluates multilateral efforts to address ten of the world's most pressing global challenges, from countering transnational terrorism to advancing global health. No country can confront these issues better on its own; on the contrary, combating the threats, managing the risks, and exploiting the opportunities presented by globalization all require international cooperation. To help policymakers around the world prioritize among these challenges, the CoC Report Card on International Cooperation surveyed the Council of Councils, a network of twenty-eight foreign policy institutes around the world between December 2018 and January 2019.
View the full CoC Report Card on International Cooperation to see how global think tank leaders graded the world's performance and prospects for 2019 on ten global challenges.
Other CoC Report Card Blogs
Don't Show the Parents: The 2018–2019 Report Card on International Cooperation
Trump's Trade War Unimportant in Grand Scheme of Things
Climate Change and the Global Economy Should be the Top Priorities for Policymakers
It's the Global Economy, Stupid!
Cyber Governance: More Spam Than Substance?
Iran and Beyond: Interstate Conflict Grows More Palpable
The Fissile State of International Nuclear Cooperation
Development Turns Competitive With Mixed Results
Apathy Continues to Plague Global Health