Ferdinand Marcos Jr Appears to Have Won Convincingly: Here's What That Means for the Philippines
Marcos Jr's decisive victory would change the political landscape in the Philippines.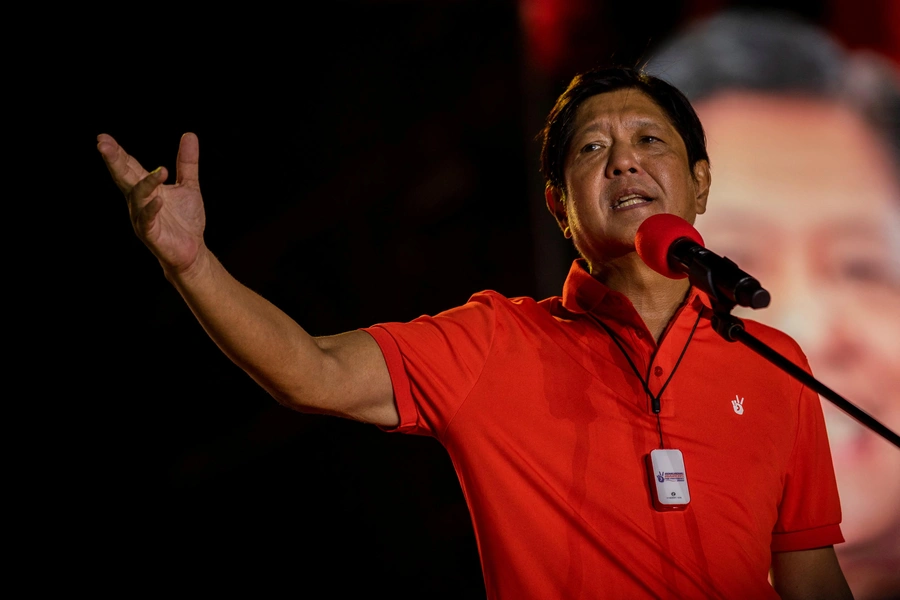 Ferdinand Marcos Jr seems to have triumphed overwhelmingly in the Philippines' presidential election, although the race has not yet been officially called. With more than 90 percent of the votes reportedly counted late Monday in the Philippines, Marcos seemed to have what appears to be an insurmountable lead despite some irregularities in the voting.
With his apparent victory, he now sits in an extremely powerful position. The Philippine presidency runs for six years, one of the longest of any presidencies in the world, and it is limited to only one term. Although some might think that immediately makes a new president a lame duck, it often serves to empower the president, who does not need to worry about re-election. Marcos also apparently will enjoy strong support in parliament, which will further ease his way to being a strong president.
As I have noted in multiple publications, Marcos Jr's apparent ascent to the presidency, though he seems to have won in a democratic election, is a worrying sign for Philippine, and regional, democracy, which already was in bad shape – a coup and civil war in Myanmar, authoritarian rule in Cambodia, an essentially military-installed government in Thailand, and backsliding in Indonesia, formerly the region's democratic bright spot other than Timor-Leste. Democracy is not just voting – it includes a wide range of institutions and norms that keep it vital and strong.  
For one, the apparent victory brings the Philippines back into a Marcos era, even though Marcos Jr has never apologized for the brutal Marcos Sr era past, and Marcos Jr's campaign apparently oversaw an extensive disinformation effort (building on earlier disinformation efforts designed to whitewash Marcos Sr's brutal period as an era of stability) to denigrate the main challenger Leni Robredo, and feed disinformation about the Marcoses and the past to the Philippines population, much of which is too young to remember the era of the elder Marcos. Meanwhile, Marcos Jr also was convicted of tax fraud in the past and has lied about his resume.
None of this is exactly a sign that the younger Marcos plans to address any of the family's past issues as the president, or operate with transparency as president. And, in fact, the election further confirms the impunity that reigns in the Philippines for elites, including the Marcos family. Despite Ferdinand Marcos Sr, the longtime dictator, overseeing decades of brutal human rights abuses and reportedly stealing some $10 billion from the country, and even after Marcos Sr left the country for the United States and Philippine democracy was reborn, the Marcos family never vanished from the Philippine political landscape. Marcos Sr's wife Imelda returned to the country and remained a powerful political kingmaker – she was a congresswoman throughout the 2010s, despite her and her husband's alleged kleptocracy – and Marcos Jr and other relatives maintained their political stronghold in the province of Ilocos Norte and held various prominent political offices, mostly based out of Ilocos Norte.
Such impunity not only keeps Philippine politics and economic highly unequal, but makes regular voters feel like there is nothing they can do about the dominance of elite families. As the New York Times noted before the election, young Filipinos often feel that political dynasties control Philippines politics but that there was nothing they as voters could do about it, and "youth turnout in the 2016 election was only 30 percent, compared with 82 percent for the general population."
Meanwhile, Marcos Jr has made clear that he intends to protect the former president, Rodrigo Duterte, from any investigations into his extrajudicial drug wars, and possibly will even continue the bloody drug war himself. (Duterte's daughter Sara Duterte, who has made an alliance with Marcos Jr, was elected as vice president.) Again, this adds to impunity, condones a period of crackdowns on media freedoms, judicial independence, and the authority of local officials, and suggests that Marcos Jr will continue these strongman tactics. The drug war morphed into killings of political opponents of Duterte, which Duterte sometimes publicly championed, and in itself became a tool of repression that Duterte wielded aggressively. And Marcos Jr may well step up the crackdown on independent media outlets, which have aggressively investigated his campaign and disinformation operations, as well as move further to limit any independence in parliament and the judiciary.
As I noted in a piece in World Politics Review, Marcos Jr, if president, will almost surely be less volatile than Duterte; one could hardly be more volatile. He may put into place a more professional administration, which might improve the Philippines' battle against COVID-19 and some other challenges, although Marcos Jr was vague on the campaign trail about these and most other issues.
Although the U.S. Congress, which often takes the lead on pressing for human rights in Southeast Asia, will surely be watching closely how Marcos Jr handles the early days of his presidency, if he is indeed president, the White House undoubtedly will reach out to him and woo him, probably fairly aggressively. The Philippines is a treaty ally in a vital region that, after initially moving toward China in Duterte's early presidential years, has re-solidified its strategic ties with the United States. Beijing is highly unpopular right now in the Philippines, and Marcos Jr, despite some historically warm ties to China, is going to be constrained by public opinion and the Philippine security establishment if he wants to shift the Philippines back toward closer strategic ties with Beijing and away from those with Washington. Thus, the White House will try to further solidify links with the Philippines.