Five Anti-War Movies Worth Watching
Each Friday this summer, we suggest foreign-policy-themed movies worth watching. This week: films that highlight the costs of war.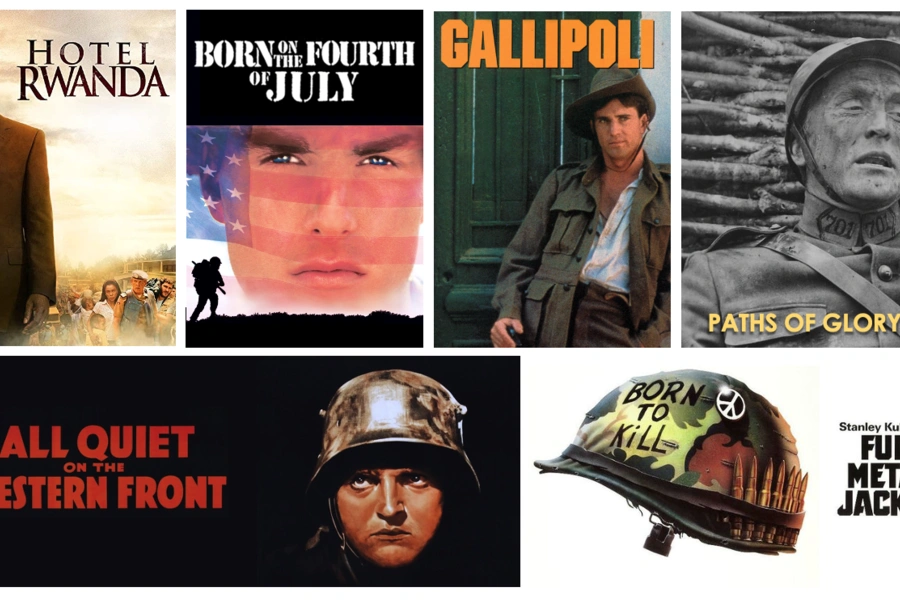 It's Friday and time for another installment in our summer series of foreign-policy-themed movies worth watching. This week we are offering suggestions on movies that highlight the horror of war.
Filmmakers and critics have long debated whether it is possible to make an "anti-war movie." French director Francois Truffaut argued in 1973 that simply depicting war glorifies it, so every war film is inevitably pro-war. Steven Spielberg, who directed Saving Private Ryan, claimed the opposite: "Every war movie, good or bad, is an anti-war movie." Francis Ford Coppola sided with Truffaut and argued that Apocalypse Now, which many consider to be one of the greatest anti-war movies ever filmed, isn't an anti-war film.
We won't seek to end the debate with this list. But the following six films certainly highlight the brutality, and often futility, of war over any of its benefits.
In keeping with our rule to only pick a film once this summer, you won't see Catch-22, Dr. Strangelove, M*A*S*H, or The Deer Hunter, which often appear on lists of best anti-war movies, below. We are also sticking to English-language movies. So great films like The Grand Illusion and The Burmese Harp don't appear below either. And because Coppola doesn't think Apocalypse Now is an anti-war film, it's not on our list. After all, who are we to argue with one of the all-time great auteurs?
Here are our five suggestions and a bonus pick from one of our colleagues.
All Quiet on the Western Front (1930). A professor's patriotic lectures inspire a group of students to enlist in the German army during World War I. Their visions of glory quickly fade in the trenches of the Western front. Surrounded by death and disease, they debate the pointlessness of the conflict, even as their professor continues to promote its glamor to new recruits back home. All Quiet on the Western Front is based on German veteran Erich Maria Remarque's internationally bestselling novel of the same name. The Nazis targeted Remarque, his novel, and the film for their apparent criticism of German militarism. All Quiet on the Western Front was the first movie to win both Best Picture and Best Director (for Lewis Milestone) at the Academy Awards. You can watch it on Amazon Prime, Google Play, or YouTube.
Born on the Fourth of July (1989). Ron Kovic enlisted in the U.S. Marines out of a feeling of patriotic duty. He returned from Vietnam paralyzed from the waist down but still a patriot until he became disillusioned with the lack of government and societal support for Vietnam veterans. Based on Kovic's autobiography of the same name, the film follows his traumatic tours in Vietnam, his struggle with paralysis, and his tumultuous path to anti-war activism. Born on the Fourth of July won Best Director for Oliver Stone, a Vietnam veteran who had immortalized his own combat experiences in the Oscar-winning Platoon three years earlier. Born on the Fourth of July was nominated for six other Oscars, including Best Picture and Best Actor for Tom Cruise's powerful performance as Kovic. You can watch Born on the Fourth of July on Amazon Prime, Google Play, or YouTube.
Full Metal Jacket (1987). Director Stanley Kubrick's Full Metal Jacket critiques the dehumanization of people in the military machine. Based on the novel The Short Timers by Gustav Hasford, the film follows a group of young U.S. Marines in basic training as their sadistic drill instructor pushes them to the brink of insanity—and for one of them, beyond it. The newly minted "grunts" are then shipped off to Vietnam on the eve of the Tet Offensive, where their desensitization to violence is put to the test. Matthew Modine and Vincent D'Onofrio head the cast of recruits. The critical role of Gunnery Sergeant Hartman is played by R. Lee Ermey, who served as a Marine drill instructor during Vietnam and ad-libbed many of his insults. The culture of degradation and aggression featured in Full Metal Jacket both shocked and enticed its audiences. You can watch it on Amazon Prime, HBO Max, or YouTube.
Gallipoli (1981). Hoping to seize a sea route to Russia in the first World War, the Allies launched an attack on the Ottoman-held Dardanelles Straits in February 1915. The Gallipoli campaign was hobbled by bad intelligence and strong Turkish resistance. The Allies were forced to evacuate in January 1916 with nearly 250,000 casualties. The failure of the campaign's initial naval attack led to the demotion of its architect, future British Prime Minister Winston Churchill. Director Peter Weir's Gallipoli features the story of two young Australian athletes, played by Mark Lee and Mel Gibson, who view the war as yet another mental and physical challenge to tackle. Their friendship forms the heart of the film. But their romantic illusions of brotherhood and adventure are dashed by the poorly planned and ultimately doomed Battle of Gallipoli. You can stream Gallipoli on Amazon Prime, Google Play, or YouTube.
Paths of Glory (1957). When a group of French soldiers sees that leaving the trenches means certain death, they refuse to continue a futile assault against a German stronghold. Their general decides to court-martial three of the soldiers for cowardice as examples to the rest and to scapegoat them for the attack's failure. Kirk Douglas stars as Colonel Dax, a resolute officer who protests the logic of the offensive and offers to defend the three men at their trial. While attempting to save them from the firing squad, Dax battles against his ruthless superiors who see ordinary soldiers as pawns to their ambitions. Paths of Glory is based on Humphrey Cobb's 1935 novel, which was inspired by true events during World War I. Similar to his other films examining the absurdities of war, Stanley Kubrick offers little respite to viewers hoping for a happy ending. You can find it on Amazon Prime, Google Play, or YouTube.
This week we asked Jamille Bigio to offer a bonus recommendation. Jamille is a senior fellow in CFR's Women and Foreign Policy program. She previously served in the Obama administration as the director for human rights and gender on the White House National Security Council staff and held positions in the Department of State and United Nations. Jamille chose:
Hotel Rwanda (2004). Between April to July 1994, an estimated 800,000 Tutsis and moderate Hutus were murdered in Rwanda by radical Hutu militias organized by the government. Paul Rusesabagina, a Hutu married to a Tutsi woman, watched the killing intensify from his four-star Hôtel des Mille Collines in Kigali. Director Terry George depicts how the hotel manager leveraged his connections with Hutu government and military elites to shelter 1,200 refugees in the hotel. Don Cheadle received an Oscar nod for playing Rusesabagina. After the film's release, Rusesabagina and some Rwandans clashed over his recounting of events and his criticism of the current Tutsi-led government. Jamille says: "Against the backdrop of the Rwandan genocide, Hotel Rwanda captures the horrific, human toll of war and inspires with its depiction of how the extraordinary choices of ordinary people can save thousands of lives." You can watch Hotel Rwanda on Amazon Prime, Google Play, or YouTube.
Next week we will finish our summer series with a list of movies we haven't recommended yet and think we should.
Check out our other foreign-policy movie recommendations: