Five POW Movies Worth Watching
Each Friday this summer, we suggest foreign-policy-themed movies worth watching. This week: films about prisoners of war.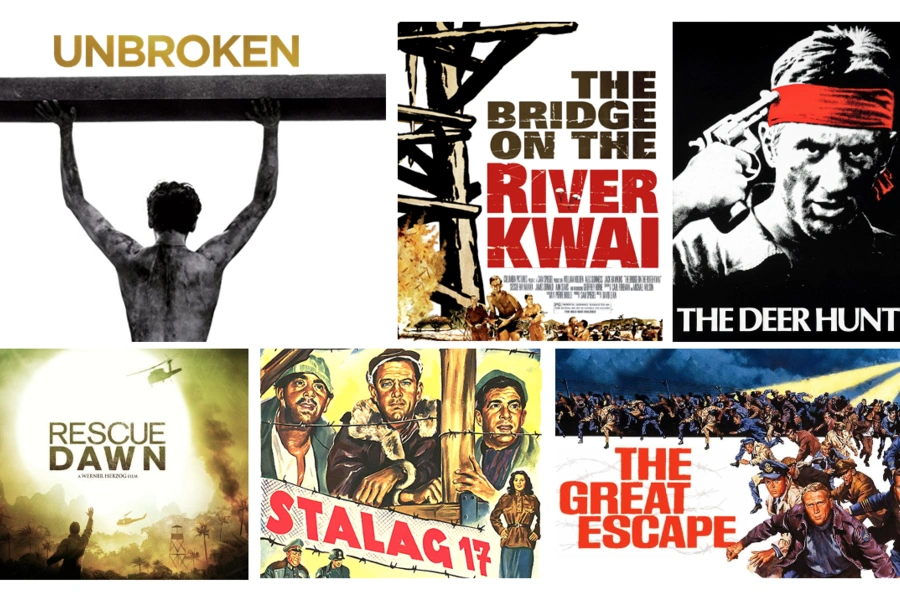 It's Friday, so it's time for another installment of our foreign-policy-themed movie recommendations. This week we are looking at movies that explore the prisoner of war (POW) experience. The Geneva Convention requires belligerents to treat POWs humanely. In practice, however, POWs often are brutalized. Their stories become ones of endurance and resilience.
We won't rehash all the rules we follow in making our picks. Just know that we agreed that a film can make these summer lists only once. So Paradise Road isn't eligible for today's list, since we have already recommended it. And be warned that we have interpreted the POW theme narrowly. So movies about soldiers and sailors imprisoned by their own government—like Sidney Lumet's underappreciated film The Hill, which features Sean Connery as a British soldier incarcerated in a British prison in Libya during World War II—don't make the cut. Ditto the guilty pleasure The Dirty Dozen, which starts out in a U.S. military prison.
With that out of the way, here are our five recommendations, plus a bonus pick from one of our colleagues.
Rescue Dawn (2006). Christian Bale plays the role of Lieutenant Dieter Dengler, a German-born U.S. Navy pilot who was shot down in 1966 during a covert mission over Laos. Captured by the Pathet Lao, Dengler eventually escapes with a fellow POW. They then need to navigate a hostile jungle to find their way to freedom. Bale shed fifty-five pounds to match the malnourished Dengler at the time of his rescue. Director Werner Herzog had told Dengler's story once before in a 1997 documentary, Little Dieter Needs to Fly. Explaining what drew him to the story, Herzog said: "All that I like about America was somehow embodied in Dieter: self-reliance and courage and loyalty and optimism, a strange kind of directness and joy in life." You can watch Rescue Dawn on Amazon Prime or Google Play.
Stalag 17 (1953). Stalag 17 follows the jaded anti-hero Sergeant J.J. Sefton, played by William Holden in an Oscar-winning performance. After several escape attempts from the Stalag 17 POW camp are foiled, Sefton's business dealings with German guards lead his fellow POWs to suspect he is a Nazi spy. Sefton commits himself to discovering the true mole among the prisoners. The search for the spy has grave implications, but director Billy Wilder balances it with slapstick comedy to show the camaraderie of the POWs. The movie is based on the play of the same name written by Donald Bevan and Edmund Trzcinski, both of whom were POWs in Stalag 17-B in Austria. You can watch the film on Amazon Prime, Google Play, or YouTube.
The Bridge on the River Kwai (1957). Director David Lean's epic film explores the perils of honor. British POWs forced to construct a railroad bridge across the Kwai River in Burma during World War II quietly sabotage their work. After a standoff with Japanese Colonel Saito (Sessue Hayakawa), whose life hinges on the bridge's timely completion, British Lieutenant Colonel Nicholson (Alec Guinness) agrees to lead his men in building the bridge. Obsessed with proving British superiority, Nicholson forges ahead even as Allied commandos—including an escapee from the prison played by William Holden—plot to destroy his handiwork. The script is based on French author Pierre Boulle's novel The Bridge over the River Kwai, which fictionalizes how POWs constructed the "Death Railway" during World War II.  The Bridge on the River Kwai won seven Oscars, including Best Picture. The American Film Institute ranks it  the thirty-sixth greatest American film. The British Film Institute ranks it the eleventh best British film of the twentieth century. You can watch The Bridge on the River Kwai on Amazon Prime, Google Play, or YouTube.  
The Great Escape (1963). Inspired by Paul Brickhill's firsthand account of the mass escape from a German POW camp in March 1944, The Great Escape is a story of resistance against all odds. The most audacious Allied prisoners are held in the high-security Stalag Luft III. Hoping to reach freedom and to force the Germans to waste their resources chasing escapees, the POWs hatch a bold plan to tunnel out of the camp. Steve McQueen leads a star-studded cast that also features James Garner, Richard Attenborough, and Charles Bronson. The Great Escape melds Hollywood bravado and impressive stunts with real-life drama and sobering historical facts into a tense and exciting tale of determination. You can watch it on Amazon Prime, Google Play, or YouTube.
Unbroken (2014). After Louis Zamperini ran a record-breaking final lap during the 5000-meter race at the 1936 Berlin Olympics, he became a favorite to medal in the ‪1940 Tokyo games. He didn't make it to Japan until 1943, and he arrived as a POW rather than an athlete. Unbroken tells the true story of how Zamperini came to be a POW. A bombardier in the U.S. Army Air Force, Zamperini's plane crashed some 850 miles south of Oahu in May 1943 while on a search-and-rescue mission. He survived forty-seven days adrift in a raft before being captured by the Japanese when he washed ashore in the Marshall Islands. His reward was meeting the sadistic Sergeant Mutsuhiro "The Bird" Watanabe at a series of Japanese POW camps. Zamperini would later come full circle by running the Olympic torch past one of his former prisons for the 1998 Olympic Winter Games in Nagano, Japan. Laura Hillenbrand's bestselling biography of Zamperini inspired Angelina Jolie to direct the film. You can find Unbroken on Amazon Prime, Google Play, or YouTube.
We invited our colleague Paul Stares to offer this week's bonus pick. Paul is the General John W. Vessey senior fellow for conflict prevention at the Council and director of the Center for Preventive Action. So he knows a thing or two about the consequences of war. Paul chose:
The Deer Hunter (1978). Fighting half a world away from home, three friends from a small Pennsylvania steel town are captured by the Viet Cong, who force them to play Russian roulette. Though roulette was not a feature of real Vietnam POW camps, director Michael Cimino uses it to reflect the unpredictable and gratuitous violence of the war. With a stellar cast headed by Robert De Niro, John Savage, Christopher Walken, and Meryl Streep, The Deer Hunter won five Academy Awards, including Best Picture. The American Film Institute ranked it fifty-third on their list of the greatest American films. Here's what Paul had to say: "The Deer Hunter is an iconic, must-see movie for every new generation of Americans—a searing reminder of the horrors of war and its inevitable cost to friends, families, and local communities." You can watch The Deer Hunter on Amazon Prime, Google Play, or YouTube.
Next week we will offer suggestions for foreign-policy comedies.
Check out our other foreign-policy-themed movie recommendations: