Five Foreign-Policy Satires Worth Watching
Each Friday this summer, we suggest foreign-policy-themed movies worth watching. This week: classic satires.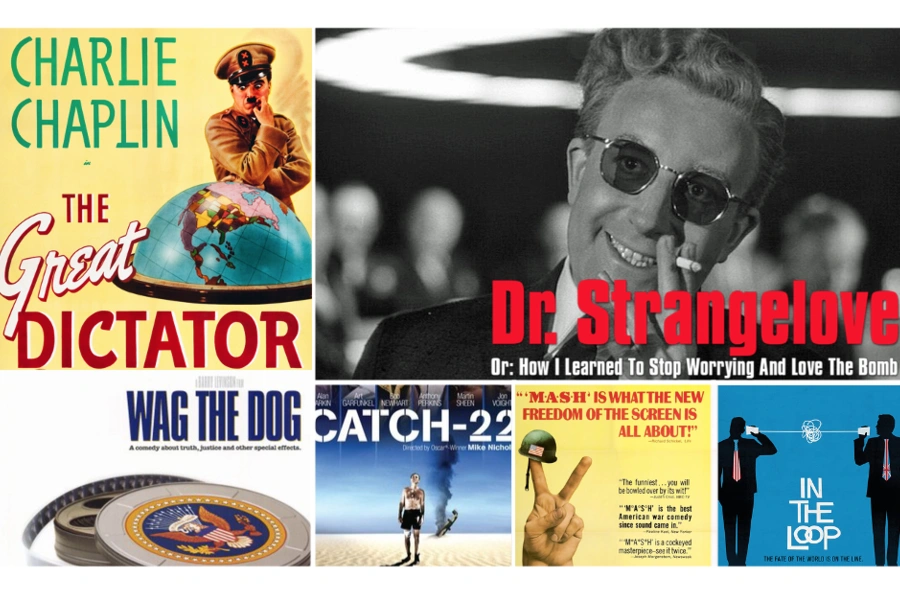 Last week I posted the reading and viewing suggestions discussed on the summer reading special of the podcast The World Next Week. It was a fun show to record, and it got me thinking. Most of us are going to be spending a lot more time indoors this summer because of the pandemic. So why not come up with some lists of foreign-policy-themed movies to watch?
My colleague Margaret Gach was game to help me compile the lists. We decided on a couple of rules to simplify things. First, we would restrict the lists to English-language films. That's not because there aren't great foreign-policy satires in languages other than English. There are. But we won't pretend to know what the best movies are in Chinese, German, or Russian. Second, we will only be picking a movie once. Some movies no doubt could deserve to be on multiple lists; they are that good. But given that the purpose of these posts is to introduce people to movies they might have never seen or remind them to re-watch ones they have forgotten, we decided to avoid repeat nominations to spread the wealth. Third, each recommendation should be available to rent or stream online. 
We will post a new list each Friday for the rest of the summer. At that point the presidential campaign should have heated up, and we'll return to the weekly campaign roundup.
With all those disclaimers out of the way, here are our suggestions for the best foreign-policy satires. Why begin with satires? Because most of the news recently has been downbeat and depressing. So movies that can put a smile on your face seem in order. We have five joint picks, and Margaret threw in a bonus suggestion. 
The Great Dictator (1940). The Great Dictator lampoons Adolf Hitler, Benito Mussolini, and fascism more generally. Sporting his trademark mustache, Charlie Chaplin plays both a kind Jewish barber and the cruel but bumbling dictator Adenoid Hynkel, who is obviously modeled on Hitler. The two characters accidentally switch places, driving the plot forward. The film sparked controversy even before filming began in September 1939, just days after Germany invaded Poland. While the movie was still in development, Britain announced it would ban the film to avoid offending Hitler. Things changed once the two countries went to war. But The Great Dictator continued to cause controversy after its release because Chaplin ends the movie, speaking as himself, with an earnest pacifist message. The Great Dictator was Chaplin's first talking movie, was nominated for Best Picture, and became his biggest box office hit. He later expressed regret about making the film, saying that he wouldn't have filmed it if he had known of the magnitude of the Nazi concentration camps. You can rent The Great Dictator on Amazon Prime or HBO Max. 
Dr. Strangelove or: How I Learned to Stop Worrying and Love the Bomb (1964). Based on Peter George's 1958 novel Red Alert, this classic directed by Stanley Kubrick mocks the logic of nuclear strategy and the officials behind it. U.S. defense officials at the time rushed to assure the American public that no general could trigger a nuclear attack without the president's authorization as the film contended. But Dr. Strangelove reflected many real aspects of U.S. military strategy during the Cold War. Dr. Strangelove was nominated for Best Picture, and the American Film Institute ranks it as the thirty-ninth greatest American film of all time. And yes, that is James Earl Jones, the voice of Darth Vader and Mufasa, as Lieutenant Lothar Zogg. You can rent Dr. Strangelove on Amazon Prime, Google Play, or YouTube.
M*A*S*H (1970). Before they became household names in the hit TV series, the irreverent characters staffing a medical unit in the Korean War were first introduced in M*A*S*H the movie, directed by Robert Altman. The film follows two drafted surgeons, played by Elliot Gould and Donald Sutherland, whose constant insubordination is ignored because their skills are indispensable. Though set in Korea, Altman was satirizing the absurdity and tragedy he saw in the Vietnam War and the military more broadly. The American Film Institute ranks M*A*S*H fifty-fourth on its list of the greatest American films. It was nominated for Best Picture, and its script, which is based on Richard Hooker's novel, won the Oscar for best adapted screenplay. M*A*S*H was also the most popular film comedy of the 1970s. But beware. Some of its jokes have not aged well, and as one critic put it, its depiction of women is "loathsome." You can rent M*A*S*H on Amazon Prime, Google Play, or YouTube.  
Catch-22 (1970). An airman would have to be insane to fly more combat missions, and if he is insane, he would be unfit to fly. However, if an airman recognizes the danger of continuing to fly, he must be sane and so is fit to fly. This is the catch-22 of Mike Nichols's 1970 anti-war film, based on Joseph Heller's novel of the same name. Set in World War II, the movie criticizes the irrationality of wartime politics in the face of the real horrors of war. The film fared poorly at the box office—perhaps because it had the misfortune to come the same year as M*A*S*H. If you are looking for something binge-able, George Clooney revamped the story in a 2019 miniseries on Hulu. You can watch the film for free on Pluto TV.  
Wag the Dog (1997). Barry Levinson couldn't have predicted how much life would seem to imitate his art when he directed Wag the Dog. It tells the story of a spin doctor and a Hollywood producer who fake a war to cover up a presidential sex scandal. The Bill Clinton sex scandal broke just one month after the movie hit theaters. Critics subsequently accused Clinton of "wagging the dog" when he ordered U.S. military forces to bomb the Al-Shifa pharmaceutical factory in Sudan on the very day that Monica Lewinsky testified before a grand jury. It didn't help Clinton that the evidence that the plant was making VX nerve agent, the reason the attack was ordered, turned out to be shaky. Wag the Dog has a standout cast headed by Robert de Niro and Dustin Hoffman. The movie remains a relevant satire of government media manipulation and how far some leaders will go to keep power. You can rent it on Amazon Prime, Google Play, or YouTube.
Margaret offers up this bonus suggestion: 
In the Loop (2009). When a mid-level British minister accidentally remarks that a Middle East war is "unforeseeable," he becomes a bumbling pawn for both doves and hawks of the British and U.S. governments. In the Loop's comedy is consistently razor-sharp, and Peter Capaldi's director of communications will teach you a thousand new phrases to castigate your opponents in a thick Scottish accent. But behind the fast-paced wisecracks of director Armando Iannucci—who continued satirizing American politics in Veep—is a serious look at Britain's cooperation with the United States before the invasion of Iraq in 2003. As the origins of the Iraq War come under scrutiny again during the election year, In the Loop is worth another watch. You can rent it on Amazon Prime, Google Play, or YouTube.
We hope you enjoy these selections. Next week we will be making recommendations for foreign-policy movies in which women take the lead.
Check out our other foreign-policy movie recommendations: