Five Movies About World War II Worth Watching
Each Friday this summer, we suggest foreign-policy-themed movies worth watching. This week: films about the second World War.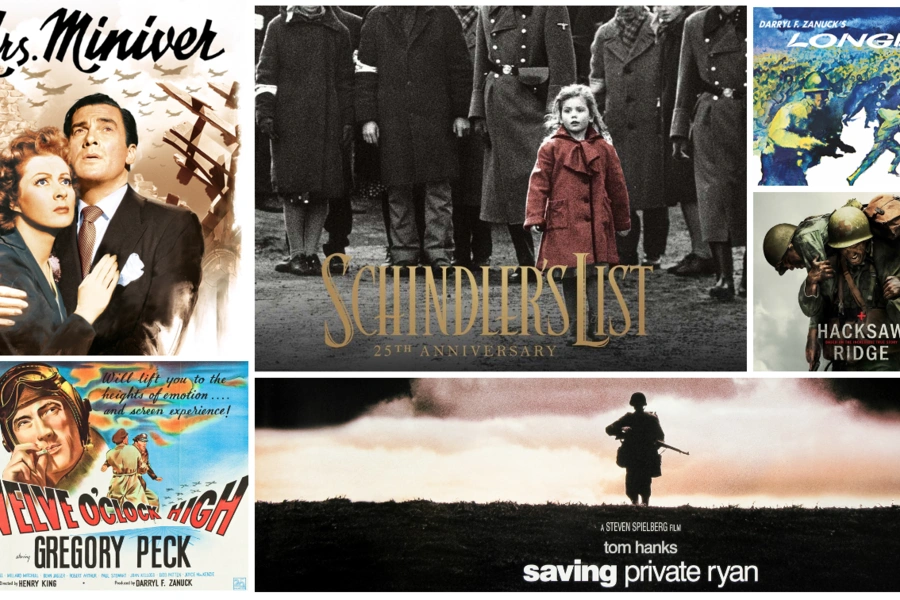 Today marks the seventy-fifth anniversary of Japan's unconditional surrender in World War II. Japanese officials would not sign the formal surrender documents for nearly three more weeks, but August 14, 1945, effectively marked the end of a conflict that had lasted six years. It was the most destructive war that the world has ever known. At least 75 million people are believed to have died in the war's European and Pacific theaters combined. The true figure might be much higher. 
We want to mark the anniversary by recommending five films that bring home the war's horror. Not surprisingly for a conflict that remade the world as we know it and prompted Americans to speak of "The Greatest Generation," there is no shortage of possible films to recommend. Indeed, lists of World War II films can be compiled by sub-theme. There have been movies about great battles (e.g., A Bridge Too Far, Dunkirk, Midway, and Tora! Tora! Tora!), about harrowing true military experiences (e.g., Anthropoid, Decision Before Dawn, The Fighting Sullivans, The Thin Red Line, and Valkyrie), and about civilians caught up in the war (e.g., Fires Were Started, Defiance, Hope and Glory, Sophie's Choice, The Imitation Game, The Pianist, and The Zookeeper's Wife). 
Filmmakers have also used World War II as a backdrop to tell tales of romance, whether tragic or not. The all-time classic Casablanca would top that list. But it would be joined by films like Atonement, From Here to Eternity, The English Patient, The Life and Death of Colonel Blimp, and To Have and Have Not. Nearly as many films have been shot about prisoners of war. We have already recommended films like Bridge on the River Kwai, Paradise Road, Stalag 17, The Great Escape, and Unbroken. But we haven't mentioned terrific films like Empire of the Sun, The Colditz Story, and Von Ryan's Express.
We could have opted for a list of fictional tales of heroism—or at least heroic tales with only a small grain of truth—like Fury, Guns of Navarone, Inglorious Basterds, The Dirty Dozen, The Hill, and Where Eagles Dare. It's even possible to assemble a list of World War II movies like Jojo Rabbit, Kelley's Heroes, and Mister Roberts that seek to make you laugh. And during the war filmmakers produced a range of patriotic propaganda movies, including Happy Land, In Which We Serve, and the seven-part Why We Fight. 
Given this abundance of choice we decided to simplify things by limiting our picks to movies about World War II that were nominated for Best Picture. As with our previous lists, a pick only gets made once. So you won't find Best Picture nominees (or winners) like Darkest Hour, The Great Dictator, or Patton on the list below. We already recommended them. We are also sticking with our rule about picking only English-language films. That means that great films like Das Boot, Grave of the Fireflies, Letters from Iwo Jima, and Life is Beautiful don't show up below either.  
With those preliminaries out of the way, here are our five suggestions and a bonus pick from a colleague. 
Hacksaw Ridge (2016). Private First Class Desmond Doss was awarded the Medal of Honor for saving seventy-five men during the Battle of Okinawa in 1945. He did so without ever firing a gun. Doss was a Seventh-Day Adventist whose religious beliefs would not permit him to touch a weapon. He nonetheless volunteered for military service and was sent to the Pacific theater as a medic. During the long battle at the Maeda Escarpment, a jagged cliff also known as Hacksaw Ridge, hundreds of American soldiers died. The unarmed Doss went from soldier to soldier to lower wounded men back down the cliff to other medics. Director Mel Gibson was inspired by Doss's story after watching the 2004 documentary The Conscientious Objector. Andrew Garfield received an Oscar nod for his role as Doss. Hacksaw Ridge was nominated for six Oscars, and won two, though not for Best Picture. You can watch it on Amazon Prime, Google Play, or YouTube. 
Mrs. Miniver (1942). When World War II comes to Britain, the comfortable lives of a family in a small English village are turned upside down. By following the ordinary Minivers through love and loss, director William Wyler hoped to raise British morale and rally the American public to support the Allies. "We're in an all-out war—a people's war—it's the time to face it," he said. The film was released six months after Pearl Harbor, and President Franklin D. Roosevelt urged cinemas across the United States to show it. Both British Prime Minister Winston Churchill and Nazi propaganda minister Joseph Goebbels praised the film's propaganda value. The American Film Institute ranked it the fortieth most inspirational film of all time. Mrs. Miniver won six Oscars, including Best Picture and Best Actress for Greer Garson, who plays the eponymous character. You can rent it on Amazon Prime, Google Play, or YouTube. 
Saving Private Ryan (1998). Under the U.S. War Department's "sole survivor" directive, a squad of soldiers is ordered to rescue Private James Ryan, a paratrooper behind enemy lines, after his three brothers die in combat. Director Steven Spielberg looks unflinchingly at the brutality of combat, which includes throwing viewers headfirst into a graphic twenty-three-minute sequence depicting the American assault of Omaha Beach on D-Day. Tom Hanks plays the lead role, with Edward Burns, Matt Damon, and Tom Sizemore playing supporting parts. The result is a powerful story detailing the inhumanities of war and the fragile humanity of the ordinary people caught in it. The American Film Institute ranked Saving Private Ryan the seventy-first greatest American film and the seventh most inspirational film of all time. It won five Oscars, though not Best Picture, and was nominated for six others. You can watch Saving Private Ryan on Amazon Prime, Google Play, or YouTube.
Schindler's List (1993). Oskar Schindler, a German-Catholic businessman, moved to occupied Poland to exploit the commercial opportunities that World War II made possible. But the liquidation of the Krakow ghetto moved the profit-minded Schindler. He began protecting Jewish people by employing them in his factories, thus marking them "essential" to the war effort. Though director Steven Spielberg dramatized some of the story for cinematic effect, the real life Schindler saved some 1,200 people from the Holocaust. Liam Neeson leads the film in a powerful performance, joined by Ralph Fiennes and Ben Kingsley. The movie won seven Oscars, including Best Picture, and gave Spielberg his first Best Director award. The American Film Institute ranked Schindler's List the eighth greatest American film and the third most inspirational film of all time. You can stream it on Amazon Prime, Netflix, or YouTube. 
The Longest Day (1962). More than 150,000 Allied soldiers landed on the beaches of Normandy on June 6, 1944, to open the Western Front. The potential consequences of the invasion led German Field Marshal Erwin Rommel to predict: "For the Allies as well as Germany, it will be the longest day." The film recreates the drama of the invasion from the unique points of view of American, British, French, and German soldiers. Based on Irish journalist Cornelius Ryan's book of the same name, the film's star-packed cast includes Richard Burton, Henry Fonda, Robert Mitchum, and John Wayne. The Longest Day credits three directors: Ken Annakin (British), Andrew Marton (American), and Bernhard Wicki (German). Each man directed the scenes from the perspective of his country under the guidance of producer Darryl Zanuck. The Longest Day won two Oscars, though not Best Picture, and was nominated for three others. You can watch it on Amazon Prime, Google Play, or YouTube. 
Our guest movie picker this week is our colleague Max Boot. Max is the Jeane J. Kirkpatrick senior fellow for national security studies at the Council. He has written widely about war and national security, and his books include The Savage Wars of Peace, Invisible Armies, War Made New, and The Road Not Taken. The International Institute for Strategic Studies has named Max one of the "world's leading authorities on armed conflict." He chose: 
Twelve O'Clock High (1949). U.S. Brigadier General Frank Savage is tasked with whipping the demoralized men of an Eighth Air Force B-17 bomb group into shape. Twelve O'Clock High is based on the novel of the same name by Beirne Lay Jr. and Sy Bartlett, both of whom served in the U.S. Army Air Force in England. Twelve O'Clock High was nominated for four Oscars, and won two, but not for Best Picture. The film is held in high esteem by many Air Force members for its technical accuracy. Max says: "U.S. bomber crews over Europe had higher casualty rates than Marines fighting in the Pacific. Twelve O'Clock High, released just four years after the war, offers a harrowing depiction of the psychological toll they suffered. Gregory Peck turned in one of his finest performances as a hard-driving commander who eventually suffers a nervous breakdown." You can watch Twelve O'Clock High on Amazon Prime, Google Play, or YouTube. 
Next week we will offer suggestions for films about foreign intrigue.
Check out our other foreign-policy-themed movie recommendations: