Governor Hickenlooper's Passage to India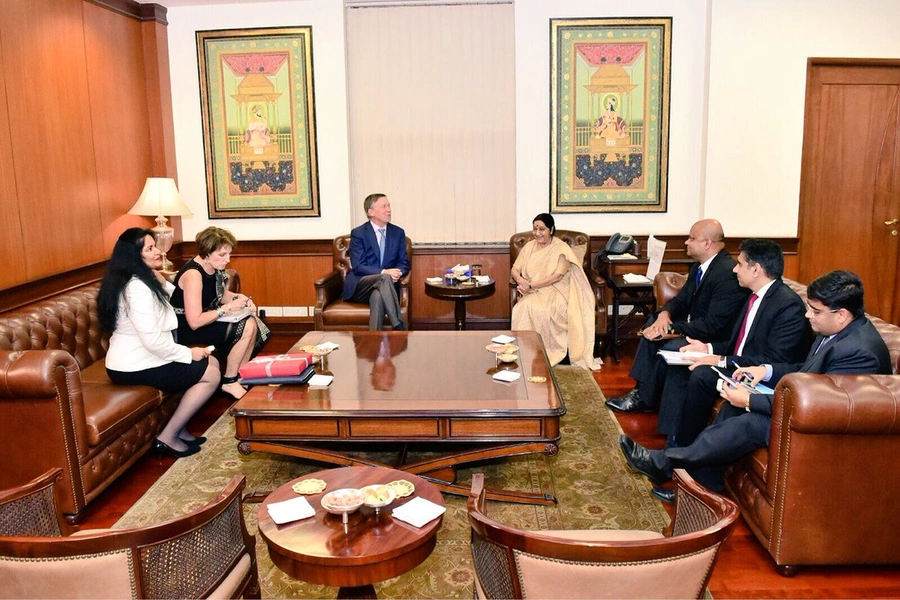 Colorado Governor John Hickenlooper is in India right now, leading a trade mission of around a dozen people, according to early media reports. His traveling party includes business executives as well as the chancellor of University of Colorado in Colorado Springs. India's External Affairs Minister Sushma Swaraj made time to meet the governor, and the few details available about their discussion emphasized "further intensifying the economic partnership."
Press announcing the Hickenlooper visit offered limited information, but did note meetings scheduled with Cisco, Infosys, and Wipro. Economic ties should be the focus of such a mission, geared toward developing linkages that can help the state's economy grow. The participation of a university chancellor indicates the growing interest across U.S. higher education in finding links with Indian institutions and encouraging Indian students to choose American campuses.
Hickenlooper's mission follows a new pattern emerging among major American states and cities. If at one time trade missions led by local officials might have focused on neighboring Canada or Mexico (and many still do, especially for the American Southwest), or Europe, American local leaders are increasingly paying attention to rising Asia. China has been the most notable of such destinations, but over the past decade India has emerged as a focus as well.
Over the past eight years, for example, India has been the destination for the governors of Maryland (O'Malley), South Carolina (Haley), Kentucky (Beshear), Virginia (McAuliffe and McDonnell), and Washington (Gregoire), as well as the mayors of San Antonio (Castro), San Francisco (Lee), and Houston (Parker). In Canada, the premiers of British Columbia and Ontario, the agriculture minister of Saskatchewan, and the mayors of Ottawa and Toronto all led recent trade missions to India.
Recognizing the trend, the Indian ambassador to the United States hosted a gathering in February of this year that brought together governors from around twenty-five U.S. states.
The subnational trade developments occur against a backdrop of complicated formal economic ties between Washington and New Delhi. While bilateral two-way trade in goods and services has been on the upswing, crossing $115 billion last year, no trade agreement exists between India and the United States to encourage or facilitate the expansion of economic ties. The laundry list of market access complaints is, well, pretty long, with some longstanding disputes such as protection for intellectual property rights a major U.S. concern, and worker mobility limitations a major grouse for New Delhi. It has been hard to bridge these concerns in recent years and it's hard to see any quick resolutions in the coming months.
On the investment front, India has become an important source of inbound investment, supporting more than 56,000 jobs in the United States—but negotiations on a bilateral investment treaty have flagged over the past several years and appear unlikely to move anywhere quickly.
And yet, states and cities are finding ways to keep developing new trade and investment links to benefit local economies. Given India's economic growth and increasingly global companies, it's likely that more subnational-level officials will make their own passage to India to add to the list. This is a story to keep watching.
My book about India's rise on the world stage, Our Time Has Come: How India is Making Its Place in the World, will be out in January. Follow me on Twitter: @AyresAlyssa. Or like me on Facebook (fb.me/ayresalyssa) or Instagram (instagr.am/ayresalyssa).