Kagame's Spat With Museveni Is Costing Rwandans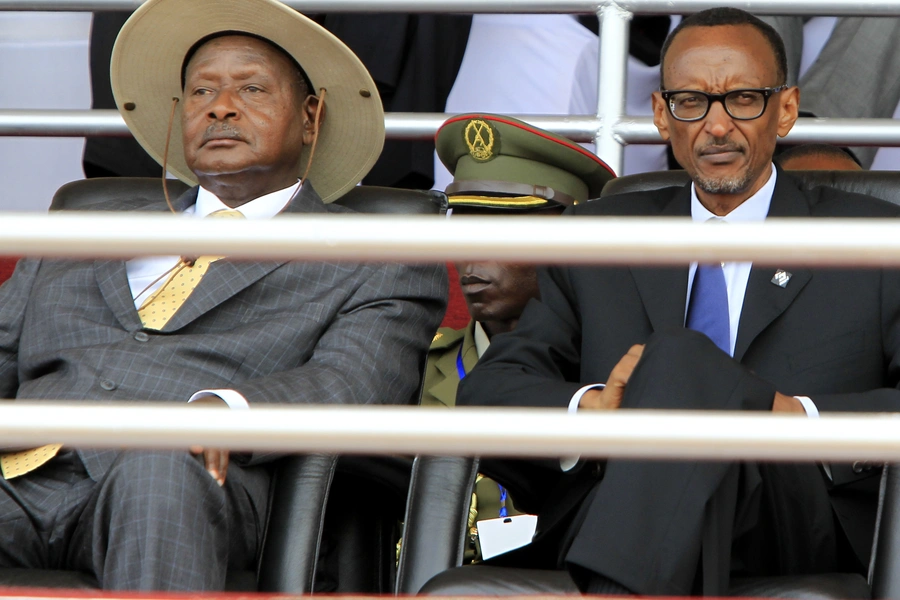 Neil Edwards is the volunteer intern for CFR's Africa Program in Washington, DC. He is a master's candidate at the School of International Service at American University and a returned Peace Corps Rwanda volunteer.
On November 10, Rwandan security forces shot dead two Ugandan nationals accused of smuggling tobacco across the border. Smuggling has become more common after Rwanda closed its border with Uganda in late February amid a dispute between Ugandan President Yoweri Museveni and Rwandan President Paul Kagame. The deterioration of Kagame's and Museveni's relationship has led to job losses among traders, higher commodity prices, and has left communities with few option other than to turn to the risky business of smuggling.
For decades, Kagame and Museveni fought side by side, toppling Ugandan dictator Milton Obote via military coup in 1986 and overthrowing Mobutu Seko in the Democratic Republic of Congo in 1997. Kagame, who trained in Tanzania as a spy, became Museveni's head of military intelligence and close confidant. In return, Museveni aided Kagame's rise to power, incubating Rwandan refugees that eventually formed the Rwanda Patriotic Front. With the backing of Museveni, Kagame invaded Rwanda, ending the 1994 genocide. 
A quarter century later, the relationship between these erstwhile allies has deteriorated. In October 2017, the Ugandan government initiated a crackdown on Ugandan police officials, accusing them of being Rwandan spies. The latest spat is driven by Kagame, who has accused Uganda of arresting and torturing Rwandan nationals. Kagame also asserts that Museveni is supporting the Rwandan National Congress and the Democratic Forces for the Liberation of Rwanda, whom Kagame perceives are intent on overthrowing his regime. If the relationship does not improve, analysts fear that this feud could result in proxy conflict in the Democratic Republic of the Congo, which has sprung up previously as a result of private disagreements. 
Though the two leaders agreed to reopen their borders in August, Rwanda has effectively kept it closed, citing construction work. Further, the Rwandan government has issued a travel advisory strongly recommended that Rwandan nations not travel to Uganda. Reports suggest that that licit trade is nearly non-existent, and Uganda has accused Rwanda of implementing a trade embargo. 
The border closure has compromised tens of millions of dollars in trade between the two countries. The immediate victims are small-scale and wholesale traders, who rely on buying items at cheaper prices on one side of the border and making a profit by selling them at a higher price on the other. Without these intermediaries, the comparative advantage of each country's product pricing is lost, hurting both the national economies and the consumers who rely on those price points. 
According to each country's Consumer Price Index reports, prices in Rwanda, especially in rural areas, have risen more than in Uganda. They have risen about 1.5 percent each month in Rwanda, totaling over seven percent since February, when the border was closed. In rural areas, prices have risen ten percent over that period. These rising prices have taken a toll, especially for those living in rural poverty. In contrast, food prices in Uganda have only increased by four percent and overall prices by only two percent.
Rwanda's decision to close its border has hurt its own people more than Ugandans. Kagame's leadership has resulted in remarkable development feats since the 1994 genocide. However, his current decision to keep the borders closed is a blemish on his development record—costing the country jobs and inflating prices. If Kagame's and Museveni's relationship continues to deteriorate, prices will continue to rise, further hurting the purchasing power of Rwandans.