Meet Asa Hutchinson, Republican Presidential Candidate
The former Arkansas governor is a candidate for the 2024 Republican presidential nomination.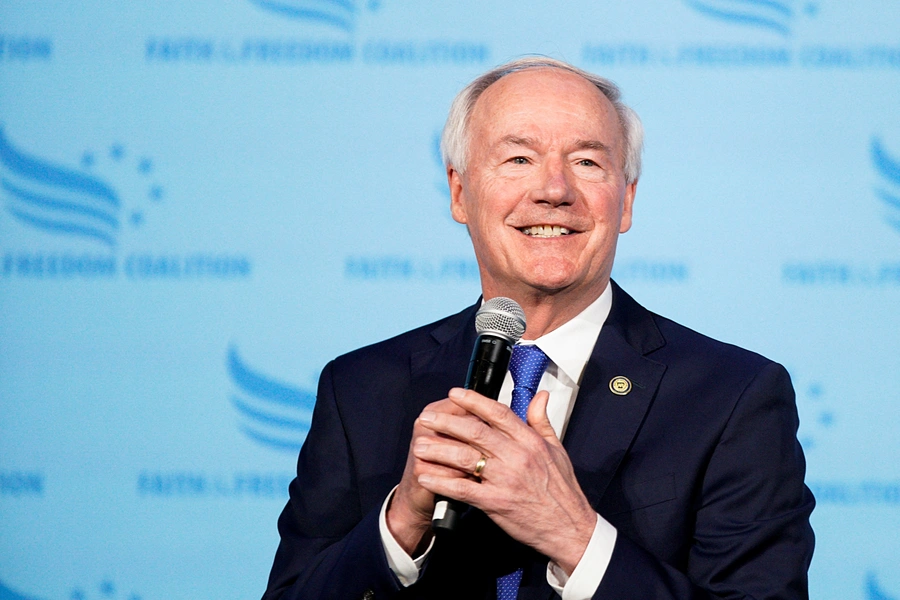 Can a presidential candidate win the nomination by running against the mood of his party? Former Arkansas Governor Asa Hutchinson is seeking to find out. At a time when most Republican candidates are championing grievances and cultural issues, Hutchison is running a campaign that harkens back to a less politicized and partisan era. He is positioning himself as a traditional conservative who rejects the divisive politics that President Donald Trump popularized and who wants instead to unite Americans. Hutchinson takes pride in saying, "I'm not an outrageous person." He also isn't put off by his longshot status. When he started his political career there was just one Republican in the Arkansas state legislature. Now Republicans dominate the state. If Hutchinson succeeds in defying conventional wisdom and wins the Republican nomination and the presidency, he would become just the second president from Arkansas. The first was Bill Clinton, whose path famously crossed with Hutchinson's during his 1999 Senate impeachment trial.
The Basics
Name: William Asa Hutchinson II
Date of Birth: December 3, 1950
Birthplace: Bentonville, Arkansas
Religion: Christian
Political Party: Republican
Marital Status: Married to Susan Burrell
Children: Asa III, Sarah, John, Seth
Alma Mater: Bob Jones University, B.A. in accounting, 1972; University of Arkansas, J.D., 1975
Career: Bentonville city attorney (1977-78); U.S. Attorney for the Western District of Arkansas (1982-1985); Partner, Karr & Hutchinson law firm (1986-96); Chair of the Arkansas Republican Party (1991-95); U.S. House of Representatives for Arkansas's 3rd district (1997-2001); Administrator of the Drug Enforcement Administration (2001-03); Undersecretary of Homeland Security for border and transportation security (2003-05); Founder of the Hutchinson Group, LLC, a consulting firm (2005-06); Venable, LLP (2007-15); Governor of Arkansas (2015-23); Vice chair and chair of the National Governors Association (2020-2022)
Campaign Website: Asa2024.com
Twitter Handle: @AsaHutchinson
Instagram Handle: @AsaForPresident
Hutchinson's Announcement
Hutchinson announced his race for the presidency on April 26 on the steps of the county courthouse in Bentonville, Arkansas, the town he was born in, where he opened his first law office, and where he once lived in "a double-wide mobile home."
Hutchinson used his twenty-two minute speech to make the case for his conservative credentials, tout his accomplishments as governor of Arkansas, and declare that he is fighting "for the future of our country and the soul of our [Republican] party." He further stressed his respect for the rule of law and the fact that he is "the only candidate with a breadth of experience in law enforcement."
Foreign policy figured prominently in Hutchinson's remarks. He declared that "if America is to be the best, then we cannot yield to China in terms of global leadership." He blamed the Biden administration's "disastrous withdrawal from Afghanistan" for making the United States look "weak, and that weakness was seen as an opportunity for Russia to invade Ukraine and then for China to threaten and be aggressive toward Taiwan." Hutchinson dismissed those voices calling for the United States to disengage from the world: "Isolationism only leads to weakness, and weakness leads to war." He argued that "the only way to preserve peace is to have the most prepared military in the world."
Hutchinson believes that "today's threat is the Russian invasion of Ukraine." He wants to avoid an "unending war" in Ukraine and believes that the best way to do that is to help Ukraine win today. He further vowed to secure the southern border by enforcing the rule of law.
Hutchinson criticized Biden by name. He did not mention Trump at all, though some of his statements could be read as implicit digs at the forty-fifth president.
Hutchinson's Story
Hutchinson was born in Bentonville, Arkansas, to John and Coral Hutchinson. His father was a farmer and later mayor of Sulphur Springs, Arkansas. Asa was the youngest of six children and grew up on a farm in Gravette, a small town about 17 miles west of Bentonville. He graduated from Spindale High School in 1968. He attended Bob Jones University. He then attended and graduated from the University of Arkansas School of Law.
After starting his career as a small-town lawyer in Bentonville, Hutchinson was appointed by Ronald Reagan in 1982 as the U.S. Attorney for the Western District of Arkansas. At the time, he was just thirty-one and the youngest U.S. attorney in the country. He made a name for himself when he successfully prosecuted the Covenant, the Sword, and the Arm of the Lord (CSA), a white supremacist organization that among other things was plotting to poison the water supply of several cities. Hutchinson also prosecuted Roger Clinton, the half-brother of future President Bill Clinton, on drug charges.
Hutchison left the U.S. attorney's office in 1985 to go into private practice and to run for political office. His first two campaigns didn't go well. In 1986, he failed in his bid to unseat incumbent Democrat Senator Dale Bumpers. Four years later, he failed in his bid to become Arkansas's attorney general. Things finally turned his way in 1996, when he won the race to succeed his brother Tim as the U.S. representative for Arkansas's 3rd district. Asa won reelection in 1999. It turned out to be a fateful term. The Republican-controlled House impeached Clinton. Hutchinson was named one of House managers for the impeachment trial in the Senate. But where he succeeded in persuading a jury to convict Roger Clinton, he and his co-managers failed to persuade the Senate to convict Bill Clinton.
Hutchinson won a third term in Congress in 2011. He didn't stick around for long, however. President George W. Bush nominated him to head the Drug Enforcement Administration (DEA). The Senate confirmed the nomination by a vote of 98 to 1. Two years later, he became under secretary of Homeland Security for border and transportation security. He left the Bush administration in 2005 to make a third run at statewide office in Arkansas, this time for governor. He lost yet again. After eight years in the private sector, however, his time finally arrived. He won the race to be governor of Arkansas. He was reelected in 2018 in a landslide, setting the record for the most votes and highest winning percentage in any Arkansas gubernatorial race. Arkansas's term limits forced him to step down as governor this past January.
Hutchinson's Message
Hutchinson's campaign slogan is "Asa for America! For America's Best." He is convinced that Americans want "leaders that appeal to the best of America, and not simply appeal to our worst instincts." He believes that he offers that leadership. He has stressed his service in a wide range of government positions, including federal prosecutor, member of Congress, DEA administrator, and governor. He points to his calls for Trump to leave the race as evidence that "I stand out by my convictions and vision for the country." He adds that "we need to move forward as a party and a country."
Hutchinson and Donald Trump
Don't count Hutchinson as one of the Republican candidates who, at least publicly, defends Trump. Hutchinson endorsed and voted for Trump in 2016 and again in 2020. But no more. He rejects Trump's claim that he should be in the middle of his second term in office. "I don't believe the election was stolen, and I respect the results," Hutchinson told a National Governors Association meeting in January 2022. He also says that Trump bears a "moral responsibility" for the January 6 insurrection.
Hutchinson also criticized Trump for meeting with the white supremacist Nick Fuentes. Hutchinson said at the time that "I will never understand leadership that chooses to diminish or divide Americans, and I will never understand why a leader would give credibility to such hate-filled extremists by breaking bread with them." Overall, Hutchinson argues that the "leader of the party, Donald Trump, appealed to the base instincts of Americans, and he has built his campaign on grievances of the past. That appeals to a certain segment, but it doesn't get the job done for America."
Several Republican presidential candidates reacted to the news that the Department of Justice indicted Trump for mishandling classified document and obstructing justice by decrying what Ron DeSantis called the "weaponization of the law." Vivek Ramaswamy went a step further and pledged "to pardon Trump promptly on January 20, 2025 and to restore the rule of law in our country." Hutchinson wants none of that. He said that Trump should leave the race:
Donald Trump's actions—from his willful disregard for the Constitution to his disrespect for the rule of law—should not define our nation or the Republican Party. … [T]he ongoing criminal proceedings will be a major distraction. This reaffirms the need for Donald Trump to respect the office and end his campaign.
Hutchinson insists that "the office is more important than any individual person." He has been consistent in this position. He first called on Trump to withdraw from the race after the Manhattan district attorney indicted him for paying hush money to the porn star Stormy Daniels.
Overall, he wants to focus on "persuading Americans that we need to go [in] a different direction." The challenge that he faces, like fellow Trump critic Chris Christie, is that he can make the Republican debate stage only if he pledges to support the eventual Republican nominee, which could be Trump. Hutchinson has said that "I don't believe he [Trump] should be the next leader of our country."
Trump has taken a few shots at Hutchinson. After Hutchinson vetoed a bill in April 2021 that proposed to ban gender-affirming medical procedures for transgender youth in Arkansas, Trump called him a "Republican in Name Only" (RINO)." When Trump's former aide Cassidy Hutchison gave testimony last year that reflected poorly on Trump, he lashed out by saying that she must be related to Asa because they are both "real losers."
Hutchinson's Foreign Policy Views
Like his fellow former governor, Chris Christie, Hutchinson is running as a traditional Republican internationalist who sounds more like Ronald Reagan or George W. Bush than Donald Trump. In a speech last November at the Ronald Reagan Presidential Library and Museum, he argued that U.S. foreign policy needs not only to protect "our peace and freedoms" but also "do what is practical and realistic to support those who want basic freedoms across the globe." In a speech at the Richard Nixon Library and Museum in April, he said that the United States should "assert global leadership" to make the world more favorable to American interests and values.
It is not surprising given Hutchinson's worldview that he opposes the recent nationalist and isolationist turns in Republican foreign policy. As he put it in one interview:
It's really a post-Trump phenomenon that you have this wing of the party that is more isolationist, and that is dangerous for America, is dangerous for our freedoms and dangerous for stability and peace in the world.
In that vein, he wants "America to be part of a global discussion" and he wants "to continue to invest in regions of the world that impact us."
Hutchinson's stance on China mirrors those of most other candidates in the 2024 race. He believes that "when it comes to China, the Communist leadership must know our determination to not allow Taiwan to become another victim of China's expansion." He is willing "to continue a trade partnership with China, but it must be one that protects American interests and promotes American ideals."
Hutchinson believes that the United States "must continue to support Ukraine in its fight against Russia." He knows that positon is not popular with many Republicans. He says he is willing to buck the trend "because if we show weakness there, then you're gonna have our aggressors take more significant action like China toward Taiwan…Russia will not stop at Ukraine. And so there is a national interest in our support for Ukraine." And he says he would not limit his support for other countries to Ukraine: "You need to support those [countries] that are being oppressed against the oppressor."
Like all of his fellow Republican candidates, Hutchinson wants to strengthen security at the U.S. southern border. He notes that he knows the border issues well having been the under secretary for border security in the Department of Homeland Security during the George W. Bush administration. While Hutchinson promises to enforce the rule of law at the border, he says that "what we need first, is a border security bill that enhances resources [and] gives us the ability to redefine the asylum rules, so they're not released into our country pending the outcome of their case. These are steps that should be taken." That is easier said than done, of course, given Congress's inability for several decades now to reach agreement on revamping immigration law.
As a former DEA administrator, Hutchinson has first-hand experience trying to stem the flow of drugs across the U.S. southern border. With fentanyl fueling the greatest drug crisis in U.S. history, he thinks it is time to designate Mexican drug cartels as terrorist organizations. He also favors adopting a Plan Colombia-type policy for Mexico. It's unclear how much additional leverage the terrorist designation would give Washington, and whether it would be worth the price of the inevitable backlash from Mexico City. The U.S. government has long sought to help Mexico to improve its security situation but has had far less success than it had with a similar effort in Colombia.
Reporters have been far more interested in asking Hutchison for his views on Trump than his views on U.S. trade policy. As governor of Arkansas, Hutchison opposed efforts to close off the U.S. market to foreign competition. He argued that America's rising trade deficit provided evidence of "the failure of protective tariffs to reverse the decades-old trend of U.S. imports exceeding our exports." Going a step further, he offered up a full-throated case for minimizing barriers to trade:
International trade creates jobs in the United States, and the emphasis on fair and free trade is an essential element of our foreign policy. Our free market produces the best products, inspires the most creativity, builds the strongest economies, and creates the best quality of life. For all the initiatives that we can put forth to bolster the economy at home, the exchange of goods and ideas with the least interference from governments will serve us best.

….

The United States needs to work every day to open more markets and negotiate trading relationships that are fair. This means we must be able to protect our intellectual property rights, and our exporters should not be hampered by protective tariffs and other trade barriers.
So put down trade as yet another topic on which Hutchinson appears to be marching to the beat of a different drummer than many other Republicans.
More on Hutchinson
During the last nine months of his eight-year tenure as governor of Arkansas, Hutchinson recorded a podcast called Fast Break with Asa. The eight episodes in the series covered issues ranging from how Arkansas responded to COVID to the FBI's search of Mar-a-Lago to the crisis on the southern border to his love for basketball.
Not surprisingly given his long-shot status in the race for the White House, Hutchinson hasn't attracted the sort of long-form magazine profiles that the frontrunners get. Governing Magazine back in 2015 profiled his first one hundred days as governor, concluding that he was governing pragmatically. He has given extended interviews to ABC News' This Week, CBS News' Face the Nation, and Politico's Playbook's Deep Dive podcast. NBC's Meet the Press blog reviews the positions he has taken on a range of issues.
Other posts in this series:
Meet Doug Burgum, Republican Presidential Candidate
Meet Chris Christie, Republican Presidential Candidate
Meet Ron DeSantis, Republican Presidential Candidate
Meet Nikki Haley, Republican Presidential Candidate
Meet Will Hurd, Republican Presidential Candidate
Meet Vivek Ramaswamy, Republican Presidential Candidate
Meet Tim Scott, Republican Presidential Candidate
Meet Francis X. Suarez, Republican Presidential Candidate
Meet Marianne Williamson, Democratic Presidential Candidate
Sinet Adous assisted in the preparation of this post.