The Top Ten South Asia Stories of 2017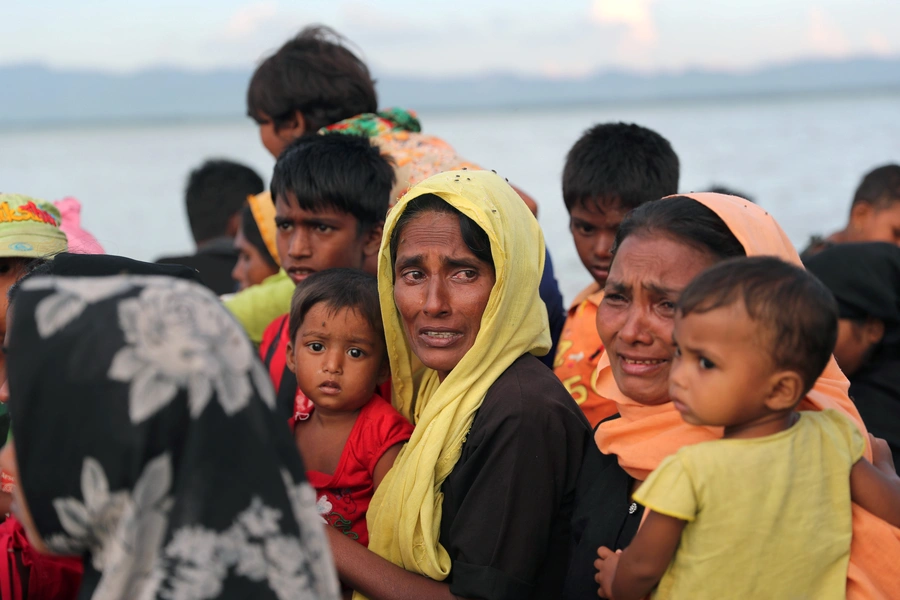 As 2017 comes to an end, it's time to assess which stories from South Asia had the most impact. By this I mean which events or ongoing developments shaped a country or the South Asian region, or had an outsized effect on the world. This year, a number of stories from the region drew global headlines, including from countries that do not always make front page news. Here are my top ten South Asia stories of the year:
1. The Rohingya Flee to Bangladesh
The Rohingya Muslim minority has faced ethno-religious discrimination in Myanmar for decades. In August, this persecution descended into widely-acknowledged ethnic cleansing, with horrific violence perpetrated by the Myanmar military on Rohingya men, women, and children that has shocked the world. More than 655,000 Rohingya have fled the country since August, adding to the more than 210,000 Rohingya already living in Bangladesh as refugees. The International Rescue Committee has called this the "fastest-growing humanitarian crisis in the world."

The problems inside the refugee camps in Bangladesh have attracted less media attention than the stories of brutal violence in Myanmar's Rakhine State, and the tragic indifference of Nobel peace laureate Aung San Suu Kyi to the suffering. But with nearly 870,000 Rohingya refugees in legal limbo, and surviving under rudimentary conditions in Bangladesh's Teknaf Peninsula, attention should shift urgently to funding the relief operations there, supporting Bangladesh financially so this lower-income country does not have to shoulder the responsibility for the refugees on its own, and identifying a path forward for the Rohingya to find permanent residency in hospitable third countries. (Myanmar will not be able to guarantee their safety, and Bangladesh is not equipped to handle such a large refugee burden.) I place this story at the top of my list due to the depth of the atrocities committed and the scale of the tragedy. This crisis will last well into 2018.
2. India and China Go Eyeball to Eyeball in Doklam, Bhutan
In most years, an event in the tiny Himalayan kingdom of Bhutan wouldn't rise to near the top of a list of the year's most important regional developments. But this year, the border between Bhutan and China found itself the site of a military standoff between the armies of the world's two giants (in terms of population), China and India.

In mid-June, following the move of the Chinese People's Liberation Army (PLA) to extend a road in the Doklam Plateau area of territory disputed between Bhutan and China, the Indian Army stepped in to defend Bhutan's territory and prevent forward territorial seizure by the PLA. The two armies remained in a tense stalemate for almost three months. The situation was resolved only at the end of August on the eve of the BRICS Summit—hosted by China in Xiamen. (The last-minute agreement ensured that the standoff would not mar the summit.) The standoff showed that India will not hesitate to stand up to China when New Delhi perceives that its vital interests are at stake. We have not heard the last of the Doklam dispute: as of mid-December, press reports continue to emerge regarding a Chinese troop buildup in the same general location.
3. India Implements an Ambitious Goods and Services Tax (GST)
It took five years to pass a law introducing a national goods and services tax in India. The national tax replaces a plethora of levies and effectively stitches all of India's states and federally administered union territories into a single market for the first time in the country's history.

As you would imagine with an exercise of this magnitude, progress was tortuous. The 2011 introduction of a GST bill in parliament during the Indian National Congress–led United Progressive Alliance government did not gain sufficient support, and lapsed with the end of the government's term in 2014. The Bharatiya Janata Party (BJP) government introduced a different GST bill, which eventually secured sufficient parliamentary support to pass into law in 2016, and subsequently received ratification by more than half of India's states, required in order to bring this constitutional amendment into force. On July 1 this year, marked by a special midnight session of parliament, this hard-fought GST finally rolled out nationwide.

It was a complicated debut, with multiple tax bands and a bewildering, non-intuitive assignment of goods and services across them. The complexity dented economic activity as businesses struggled to adjust—but as India irons out the wrinkles, it ought to realize the benefits of a unified domestic market with reduced red tape. In its November note upgrading India's sovereign rating to Baa2 from Baa3, the first upgrade in fourteen years, Moody's noted the implementation of GST as the first "key element" of India's "wide-ranging program of economic and institutional reforms." Consolidating the world's seventh-largest economy into a single market bodes well for India's economic growth.
4. Trump Unveils a New South Asia Strategy for Afghanistan
In August, U.S. President Donald J. Trump announced the results of a long-awaited South Asia strategy review. Most notably, the administration shifted to a "conditions-based" rather than a "time-based" approach to the U.S. troop presence in Afghanistan, and approved a slight increase in troop numbers—but without disclosing the actual number. The administration also bluntly called for an end to the ongoing presence of terrorist groups and sanctuary for them in Pakistan. Finally, the president publicly praised India's economic and infrastructure support to Afghanistan, and asked for more. Each of these elements represented an incremental rather than quantum change in Washington's approach to the United States' longest-running war. But they could nonetheless have important consequences.
5. Sri Lanka's Hambantota Port Reveals the True Costs of the Belt and Road
In July, the Sri Lankan government reached an agreement with the Chinese government to essentially hand over operations of the new Hambantota port to a Chinese state-owned enterprise on a ninety-nine year lease deal that gives the Chinese 70 percent of the equity in the operating company, worth more than $1 billion. The port—built in a strategic but commercially unviable location under the terms of a loan agreement from China inked in 2007—has not been profitable, and the handover at Hambantota marked a debt-for-equity swap designed to reduce Sri Lanka's debt to China. External observers saw the swap as a sign of what Belt and Road infrastructure development deals extract from countries in the long term. These are not freebies. They come at a significant cost to smaller economies.
6. Pakistani Prime Minister Nawaz Sharif Is Disqualified From Office 
In July, a chain of events that began with the Panama Papers (private documents of a secretive legal firm that helped hide offshore wealth, provided to a consortium of newspapers by an anonymous source) reached a political conclusion in Pakistan: Prime Minister Nawaz Sharif was deemed ineligible to serve in parliament as he could not be certified "honest" and "truthful" given revelations about an income source he had failed to disclose earlier. Pakistan's Supreme Court rendered this verdict after receiving the findings of a special "Joint Investigation Team" appointed by the court and which included two members of military intelligence agencies. Sharif resigned. His departure from the top office appeared to observers as one more step toward the consolidation of power for Pakistan's military.

Just four years back, with Nawaz Sharif's election Pakistan could rightly boast of its first successful transition of power from one elected civilian government to another—an important milestone for the country given its history of military rule. Sharif's efforts to make peace with India, and assert civilian authority, did not succeed. Pakistanis will again head to the polls to elect another national government in 2018, so expect this storyline to remain relevant. But for now Pakistan's democracy looks shaky as the country's generals reassert their power over elected politicians.
7. Islamist Protestors Cow the Government of Pakistan
Part two in the existential question of where Pakistan is headed involves the continued rise of Islamic extremists. In late November, after weeks of street protests in Islamabad, the government of Pakistan caved to the demands of a few thousand Islamist protestors, and the country's law minister resigned. The Islamists had accused him of blasphemy following proposed changes (quickly reversed) to the oath of office taken in Pakistan; the Islamists also accused the minister of being a member of the persecuted Ahmadi minority faith as they viewed the proposed change to the oath as beneficial to Ahmadis.

Blasphemy is an explosive charge in Pakistan—those accused of it often face vigilante violence, and the offense itself carries a potential death penalty if convicted. In the end, the army negotiated a "truce" with the protestors. The government climbdown illustrated the level of ineffectiveness of the civilian government, the more visible street power of Islamist extremists, and the army's willingness to side with the extremists even at the cost of discrediting the Pakistani state.
8. Yogi Adityanath Becomes Chief Minister of India's Most Populous State 
In March, after India's BJP swept state-level assembly elections in Uttar Pradesh, the party's selection for chief minister gave an indication of where they plan to pivot: to religious nationalism. Adityanath is a five-time member of parliament from Gorakhpur, where he is a monk and head of the influential Gorakhnath temple. Adityanath is also the founder of the Hindu Yuva Vahini, or "Hindu Youth Brigade," best known for its vigilante street power, and his public oratory has featured tough talk against Muslims, India's largest religious minority. The BJP's election campaign in Uttar Pradesh did not project Adityanath as a potential chief minister, so his appointment came as a surprise to many. Observers see his selection as a sign that, in the absence of faster economic growth and much more robust job creation, the BJP has shifted its emphasis from the development-and-governance mantra of 2014 toward hardline Hindu nationalism.  
9. Maldives Signs a Free Trade Agreement With China 
In early December, the tiny island nation of the Maldives (population: 417,000) signed a free trade agreement with China, becoming the second country in South Asia after Pakistan to do so. (The Maldives' major export is fish, which the country hopes to send more of to China, and Chinese tourists are the single largest source of visitors to Maldivian resorts.) The agreement surprised New Delhi, and has sparked yet another round of soul searching in India about its regional influence—and China's growing visibility across the entire Indian Ocean region. (See Hambantota above, and Nepal below).
10. Communists Return to Power in Nepal
Nepal held elections in late November and early December, its first under a new constitution ratified in 2015. When all the votes were counted in mid-December, it became clear that a coalition of two Communist parties (one Maoist, and the other Marxist-Leninist) would oust the centrist Nepali Congress from power. Since emerging from a violent insurgency in 2006, Nepal has had a tumultuous time politically—it has had ten prime ministers since 2008—affecting its governance and its ability to deliver services to citizens, including the still-incomplete rebuilding work from the catastrophic earthquake of 2015. The return of a Communist government in Kathmandu will likely mean a further strengthening of ties with Beijing—yet another arena for concern in New Delhi. A pro-China Communist government in Nepal will likely also be less receptive to the Tibetan refugee community living in Nepal.
Alyssa Ayres is senior fellow for India, Pakistan, and South Asia at the Council on Foreign Relations. Her book about India's rise, Our Time Has Come: How India Is Making Its Place in the World, will be published in January by Oxford University Press.