Trump Won't Stop Investment in Mexico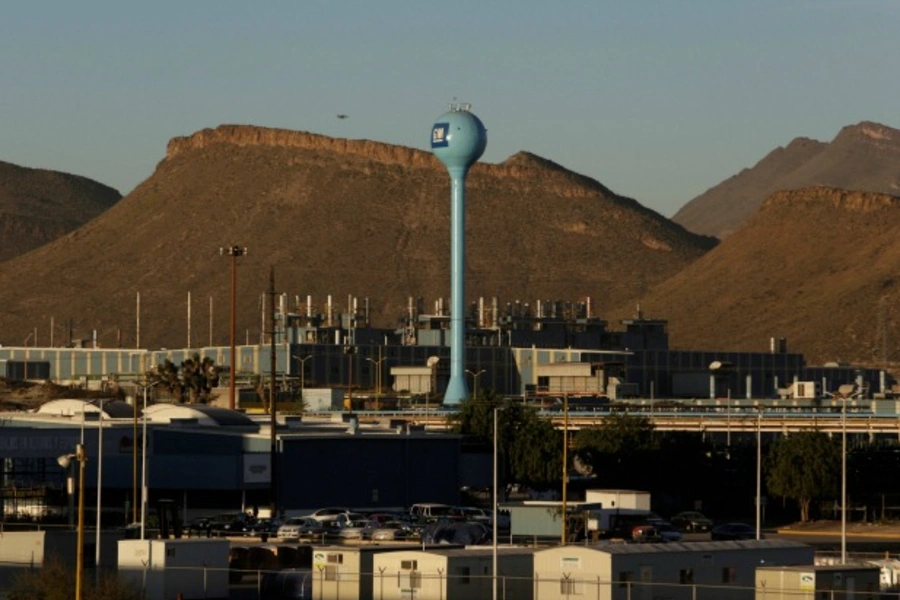 NAFTA is as much an investment as a trade treaty, providing guarantees of international courts, regulatory coordination, and intellectual property protections. This has helped bring over $500 billion in foreign direct investment (FDI) to Mexico over the last twenty-three years. This investment has mostly come from the United States, going into manufacturing, financial services, and mining.
Trump's rhetoric—and perhaps soon his actions—are putting this underpinning legal structure in doubt. Throughout the campaign he repeatedly bashed the agreement, and his transition team has promised to rework NAFTA early on. In Congress, Republicans are pushing for a 20 percent border adjustment tax as part of their larger fiscal reform, a measure that would undercut NAFTA-inspired cross border trade.
International companies are already wary. While in 2016 overall FDI declined only slightly, new investment (as opposed to reinvested profits) fell by nearly a third. And U.S. investors—traditionally the majority—declined as well, from just over half of all 2015 FDI to a third of 2016 intakes.
In the opening weeks of 2017 delays and cancellations have continued, with Ford, Chrysler, and General Motors all pulling back from previous commitments for factories.
Source: Centro de Estudios de la las Finanzas Públicas, Cámara de Diputados 
Yet investment in Mexico is not going to end, even if Trump takes a hard line. Despite continuing crime and corruption problems, Mexico has succeeded in making it easier to be in business, to register property, obtain credit, pay taxes, and go bankrupt. In the World Bank Ease of Doing Business rankings, Mexico now surpasses its Latin America peers and far outpaces emerging market heavyweights China and India.
In fact, much of the money coming in recently is not just betting on NAFTA access to the United States. Instead it is taking advantage of Mexico's free trade agreements with another forty-four nations, including the European Union, China, and Japan (the United States by contrast, has agreements with just twenty countries). General Motors, when called out by Trump for making the Chevrolet Cruze in Mexico, responded that very few of these cars are headed to the United States—most head from Ramos Arizpe, Coahuila, to Europe.
Other companies are coming to take advantage of Mexico's large internal market. Despite huge inequalities, over 14 million families earn between $15,000 and $45,000 a year, creating thousands in disposable income. Walmart is banking on rising consumption—investing $1.3 billion over the next three years. Israeli owned Teva Pharmaceutical Industries just bought leading Mexican pharmaceutical company RIMSA for $2 billion (though the deal faces legal challenges).
And for Mexico's overall growth, internal decisions may matter more than those of multinational corporations. While vital in developing Mexico's advanced manufacturing sectors—autos, aerospace, electronics, medical equipment, and the like—in the end FDI is a small part of the overall economy. Averaging roughly $25 billion, it comprises less than 3 percent of the nation's trillion plus dollar economy.
In a way, Trump's inauguration will help Mexico, as it moves closer to ending the current economic uncertainty. Then the NAFTA "renegotiation" can begin in earnest. This could include new side agreements on rules of origin, procurement, labor, the environment, ecommerce, intellectual property, and sanitation issues for agricultural products among other issues. If the new U.S. president ends the storied agreement, Mexico would return to Most Favored Nation status, raising tariffs on imports into the United States an average 3.5 percent (U.S. exports to Mexico, now some $236 billion a year, would face an average 7.5 percent rate). A 20 percent border adjustment tax on imports would be a bigger threat to cross-border commerce, though the peso's 20 percent fall over the last year—and the expected further dollar appreciation in the tax's wake—would help limit the immediate costs borne by Mexico's exporters.
Though not calamitous, NAFTA provides Mexico something special in its investment guarantees. If it ends, these will be harder to replace. But most important for Mexico's economic future is that the government addresses its own internal challenges—specifically crime and corruption. This, more than anything else, will shape the investment decisions of domestic and foreign companies, creating jobs and growth.