The World Next Week: APEC Meets, Republicans Debate, and the IEA Reports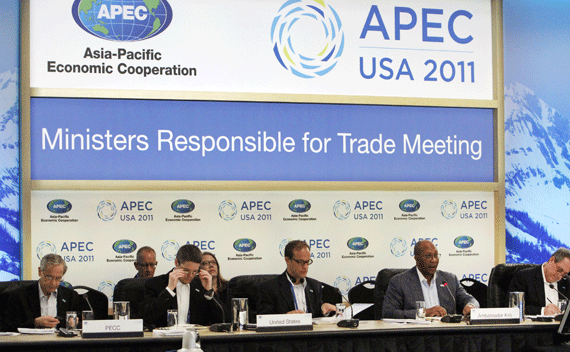 The World Next Week Podcast is up. Bob McMahon and I sat down to discuss next weekend's Asia Pacific Economic Cooperation (APEC) summit in Hawaii; the upcoming Republican presidential debate in Michigan; and the release of the International Energy Agency's (IEA) World Energy Outlook report for 2011.
[audio: http://www.cfr.org/content/publications/media/podcast/2011/20111103_TWN…]
The highlights:
The APEC summit meeting in Honolulu was supposed to provide an opportunity for President Obama to focus attention on his plans for U.S. engagement in Asia. But the news out of Europe shifts the attention back to the future of the Eurozone and whether the Greek crisis means new turmoil for the international financial system.

The eight top Republican presidential candidates meet next Wednesday at Oakland University in Michigan to discuss their plans for the economy. Expect the conversation to focus on GOP complaints about Obama's economic stewardship and the merits of flat taxes, sales taxes, and less taxes.

The IEA is set to release its annual World Energy Outlook report. It will point to several trends that are remaking world energy markets. Topping the list is expanded production of natural gas, potentially ushering in a "Global Age of Gas."

Bob's Figure of the Week is the number 23. My Figure of the Week is George Papandreou. You can probably guess why I made my choice, but to figure out Bob's you need to listen to the podcast.
The APEC 2011 USA Host Committee released the full agenda and list of participants that will be attending the APEC CEO Summit, where President Obama hopes to push for freer trade in environmental goods and services, as Reuters reports. Herman Cain continues to lead other GOP candidates according to a recent poll by Fox News, but questions are being raised as to whether his candidacy can survive questions Politico raised about allegations of sexual harassment. The IEA has released two excerpts from its World Energy Outlook 2011, one on entering the golden age of gas, another on financing access to energy for the poor.