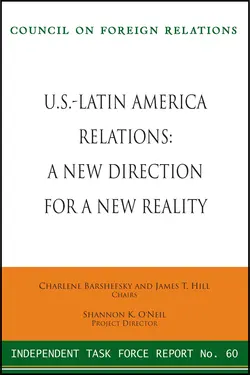 U.S.-Latin America Relations
A New Direction for a New Reality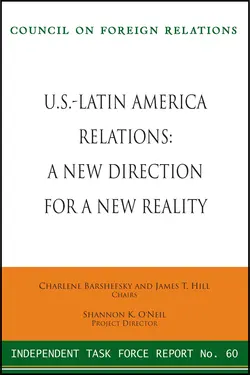 Task Force Report

Analysis and policy prescriptions of major foreign policy issues facing the United States, developed through private deliberations among a diverse and distinguished group of experts.
Latin America has never mattered more for the United States.
The region is the largest foreign supplier of oil to the United States and a strong partner in the development of alternative fuels. It is the United States' fastest-growing trading partner, as well as its biggest supplier of illegal drugs. Latin America is also the largest source of U.S. immigrants, both documented and not. All of this reinforces deep U.S. ties with the region—strategic, economic, and cultural—but also deep concerns.
This report makes clear that the era of the United States as the dominant influence in Latin America is over. Countries in the region have not only grown stronger but have expanded relations with others, including China and India. U.S. attention has also focused elsewhere in recent years, particularly on challenges in the Middle East. The result is a region shaping its future far more than it shaped its past.
At the same time Latin America has made substantial progress, it also faces ongoing challenges. Democracy has spread, economies have opened, and populations have grown more mobile. But many countries have struggled to reduce poverty and inequality and to provide for public security.
The Council on Foreign Relations established an Independent Task Force to take stock of these changes and assess their consequences for U.S. policy toward Latin America. The Task Force finds that the long-standing focus on trade, democracy, and drugs, while still relevant, is inadequate. The Task Force recommends reframing policy around four critical areas—poverty and inequality, public security, migration, and energy security—that are of immediate concern to Latin America's governments and citizens.
The Task Force urges that U.S. efforts to address these challenges be done in coordination with multilateral institutions, civil society organizations, governments, and local leaders. By focusing on areas of mutual concern, the United States and Latin American countries can develop a partnership that supports regional initiatives and the countries' own progress. Such a partnership would also promote U.S. objectives of fostering stability, prosperity, and democracy throughout the hemisphere.