Anju Srivastava: How to Revolutionize Farming in India
In India, farmers own high-value land but cannot translate land into wealth. New models of agriculture and ethical entrepreneurship can fix this.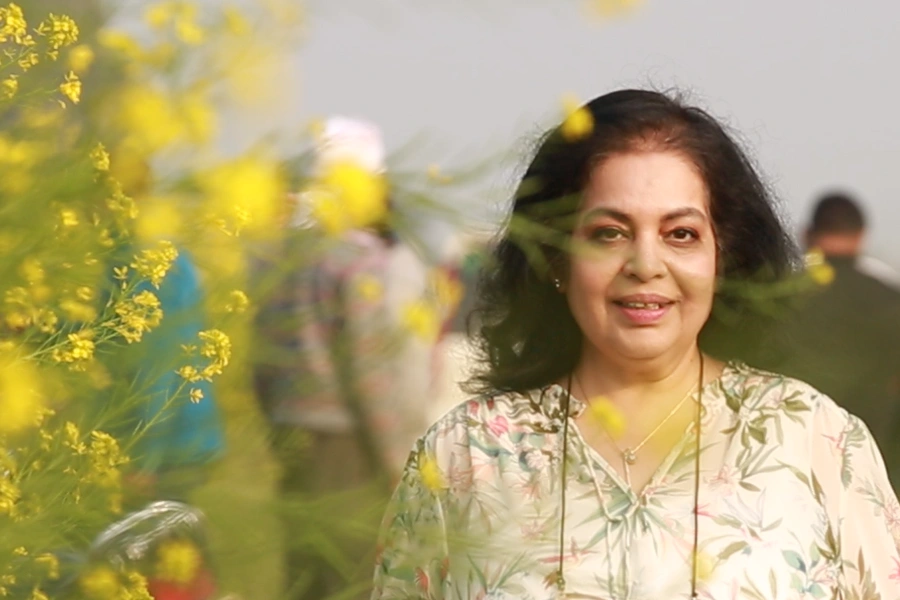 This interview with Anju Srivastava is part of the Asia program's Women's Voices From the Indo-Pacific Project, produced by Senior Fellow Manjari Chatterjee Miller and Research Associate Zoe Jordan, featuring influential women in India's political, economic, technological, and social fields whose work matters for the U.S.-India bilateral relationship and India's relationship with the world. 
Anju Srivastava is the Founder & Managing Director of Wingreens Farms, a farm-to-table food company. She is a Xavier's Institute of Mass Communication alumni and spent over twenty-five years in the advertising profession. Wingreens is the result of her decision to build a for-profit social enterprise that would marry her passion for contributing to society with her love for food. It began as the Women's Initiative Network (WIN) hiring underprivileged women in farming families to process farm food, and today is a start-up success funded by Sequoia Capital, among others. 
Ms. Srivastava, who had to learn about farming from scratch to build the company, believes that with the perils of industrialized farming evident, ethical sourcing of food is a must for companies and consumers.
What do audiences in the United States commonly misunderstand about entrepreneurship and farming in India? 
There is a simplification of India as a poor country with a lot of social inequities where farming is the domain of the poor. But, in fact, farmers in India own a wealth of high-value land. Farmer poverty occurs because, despite this land wealth, Indian farmers are cash-poor and lack liquidity.
Indian farmers are used to growing traditional crops—often the same crop for decades—based on their market that is geographically closest. They sell this crop to the same middleman at government-set rates, becoming indebted to that middleman in the process. They become unable to switch crops, even when not profitable. For example, some farmers who own large tracts of land, right in the outer suburbs of the capital of New Delhi, grow wheat – but the demand in the capital is for fresh vegetables! There is no business plan and little government or non-profit advice on how to create one. Additionally, there is a cultural norm whereby the reputation and respectability for farmers in their village comes from holding land and passing that land down generationally. So, they are reluctant to sell their land and make a better living.
So there is an imbalance between land wealth and liquidity. One of the farmers I know told me years ago he had 16 acres of land, then worth almost 1.5 crore rupees.[1] Yet he had no money in his pocket!
There are people in India who are trying to emulate the U.S. model of agriculture, which means they are trying to aggregate land holdings, use large machines, and make farming on large tracts of land economical but also manageable. This works for certain crops, such as grains, but this does not work for all crops, and especially not for fresh produce.
What are the most consequential factors in your fields of food business, farming, and sustainability that will play a role in India's relationship with the United States or world in the next 3-5 years?
India can actually be a trend-setter in agricultural entrepreneurship. Today there is a global trend towards farm fresh products, traceability, and ethical sourcing. This is a big opportunity for a country like India to become more relevant for the United States and to the world in its food offerings.
Earlier, in the West, the demands of the food industry led to industrialized farming with large farm holdings and mechanization. Food processing models in the developed world meant large factories were churning out highly-processed, standardized products en masse. Consumers don't want that food anymore—they want fresh tasting food, they want food that's better for their health, and they want food closer to the source from which it was grown.
India has the largest amount of arable land in the world but with marginal farmers barely making a living from their small land holdings. This is creating the possibility for a new food processing model whereby farmers and food companies can offer consumers food products and produce in small batch sizes with minimal processing. This is the model Wingreens has developed and we are trying to scale it up. We believe it is extremely important to ensure that the farmers continue to own their land so that any appreciation benefits them. So we rent the land from them at a fair price, and we reward them or their families for labor by paying a wage for them to manage the farm. Since farming in India is hereditary, this gives farmers and their families training and a path to becoming entrepreneurs. It is really important to create this partnership model without making it NGO-based because it must be commercially profitable to sustain.
There are many such pilots of this model that are open to investments from abroad.
What inspired you to pursue your career path? How does your personal background inform your work?
My background was in advertising and marketing, where I had spent over twenty-five years. My husband and I decided to come back to India from the United States because I wanted to apply the skills I had learned to challenge specific social inequalities I saw in India. In particular, one thing I had learned in the United States was that there was dignity of labor. But in India, we tend to look down on people who are less educated, or who are poor, or who come from lower social strata. This really bothered me.
I decided to apply myself to finding a way of building a farming model that gives farmers a higher return on their land. I had no background in farming and learned everything from scratch. After a few years of experimentation and trial and error, we zeroed in on growing herbs, which provided a good return. At the same time, I leveraged my marketing background to create food products that could use those herbs in a way that could be sold directly to consumers. To make these products I trained and employed underprivileged women who had never worked before. That is how Wingreens has become what it is today—a socially inclusive business that makes minimally processed foods and beverages that appeal to the new age millennial consumer.
Can you speak to the status of women in the work that you do?
In India, or at least in North India, most of the people who work in farms are women, not men. Except during sowing time, when tractors have to be run or small machinery is used, the labor is typically done by women. And they are women mostly from the families of the farmers, so they're neither given a wage nor the kind of respect they deserve for their labor. After farming, they still have to go home and do all the housework. They have to raise the children and their money is given to men who typically run household finances. So in short, women are just unpaid labor.
It's changing a bit, and we want it to change. The WIN of Wingreens comes from the Women's Initiative Network. It's these uneducated and simple women who are our greatest pride and who make all our world-class products. Over the years working with us, they have continued to grow their skills and subsequent social standing in their communities. Their families have prospered and their children have become educated with some help from us. Today, they hold their heads high and are the pillars of their families.
When you look at the state of agriculture and women farmers and entrepreneurs in India, what are the most pressing priorities for you and your colleagues? What concerns you most or brings you hope?
There is a very impersonal aspect to food that has become the norm. For example, if you look at farming in the United States, there are huge land holdings. Today, everything is done by machine, and there is hardly any personal intervention in food production. Whereas in India, because we have small holdings, everything can become completely customized and personalized. So it is very possible for the world to make India at least a part of its food basket.
We are only at the beginning though, and a lot more needs to be done. One of the biggest problems in Indian agriculture is that it is hereditary, or is supposed to be, and not every farmer's son wants to be a farmer—in fact, most farmers' sons don't want to be farmers! So it is extremely important that food entrepreneurs keep the opportunity open for the farmer's family to work with them, no matter the qualifications they have.
You have to also cross-pollinate farmers with professional agriculturists and horticulturists so that they learn from each other. This will grow the value of the land for the farmer. Because now, that land will grow different things required around that area, not just one crop. This in turn will reduce our carbon footprint in farming. Rural agriculture has never been planned in India. Urban planning has been done to death, but rural planning, agriculture planning, has not been done. And it makes no sense. There should be industry close to where agriculture is.