Five Movies Worth Watching About Foreign Intrigue
Each Friday this summer, we suggest foreign-policy-themed movies worth watching. This week: tales of espionage and conspiracy.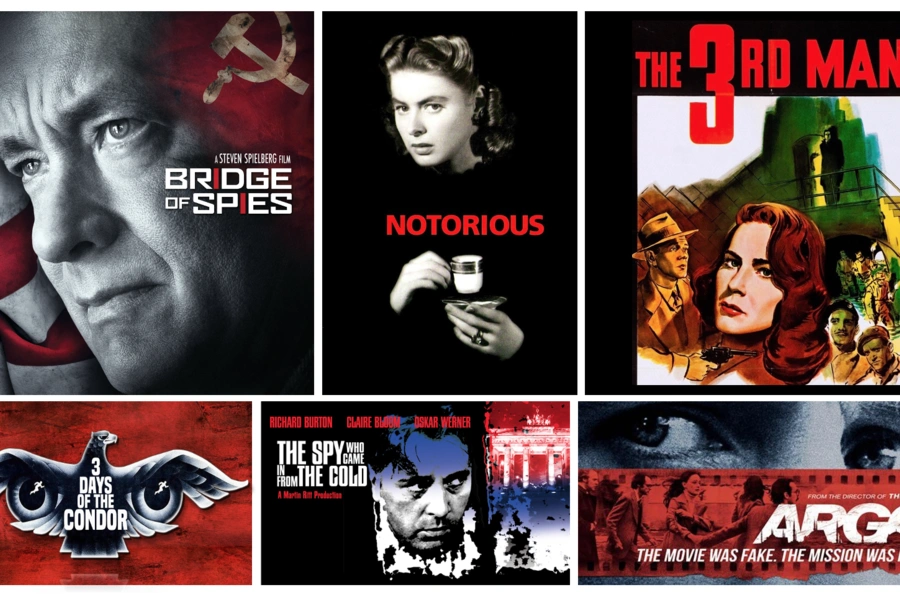 It's Friday and time for another installment of our foreign-policy-themed movie recommendations. This week we're looking at films that depict tales of intrigue and espionage across the world.
We won't restate all the rules we follow in making our picks. But know that a film can appear on our summer lists once. We've already recommended the troubling Zero Dark Thirty and the guilty pleasure Atomic Blonde, so they don't appear below. We're also sticking to films that are reasonably grounded in reality. So while we love James Bond, Jason Bourne, and Ethan Hunt, we aren't including any of their movie franchises here.
Here are our five suggestions, plus a bonus pick from one of our colleagues.
Argo (2012). After Iranian militants seized the U.S. embassy in Tehran in November 1979, six American diplomats escaped and took refuge in the homes of two Canadian diplomats. CIA master of disguise Tony Mendez was tasked with arranging their rescue. He drafted a plan straight out of Hollywood: He would train the six Americans to impersonate a Canadian movie crew scouting locations in Iran for a sci-fi flick titled "Argo." Ben Affleck, who both directed the movie and played Mendez, stayed mostly true to the daring exfiltration's premise and execution, though he modified some aspects and invented others to heighten the drama. Affleck is joined by Bryan Cranston, John Goodman, and Alan Arkin, who received an Oscar nod for his supporting role. Argo won three Oscars, including Best Picture, and was nominated for four others. You can watch Argo on Amazon Prime, Google Play, or YouTube.
Bridge of Spies (2015). Brooklyn attorney James Donovan drew criticism at home for his resolute, though failed, 1957 defense of Soviet spy Rudolf Abel. His work, however, attracted attention in Moscow. Soviet officials asked him to negotiate the exchange of Abel for American U-2 pilot Francis Gary Powers, who had been shot down over the Soviet Union and captured in 1960. Director Steven Spielberg's Bridge of Spies draws on Donovan's memoir Strangers on a Bridge and covers his defense of Abel and his CIA-sponsored trip to East Berlin to mediate the prisoner exchange. Tom Hanks plays Donovan, who puts his moral code and negotiating skills to the test against the hard-bargaining U.S. and Soviet governments. Bridge of Spies was nominated for five Oscars, including Best Picture, and won one. You can stream it on Amazon Prime, Google Play, or YouTube.
Notorious (1946). Ingrid Bergman stars as the daughter of a convicted traitor recruited by the FBI to ingratiate herself into a circle of her father's old Nazi friends in Rio de Janeiro. Her reputation for promiscuity and heavy drinking leads her FBI handlers to treat her with condescension and callousness. One agent, however, played by the inimitable Cary Grant, falls in love with her. (One scene in the movie involving Bergman and Grant went down in Hollywood history for its clever circumvention of the oppressive production code that, among other things, banned kisses lasting longer than three seconds.) Director Alfred Hitchcock, who could populate an entire list of intrigue films with just his own movies, uses his trademark flair for suspense as Bergman's character curries favor with exiled Nazis and uncovers a dangerous plot. The American Film Institute ranked Notorious the thirty-eighth most thrilling American movie of the twentieth century. You can find it on Flix Fling or IndieFlix.
The Spy Who Came in from the Cold (1965). Disillusioned British agent Alec Leamas refuses to "come in from the cold" and leave the field for a desk job. Instead, he is sent on a dangerous mission to infiltrate East German intelligence circles in order to frame a communist officer. But as romance and deception threaten to derail his mission, Leamas uncovers his true role in a larger game played in the shadow of the Berlin Wall. Based on John le Carré's riveting 1963 novel, The Spy Who Came in from the Cold strips away any Bond-esque glamour to reveal the dark underside of espionage. Director Martin Ritt compellingly translates Le Carré's story of double- and triple-crossing to the silver screen. Richard Burton received an Oscar nomination for his role as the weathered anti-hero Leamas. You can watch The Spy Who Came in from the Cold on Amazon Prime, Google Play, or PlutoTV.
The Third Man (1949). When American pulp fiction author Holly Martins (Joseph Cotten) is invited to work in Vienna with his old friend Harry Lime (Orson Welles) after World War II, he arrives to find that Lime has been killed. Martins soon discovers reality is not as straightforward as his Western pulps. His search for the third witness to Lime's death plunges him into a convoluted web of corruption, infatuation, and betrayal. Director Carol Reed shot the majority of the thriller on location, with the rubble of occupied Vienna supporting the movie's Oscar-winning cinematography. Film critic Roger Ebert observed, "the action fits the city like a hand slipping on a glove." The British Film Institute ranked The Third Man the best British film of the twentieth century. You can watch it on IndieFlix, Google Play, or YouTube.
This week's bonus recommendation comes from Steven Cook. Steven is the Eni Enrico Mattei senior fellow for Middle East and Africa studies and director of the International Affairs Fellowship for Tenured International Relations Scholars at the Council. He chose:
Three Days of the Condor (1975). Academic CIA researcher Joe Turner returns from a lunchbreak on a normal day at the office only to find all his coworkers have been assassinated. He soon discovers he may not be able to trust his superiors in the CIA and must uncover the truth behind the plot before he becomes its next victim. Adapted from James Grady's 1974 novel Six Days of the Condor, the film was director Sydney Pollack and star Robert Redford's fourth out of seven collaborations between 1966 and 1990. Steven says: "Three Days of the Condor is an old school thriller. It will have you on the edge of your seat even if it was made in an era before Hollywood went all in on high tech mayhem." You can watch it on Amazon Prime, HBO Max, or PlutoTV.
Next week we will offer recommendations on anti-war films.
Check out our other foreign-policy-themed movie recommendations: