Friday Asia Update: Five Stories From the Week of January 22, 2016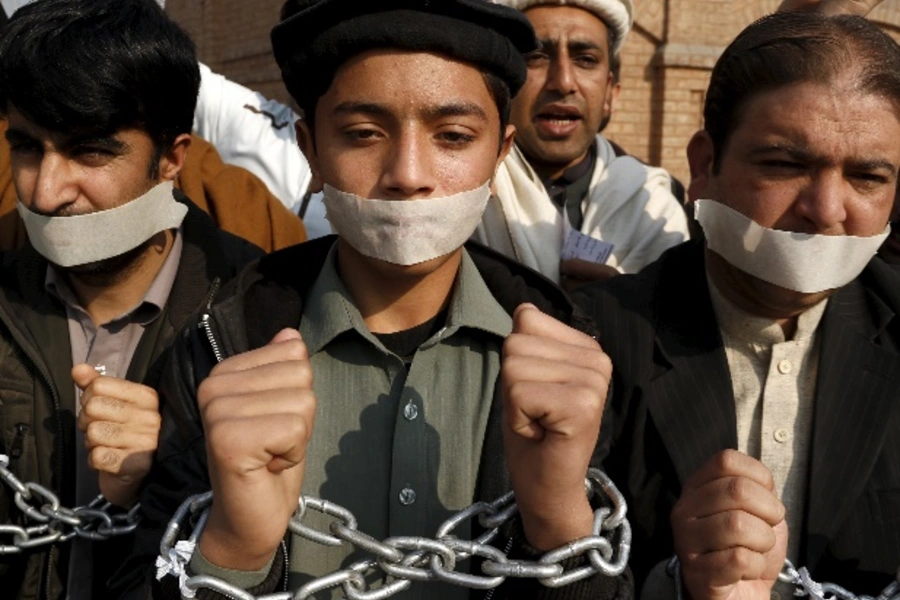 Rachel Brown, Lincoln Davidson, Ariella Rotenberg, Ayumi Teraoka, Gabriel Walker, and James West look at five stories from Asia this week.
1. Terrorists kill twenty-one in attack on Pakistani university. On Wednesday, gunmen stormed Bacha Khan University in Khyber Pakhtunkhwa's Charsadda district, killing twenty-one people and injuring dozens more. Four attackers were killed in an hours-long gun battle with security guards, local police, and the army in the attempt to secure the campus. A Pakistani Taliban (TTP) faction led by Umar Mansoor—the alleged mastermind of the December 2014 attack on the Army Public School in Peshawar that killed more than 140 people—claimed responsibility for the attack. However, an official spokesman for TTP chief Mullah Fazlullah later issued a statement denying any TTP involvement. Umar Mansoor on Friday released a video again claiming the attack and vowing more attacks on schools in the future. The attack threatens to again heighten tensions between Afghanistan and Pakistan—just as the two countries are attempting to restart peace talks with the Afghan Taliban—as Pakistani security officials shared evidence with Afghan President Ashraf Ghani and U.S. commander John Campbell on Friday that the attack was planned and directed from Afghanistan.
2. Myanmar frees some political prisoners and arrests others. On Friday, a spokesman for the Myanmar government announced that a total of 102 prisoners, including more than fifty serving for political offenses, would be released from jail. Before this week, more than five hundred political prisoners were serving time in Burmese prisons, including many dissidents sentenced during the country's junta rule and over sixty students jailed and awaiting trial for a peaceful demonstration last March. Earlier this week, U.S. Deputy Secretary of State Antony Blinken met with President Thein Sein and urged him to free all remaining political prisoners before the new National League for Democracy government forms this year. But although the release is a positive step forward for the burgeoning democracy, not everything was well and good for outspoken citizens of Myanmar this week: on Friday an activist was jailed for posting a picture online that mocked the military, and a few days before a former Saffron Revolution leader, who has been re-arrested multiple times since his release in 2012, was detained on alleged immigration charges.
3. Singapore arrests twenty-seven "radicalized" laborers. Twenty-six Bangladeshi construction workers were deported from Singapore following their arrest for supporting violent Islamist ideology and preparing to conduct attacks at home. One worker remained under arrest in Singapore, as he had attempted to flee the country upon hearing of the detention of others in the group. The workers were arrested under Singapore's Internal Security Act. According to Singapore's Ministry of Home Affairs, certain members had studied pamphlets on assassination methods and held weekly meetings at which extremist-affiliated materials were circulated. Following the arrests, Singaporean officials posted messages on Facebook emphasizing the need not to let the recent incident harm religious and racial relations. The Bangladeshi High Commissioner to Singapore identified the arrested men as affiliated with the Ansarullah Bangla Team, an Islamic extremist group banned in Bangladesh, but the men have not been linked to foreign organizations. Twelve of the workers were subsequently released in Bangladesh as no evidence was found against them.
4. United States considers tighter sanctions on North Korea. The United States is considering tighter sanctions on North Korea due to a pattern of threatening behavior, highlighted by their most recent nuclear test on January 6. Tighter sanctions on the part of the United States could, however, upset Beijing, who the United States believes has not been tough enough on North Korea. For years, Washington has urged Beijing to use economic influence on North Korea to halt its nuclear program; China has been reluctant to do so in fear of making North Korea more aggressive, or of collapsing the country's government. A high-ranking U.S. diplomat, speaking about the potential new sanctions, said "everything is on the table," including an agreement with South Korea to deploy a Terminal High Altitude Area Defense, or Thaad, missile system in South Korea to better defend against a North Korean threat. The United States is also considering secondary sanctions—similar to those recently used on Iran—that would target third-party countries doing business with North Korea. China sees actions such as Thaad and secondary sanctions on the part of the United States as threatening China's national security and economic stability, respectively. China does condemn North Korean nuclear tests, but also places most of the blame on the United States, not Pyongyang, for North Korea's pursuit of nuclear capabilities.
5. DPP wins in a landslide. Taiwan's Democratic Progressive Party (DPP) dominated at the polls last week, with party chair Tsai Ing-wen winning the presidency with 56.1 percent of the vote and the DPP securing 68 of the 113 seats in the Legislative Yuan. The current ruling party, the Kuomintang (KMT), captured only thirty-five seats, putting it in the minority for the first time in the history of the Republic of China (Taiwan's official name). The high margin of the DPP's victory in the at-large representative vote—44.1 percent to the KMT's 26.9 percent—can be seen as both a rebuke to the last several years of KMT President Ma Ying-jeou's administration and a mandate for Tsai as she comes into office. International responses to the election have been positive, noting the continuing consolidation of Taiwan's democratic institutions and the progress the island has made—except across the Taiwan Strait, where Chinese officials reminded the world that what happens in Taiwan is part of China's "internal affairs."
Bonus: French fries get a face-lift in Japan. McDonald's Japan announced on Monday that it will release a new menu item next week, the "McChoco Potato"—french fries covered with both "coco" and white chocolate.  "The combination creates a wonderful salty and sweet harmonious taste," says the press release. McDonald's Japan, which operates the second-most restaurant locations of the chain outside of the United States, has suffered from a record net loss of 29.28 billion yen (around $245 million) from January to September 2015. Can the new invention help save the company?