Park's Impeachment, Myanmar Exodus, ZTE Fine, and More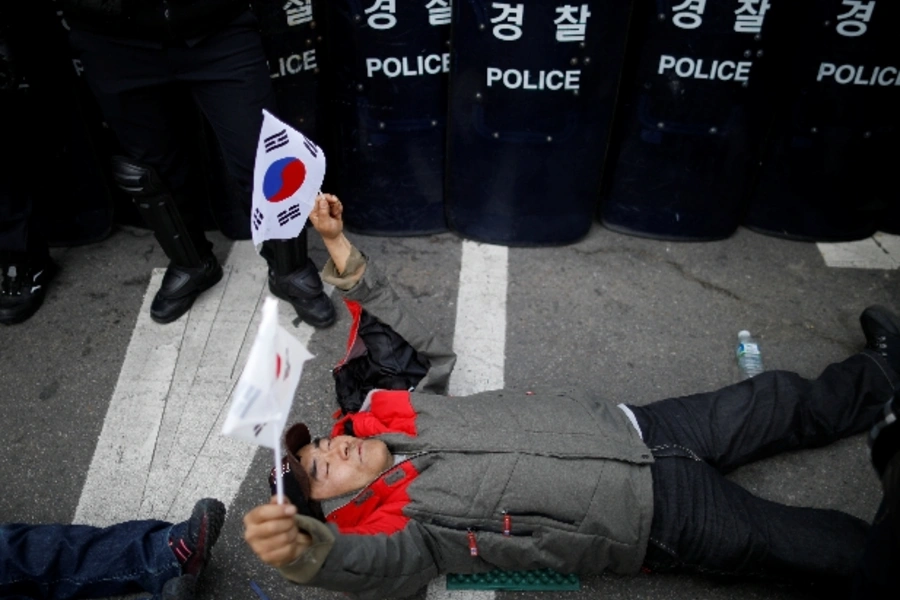 Rachel Brown, Sherry Cho, Larry Hong, Gabriella Meltzer, and Gabriel Walker look at five stories from Asia this week.
1. Park Geun-hye impeached. South Korea's Constitutional Court ruled unanimously on Friday to uphold a parliamentary vote that impeached Park Geun-hye in December, decisively ousting her from office and igniting violence from pro- and anti-Park demonstrators that led to at least two deaths in Seoul. Park's abbreviated term, serving four years of a five-year term, has been marked by controversy and criticism of her apparent aloof and autocratic governing manner. For example, despite the court's seventeen hearings on the matter since the impeachment vote, Park failed to ever appear personally in court for questioning. Park is the first South Korean president to be impeached despite the scandal-ridden terms of Korea's past presidents. Her impeachment has left her open to prosecution on criminal charges for her alleged role in the corruption and influence-peddling scandal that has roiled South Korea since last year. The allegations against Park center on Choi Soon-sil, a close confidante of Park's, and allegations that Park allowed Choi to edit speeches, install appointees, and secretly make policy decisions. Together, Park and Choi are accused of pressuring South Korea's major chaebol conglomerates, such as Samsung and Hyundai, into giving millions to nonprofit organizations started by Choi that were used as personal slush funds to benefit Choi and her family. A snap presidential election has been triggered by the court decision, and is expected to be held in early May. South Korean opinion polls thus far favor the leader of the opposition party, Moon Jae-in, as the next president of South Korea, which has led to regional uncertainty due to his party's markedly less hawkish North Korea policies and ambivalence toward U.S. deployment in South Korea.
2. Violence in Myanmar drives 20,000 into China. Early on Monday morning, armed rebels of the Myanmar National Democratic Alliance Army (MNDAA) launched a surprise attack on a hotel and Burmese military and police buildings in Laukkai, a town in northeastern Myanmar just miles from the Chinese border. The ensuing violence, which was the deadliest conflict in the area since early 2015, left at least thirty dead, including five civilians. The MNDAA, one of the many ethnic rebel groups active in Myanmar, claimed its most recent attack was to protest "continued military pressure" on four minority armies that have not yet joined national peace talks. As a result of the fighting, as many as 20,000 local residents, many of whom are ethnically Chinese, have streamed across the nearby border to China's Yunnan province seeking safety. A Chinese foreign ministry spokesperson stated that China was providing humanitarian assistance to the displaced persons and urged for the combatants to negotiate "an immediate ceasefire." The new clash puts a damper on the Burmese government's ambitious deal begun in August 2016 that aims to broker nationwide peace between the government and Myanmar's array of ethnic groups.
3. ZTE to pay $1.19 billion fine in U.S. sanctions case. The U.S. Department of Commerce announced this week that "the games are over" and Chinese telecom giant ZTE will pay $1.19 billion in fines to the U.S. government for violating sanctions against North Korea and Iran. The sanctions were in relation to ZTE's 283 sales made to North Korea and its purchase of electronics components in the United States for products eventually sent to Iran. Roughly 25 to 30 percent of components for ZTE products come from the United States. Last year, the United States government placed restrictions on ZTE that required U.S. firms to obtain an export license before selling the company supplies. In addition to the violations of sanctions on Iran and North Korea, the U.S. Commerce Department also disclosed ZTE documents discussing how to evade U.S. commercial restrictions on other countries including Cuba, Syria, and Sudan. Despite the fine's large size, the price of ZTE shares actually rose following the announcement. The company reported strong earnings last year and some analysts attribute the rally to ZTE's willingness to reshuffle leadership and implement reforms in the wake of the scandal. Although the ZTE case may be wrapping up, the worries aren't over for Chinese telecoms: Huawei is reportedly under investigation for sanctions violations as well.
4. Compassion International closes its doors in India. After a forty-eight-year presence in India, Colorado-based Christian charity Compassion International is being forced by the Modi administration to cease its operations in the country. The Indian parliament passed the Foreign Contribution Regulation Act (FCRA) in 2010, which strictly regulates monetary foreign donations given to nonprofits operating in India. However, since Prime Minister Narendra Modi took office in 2014, over 20,000 nonprofits' FCRA license renewals were cancelled. Modi's nationalist Bharatiya Janata Party hopes to "curtail[s] the flow of foreign money to activities it deems "detrimental to the national interest." Compassion International, suspected of engaging in religious conversion, receives foreign donations through a $38 monthly sponsor-a-child child program, which are dispersed at church-affiliated service centers. The organization's executives strongly deny the government's accusations.
5. China's "Two Sessions" set annual benchmarks. Meetings for China's highest legislative and advisory bodies, the National People's Congress and Chinese People's Political Consultative Conference, kicked off last week. Premier Li Keqiang's government work report, the centerpiece of the two sessions, shows that China's focus for 2017 is maintaining the stability of the Chinese economy rather than radical structural reforms. The GDP target for 2017 was set to "around 6.5 percent, or higher in possible in practice," a reduction from last year's 6.5 to 7 percent goal; the consumer price index target was set at 3 percent, the same level as last year; and the M2 money supply growth target was reduced to about 12 percent from 13 percent. These targets are in line with China's stated goal of pursuing a "prudent, neutral monetary policy in 2017." Mr. Li's work report also focuses on dealing with China's growing debt levels as well as controlling the risks associated with "nonperforming assets, bond defaults, shadow banking, and internet finance." While U.S. President Donald Trump was not mentioned by name, some analysts suggest that the issue of how China should deal with the Trump administration over a wide range of issues secretly looms over the two sessions.
Bonus: Controversy over Chinese sex-ed textbook heats up. This week, thanks to one Chinese parent's Weibo post, a Chinese sex-education textbook used by eighteen elementary schools in Beijing went viral online, attracting both praise and criticism. The textbook series, published by Beijing Normal University, was the product of nine years of testing and depicts a wide range of sex and relationship issues in remarkable depth and with exceptional candor. Many parents are shocked and embarrassed by the radically honest education materials, even going so far as to call them pornographic comic books. On the other hand, a teacher who participated in writing the textbooks defends them: "We decide to teach [students] in the first and second grade of their elementary school, because we think that students will learn about [sex education issues] anyway. It is easier to learn about them earlier than later, because sex education is harder to teach at a later stage, and teaching them earlier can help avoid things we all worry about from happening." China is often criticized for its lack of adequate sex education, so the discussion around these textbooks may lead to a wider discussion about the role of sex education in the country.