A Runoff for Brazil's Rousseff and Neves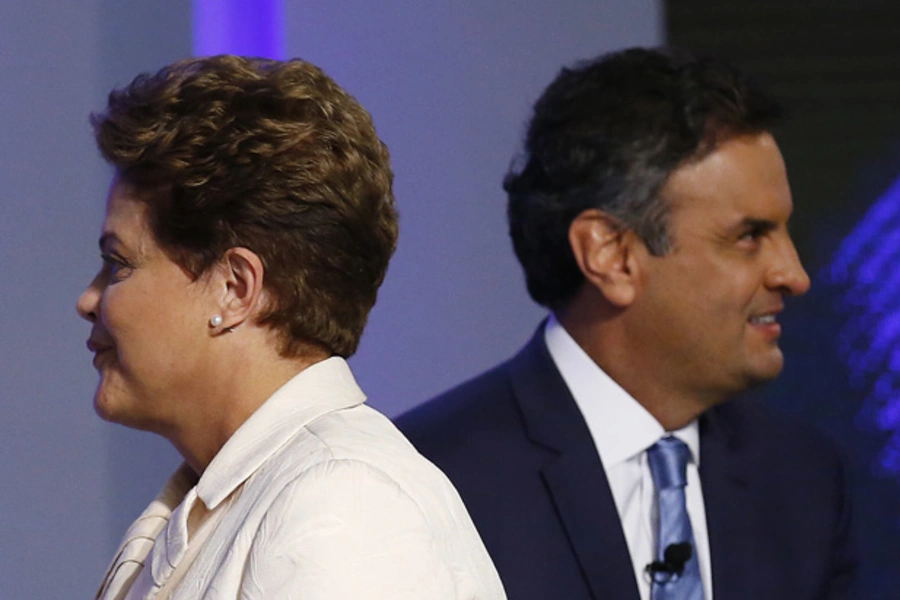 Brazilian President Dilma Rousseff won the first–round of the 2014 presidential election yesterday with almost 42 percent of the vote. The real surprise of the contest, however, came in Brazilian Social Democratic Party (PSDB) nominee Aecio Neves's impressive second place finish, capturing a third of voters and surpassing Marina Silva of the Brazilian Socialist Party (PSB). Although Neves's polling numbers had risen in the election lead–up, few expected such a strong showing.
Neves and Rousseff now turn to the October 26 runoff. For the next three weeks Neves will enjoy equal air time for government–regulated TV and radio advertisements, almost tripling his exposure from before the first round. The domestic and international business communities have already thrown their support behind him, and many hope that Silva will formally endorse him and bring many of her voters (21 percent) into his camp. This is particularly important in the southeast—home to 62 million potential voters (43 percent of all citizens of voting age)—where Silva won 24 percent compared to Neves's 39.4 percent. A strong showing there could outweigh Rousseff's strength in the north and northeast of the nation. Still, as James Bosworth has pointed out, only two incumbents in the last thirty years in Latin America have lost their reelection bids, the last being a decade ago in the Dominican Republic.
The next president will face substantial economic challenges. Foreign currency holdings, investment, and growth are all down. Inflation and interest rates are up. More structurally, Brazil's economy is bifurcated between a modern, productive part linked to the world alongside a stagnant, sheltered side (not unlike other emerging economies, including Mexico).
Under Rousseff, Brazil has slowed rather than increased in its connections with the world. Trade is down in the face of falling commodity prices and targeted protections. The country has yet to complete its decade–long negotiations with the EU, even as other Latin American nations have signed some thirty free trade agreements since Rousseff entered office in January of 2011. Brazil also stands outside the two largest and most dynamic free trade negotiations involving the region today—the Pacific Alliance and the Trans-Pacific Partnership (TPP).
A recent McKinsey report estimates that opening the economy could increase GDP by 1.25 percent per year—four times 2014 projections. This would come primarily from greater pressure to innovate and invest. For Brazil to leverage its many advantages—its natural resources, sizable domestic market, strong banking system, numerous entrepreneurs, and globally competitive companies—it needs to embrace trade globalization. And whether the election run–off brings a Rousseff or a Neves administration, trade should be put at the forefront of the agenda.