Ten World Figures Who Died in 2018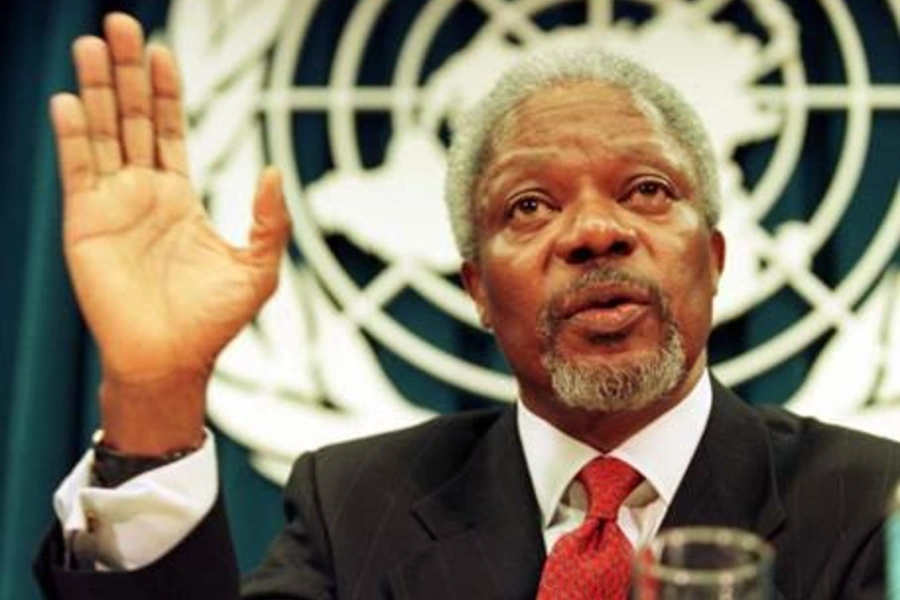 I wrote yesterday about ten Americans who died in 2018 who shaped U.S. foreign policy during their lifetimes. But Americans are not the only ones who influence world affairs. Below are ten world figures who died this year. Each made a mark on history.
Lyudmila Alexeyeva (b. 1927) was a leading Russian human rights activist during both the Soviet era and Vladimir Putin's presidency. Alexeyeva was born in Crimea and raised in Stalin's Soviet Union. She became a political dissident when Nikita Khrushchev loosened censorship restrictions in the wake of Stalin's death. After Leonid Brezhnev re-imposed stricter censorship rules, she became a typist for the Chronicle of Current Events, an underground journal documenting human rights abuses in the Soviet Union. In 1976, Alexeyeva co-founded the Helsinki Group to monitor the Soviet Union's compliance with the human-rights provisions of the Helsinki Accords. Soviet authorities forced the group to disband less than a year later and sent Alexeyeva into exile. She lived in the United States for sixteen years and wrote two books documenting the experiences of Soviet dissidents. After the Soviet Union fell, she returned to Russia and became a critic of Putin. She participated in street protests and was arrested in 2010 at the age of eighty-three. Despite decrying human rights abuses in modern-day Russia, she insisted things were not as dark as they had been in the days of the Soviet Union. Indeed, Putin visited her on her ninetieth birthday to pay his respects, a gesture that would have be unthinkable for Khrushchev or Brezhnev.
Kofi Annan (b. 1938) was the seventh secretary general of the United Nations (UN), serving two terms in the position. Born in what is today Ghana to an aristocratic family, Annan studied economics in Ghana, at Macalester College in St. Paul, Minnesota, and at the Sloan School of Business at M.I.T. His first UN job came in 1962 at the World Health Organization in Geneva. He rose through the UN system, holding a variety of jobs, before being named in 1993 by then Secretary General Boutros Boutros Ghali as the head of UN peacekeeping. His tenure in the post coincided with the Rwandan Genocide and the Srebrenica massacre. He was criticized for not acting forcefully in either instance, and he later admitted he should have done more. The Clinton administration, which blocked Boutros Ghali's appointment to a second term as secretary general in 1997, championed Annan as his successor. The first black African to be secretary general, Annan sought to strengthen the UN's institutions. In 2001, he and the UN were awarded the Nobel Peace Prize for "their work for a better organized and more peaceful world." Annan called  the 2003 U.S. invasion of Iraq "illegal," which cost him support in Washington. After stepping down as secretary general in 2007, he established the Kofi Annan Foundation, which seeks to strengthen global governance, and worked to end disputes in places like Kenya, Syria, and Myanmar.
Paddy Ashdown (b. 1941) was a military commando, leader of Britain's Liberal Democrats, and an accomplished diplomat. The eldest son of a British colonel, Jeremy John Ashdown was born in India and raised in Northern Ireland. He earned the nickname "Paddy" because of his strong Irish accent. He joined the Royal Marines before completing his schooling, becoming a member of the Special Boat Service, one of Britain's special forces. In 1972, he quit the Royal Marines and joined MI6, Britain's Secret Intelligence Service, and operated under cover as a diplomat. He turned to politics in the mid-1970s, and in 1983 he was elected to Parliament as a member of the Liberal Party. It merged with the Social Democratic Party in 1988, and he was elected as head of the resulting Liberal Democrats. He led the party for a decade, before stepping away from politics. In 2002, Ashdown was made High Representative for Bosnia and Herzegovina, a position he held until 2006. In recent years he had argued in favor of Britain remaining in the European Union.
Lord Carrington (b. 1919) was a British foreign secretary, the sixth secretary general of NATO, and the longest serving member of Britain's House of Lords. Born in Aylesbury, England to a wealthy family, his given name was Peter Alexander Rupert Carington. (Lord Carrington's family name, unlike his title, is spelled with only one "r.") He attended Eton and Sandhurst, before fighting with distinction in World War II. After the war, he claimed his hereditary seat in the House of Lords, where he sat for the next seven decades. He served under conservative prime ministers for nearly thirty years in a variety of foreign-affairs-related posts, including high commissioner to Australia and first lord of the admiralty, and held a number of party posts as well. From 1979 to 1982 he served as foreign secretary under Margaret Thatcher. He voluntarily resigned the position following Argentina's invasion of the Falkland Islands, taking responsibility for failing to have anticipated the attack. From 1984 to 1988, he served a secretary general of NATO, where he pushed to strengthen collective security in the final days of the Cold War. Initially a proponent of European integration, he later criticized the European Union's evolution. Despite his considerable distinguished public service, Lord Carrington never sat in the House of Commons—something completely unheard of in today's Britain.
Mary Ellis (b. 1917) was a British aviator who flew hundreds of Spitfires and heavy bombers to the front lines during World War II. Born in Oxfordshire as Mary Wilkins, Ellis fell in love with planes at an early age. Her father hired a circus pilot to take her for a joy ride, a moment she said "sealed her fate forever." She took flying lessons as a teenager and in 1941 she joined the Air Transport Auxiliary, which flew bombers and fighter planes from factories to the bases where they would be used in combat. Ellis and the other female pilots were called "Attagirls." Female pilots were a rarity at the time, and some Britons criticized the decision to let women fly planes in the war effort. It was a dangerous business; fifteen Attagirls died carrying out their duties. "Girls flying airplanes was almost a sin at that time," was how Ellis put it. She nonetheless flew "about 1,000 aeroplanes" during the war. Her favorite? The Spitfire, which she called "a symbol of freedom." At the war's end she was invited to join the Royal Air Force, where she became one of the first women to fly the Meteor, Britain's first jet fighter. She later moved to the Isle of Wight to run Sandown airport. She was married to fellow pilot, Don Ellis, for forty-eight years. With Ellis's passing, only three Attagirls are still alive.
Ruud Lubbers (b. 1939) was prime minister of the Netherlands from 1982 to 1994, holding the twin distinction of being the youngest person to hold the post and the longest serving one. Born in Rotterdam, Lubbers was one of nine children. He studied economics and wanted to be an academic. However, when his father died, he and his brother took over the family's engineering firm. In the 1970s he turned to politics. He had a knack for his new profession, and he soon found himself as a leading figure in the centrist Christian Democratic Appeal. Upon becoming prime minister in 1982 at the age of forty-three, he looked to open up the Dutch economy. "Holland is sick," he argued, and the answer was "More markets, less government." His political skills were evident in 1984 when the Reagan administration pressed him to allow medium-range nuclear missiles to be stationed on Dutch soil, which aroused intense opposition in the Netherlands. Lubbers agreed to the deployment but only on a much longer timetable than Washington had requested. By the time the deadline came around, the United States and the Soviet Union had agreed to ban medium-range missiles, rendering the deployment issue moot. Lubbers was instrumental in the negotiations that led to the creation of the European Union in 1992. After his time as prime minister, he pursued failed efforts to head the European Commission and NATO. From 2001 to 2005, Lubbers was UN high commissioner for refugees, but resigned over sexual harassment allegations.
Winnie Madikizela-Mandela (b. 1936) was an anti-apartheid activist and wife of Nelson Mandela. Born in Transkei, Madikizela-Mandela's given name was Nomzamo, meaning "she who must endure trials." She attended the Hofmeyr School of Social Work in Johannesburg. She was awarded a scholarship to attend school in the United States, but turned it down. She met Mandela at a bus stop in 1957. They married the following year after he divorced his first wife. Winnie and her children's lives became difficult after Mandela's imprisonment in 1964 for treason. She was imprisoned herself in 1969 for seventeen months and again in 1976 for five months. As the anti-apartheid struggle intensified in the 1980s, Madikizela-Mandela championed a more militant path. That militancy included encouraging, if not directly ordering, the killing of those deemed traitors to the anti-apartheid cause. In 1991, she was convicted of the kidnapping of four young men in Soweto—one was found with his throat slashed—but sentenced to just a suspended one-year jail term. In the final days of apartheid she was pushed out of the political picture and her marriage unraveled. She resented that her contributions to the anti-apartheid fight were diminished, insisting that "I am not Mandela's product." In 1997, Madikizela-Mandela apologized for the violence of the 1980s, saying that "Things went horribly wrong." Six years later she was convicted of corruption charges, but again avoided jail. She died a polarizing figure in South Africa.
Joachim Ronneberg (b. 1919) was a Norwegian resistance fighter who led a 1943 raid that derailed Hitler's effort to build an atomic bomb. Born on the west coast of Norway, Ronneberg fled to England in 1940 after Germany invaded Norway to join a special-forces unit for Norwegian exiles called Kompani Linge. In 1943, Ronneberg and his nine-man team were directed to sabotage a hydroelectric plant in southern Norway that was producing a product known as "heavy water" that was vital to one of Hitler's top-secret projects. The men knew it was likely a suicide mission; a British commando team had already been lost trying to destroy the plant. The daring raid began in February 1943. Battling a blizzard the team skied across the Telemark pine forest, found the plant, evaded the German guards, improvised a plan to enter the plant, and then detonated their explosives. All ten commandos survived the mission without injury. The Germans had the plant back on line four months later, but it was destroyed again, this time by Allied bombers. Berlin then ordered the remaining heavy water be returned to Germany, but another group of resistance fighters sank the ferry carrying it. Ronneberg only learned of the significance of his bravery two-and-a-half years later: "The first time I heard about atomic bombs and heavy water was after Americans dropped the bomb on Hiroshima and Nagasaki."
Simcha Rotem (b. 1924) was a fighter in the 1943 Warsaw ghetto uprising. Born in Warsaw, Rotem was a teenager when Germany invaded Poland in September 1939. Like other Polish Jews, he was herded into what became Warsaw's infamous walled ghetto. The Nazis soon began sending inhabitants of the ghetto to death camps like Treblinka, though some were sent to forced-labor camps. By mid-1942, more than eighty percent of Warsaw's Jews had been deported, and those remaining knew that they faced a grim fate. In response, a group called the Zydowska Organizacja Bojowa (Jewish Fighting Organization or ZOB) formed to resist further deportations. On April 19, 1943, the eve of Passover, German troops moved to round up the ghetto's remaining Jews. Armed with pistols and grenades that had been smuggled in by the Polish Home Army, the ZOB attacked the Germans. Rotem, whose underground nickname was "Kazik," took part in the fighting and helped smuggle some survivors out of the ghetto through sewage tunnels. After the war, he emigrated to Palestine and fought in Israel's war of independence.
Atal Bihari Vajpayee (b. 1924) founded the Bharatiya Janata Party (BJP), today's governing party in India, and served three terms as the country's prime minister. Born in Gwalior, in central India, Vajpayee was drawn to Hindu nationalism at a young age. At eighteen, he was jailed for resisting British rule. Initially he studied law, but soon turned to a career of journalism for Hindu nationalist papers. He was elected to parliament in 1957 where he was a vocal critic of the Indian National Congress (INC), which dominated Indian politics. Vajpayee founded the BJP in 1980 and worked tirelessly to make a Hindu nationalist platform more appealing to Indian voters. He eventually succeeded. His first term as prime minister lasted only thirteen days in 1996. His second term lasted thirteen months from 1998 to 1999. His third term from 1999 to 2004 was his only full five-year term. During his second term as prime minister, Vajpayee ended India's twenty-four year moratorium on nuclear testing, overseeing five underground nuclear tests. The move prompted international condemnation and triggered a regional arms race with Pakistan. During Vajpayee's third term, his foreign affairs agenda focused on mending India's relationship with China and establishing closer ties with the United States. A lifelong bachelor, he spent his free time reading and writing poetry.
Other significant world figures who died this year included: Fortunato Abat was a Filipino major general, ambassador to China, and commanding general of the Philippine Army. Álvaro Arzú was the president of Guatemala who ended the country's civil war. Abbas Attar photographed the Iranian Revolution. Belisario Betancur negotiated with rebel groups when he was president of Columbia. Reynaldo Bignone was Argentina's last military dictator. Stan Brock founded a volunteer mobile medical service for people in developing countries. Luis Posada Carriles was an anti-Castro militant and former CIA operative. Abbas Amir Entezam was the former deputy prime minister of Iran who served time in prison for spying on United States. Oskar Gröning, known as the "bookkeeper of Auschwitz," was the last person to stand trial for crimes committed during the Holocaust. Palden Gyatso was a Tibetan Buddhist monk who defied Chinese authorities. Stephen Hawking was a world-renowned British physicist and author. Johan van Hulst was a Dutch man credited with saving six hundred children from Nazis.
Asma Jahangir was a Pakistani human rights lawyer, U.N. Special Rapporteur on Freedom of Religion or Belief, and co-founder and former chair of the Human Rights Commission of Pakistan. Maya Jribi was Tunisian democracy fighter and the first woman to lead a political party in Tunisia. Phan Van Khai was the first Vietnamese prime minister to visit the United States. Hatidza Mehmedovis spoke out against growing nationalism in Bosnia. Luis García Meza was a Bolivian dictator who was convicted of genocide for ordering the murder of political opponents during his thirteen-month rule from July 1980 to August 1981. Odvar Nordli was a Cold War prime minister of Norway who supported stockpiling U.S. weapons in his country. Oksana Shachko was a Ukrainian women's rights activist. Mohamed Shahabuddeen was a Guyanese politician and judge who served on the International Court of Justice. Herman Shine was one of the few people who escaped Auschwitz. Bui Tin was the North Vietnamese colonel who accepted South Vietnam's surrender. Lady Trumpington was a British code breaker during WWII who later became a politician. Gena Turgel was Holocaust survivor who shared barracks with Anne Frank at the Bergen-Belsen concentration camp.
Corey Cooper, Angela Peterson, Patrice Narasimhan, and Sofia Ruiz assisted in the preparation of this post.
Other posts in this series:
Ten World Figures Who Died in 2020
Ten World Figures Who Died in 2019
Ten World Figures Who Died in 2017
Ten World Figures Who Died in 2016
Ten World Figures Who Died in 2015​​​​
Ten World Figures Who Died in 2014
Ten World Figures Who Died in 2013